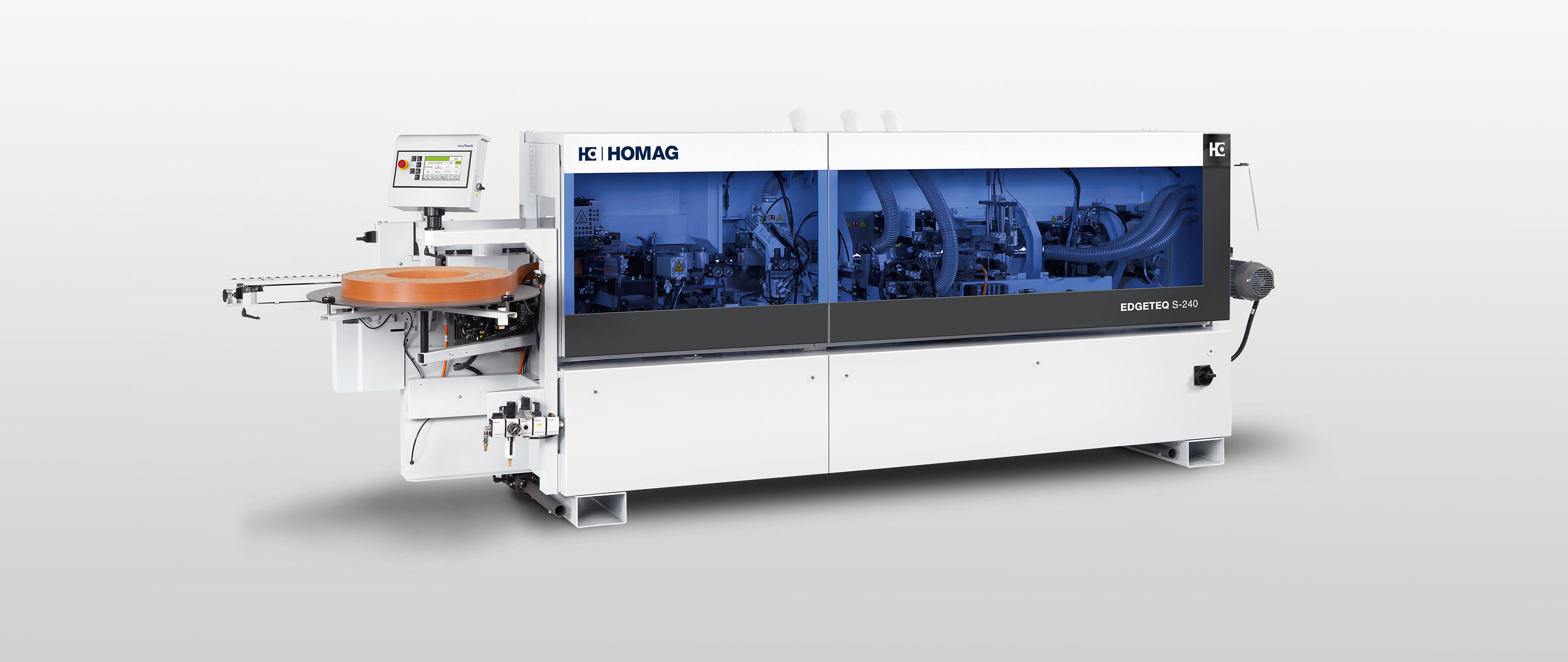 Truwood invests in HOMAG EDGETEQ S-240 for future growth
With the change in markets and laminates becoming increasingly popular, Truwood took faith in the complete processing capabilities of a HOMAG EDGETEQ S-240.
The EDGETEQ S-240 has also enabled us to attract new clients with more complex edging challenges. Now we have the confidence in the machine and know that we can produce such products in shorter lead times and to higher standards than before.

Emmet McKenna, Contracts Manager at Truwood
Since it began production in 1981, Truwood has built its reputation on providing bespoke joinery and associated works for both new build and refurbishment projects. The family owned and managed company has enjoyed consistent growth throughout its history and its client base includes such names as Center Parcs Ireland, Guinness Storehouse Dublin, Hendricks Distillery Scotland and numerous multinational IT companies to name a few.
"Truwood has been in business over 38 years," explains Contracts Manager Emmet McKenna. He continues, "Until 2016, however, we had never purchased any HOMAG machinery. For many years we had been using an old solid wood edge bander, but with laminates becoming more and more popular our old machine just wasn't cutting the mustard. So we began to look for a replacement.
"Initial research was carried out at Xylexpo 2018 in Milan where we were able to see a number of different potential solutions under one roof. There were two or three manufacturers whose edge banders impressed us, but at this early stage we weren't ready to make a decision.
"We saw the machines again at the W18 show at the NEC in October. However, it wasn't until we visited a company who already had an HOMAG EDGETEQ and listened to their extremely complimentary evaluation of the machine that we made the final decision to purchase.
"Although it wasn't the cheapest option, the quality and specification of its products stood out. Derek Reid, HOMAG's area manager, encouraged us with both his knowledge and approach, and we were particularly impressed by the complete package that HOMAG UK offered which included the XES 200 PUR service station."
The benefits of the HOMAG XES 200 PUR service station
"At Truwood, our business is based mainly on bespoke solutions and therefore the edge bander can be working flat out one day, spasmodically another or requiring lots of different colour changes the next day. The hardening of PUR glues when exposed to air has always been a major issue. In the past, this meant a lot of downtime cleaning out and changing glue.
"HOMAG's XES 200 PUR service station is a great solution; not only can it be used to clean the application unit, but also to pre-heat glue for future work steps which saves us valuable time.
"The application unit or the interchangeable container of the PUR melting unit can be stored without concerns. When left for the weekend, for example, we don't have to connect the station to compressed air or a power grid, yet the contents won't harden and work can simply continue on Monday."
EDGETEQ S-240 – More flexibility with axial adjustment
The EDGETEQ S-240 is part of HOMAG's entry level range and is ideal for small to medium sized workshops. It provides the complete processing capability previously reserved for higher specified machines. The S-240 edge bander is equipped with a precise gluing unit for processing of PUR-glue, a tiltable two-motor snipping unit for straight and chamfer snipping, as well as a trimming unit.
For complete processing, a joint trimming unit, a profile trimming unit, a radius scraper, glue joint scraper and a buffing unit are available for the perfect finish. Alongside the machine's extensive equipment, pneumatic adjustment of the snipping unit and pneumatic adjustment of the scraper are available in the standard version.
Automation at the pressure zone, the end trimming, the flush trimming and profile trimming units leads to considerable simplifications and time saving during setup. With the axis adjustments of the units, individual alterations can be made quickly and efficiently. The highlight in the finish area is the optional multistage scraper with two different profiles.
No more hand finishing
Emmet McKenna again, "With the old solid wood edge bander there was always a lot of time-consuming hand finishing we had to do when edging laminates. Now, the EDGETEQ S-240 finishes off the edging perfectly without the need for hand finishing, so it saves us both time and money. Not only that, but we also have happier customers because of the superb quality of the finished product.
"Despite reducing the labour required to produce laminate panels, the new machine has enabled us to produce more panels in a shorter time-frame. And as I've already said, these panels are of a much higher quality than we could have produced previously, so it's a win-win situation; we get very few aftersales issues."
Opening up new product avenues
"The EDGETEQ S-240 has also enabled us to attract new clients with more complex edging challenges. Now we have the confidence in the machine and know that we can produce such products in shorter lead times and to higher standards than before.
"The new edge bander has enabled us to successfully complete projects for Center Parcs Ireland, Mont Clare Hotel and Vhi headquarters in Dublin. It will also help us on new projects for the likes of the Hard Rock Hotel, Dublin and Leopardstown Racecourse.
"Overall we're really happy with the machine and with HOMAG UK. They're informative and professional in all communications ; we know we can rely on the HOMAG UK staff and the EDGETEQ S-240 to support us whatever issues we may face," concludes Emmet McKenna.
If you'd like a demonstration or more information about HOMAG edge banders, please contact HOMAG UK on 01332 856424.
Back to List