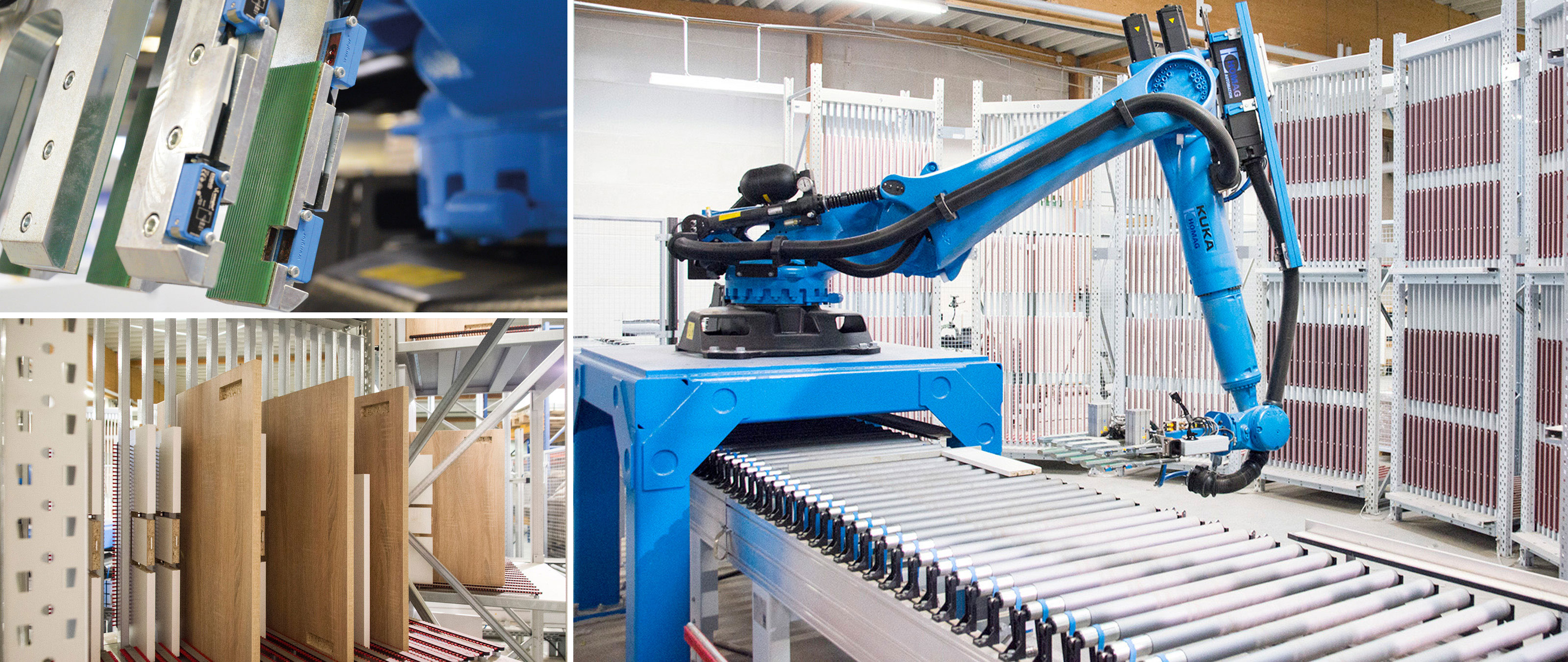 The company ensures its long-term success by interlinking individual production steps to an overall process, in addition to the consistently high quality of its products. An example for this - the robot sorting cell from HOMAG Automation - precisely the right solution for Starke.
At Starke, the parts are directly transferred from the drilling machine into the sorting cell. The robot sorts the workpieces flexibly into the different compartments, and thus enables a variable access to parts for the whole production.
The keyword is "direct access to each workpiece, and that fully automated". This shows that the solution is interesting for everyone who produces furniture in batch size 1. Whether property builders, manufacturers of kitchen furniture, or producers of office furniture.
Starke Objekteinrichtungen have decided for a solution with a capacity of 500 storage compartments, according to the requirements. The robot can access each of these 500 compartments at any time in maximum speed. This means: The sorting cell can be used to produce any workpiece flow in any desired workpiece sequence. And this with an availability of approximately 100 %.
In addition - with a robot as central element, the sorting cell can create a maximum storage volume in smallest space, at low room height of less than 4 meters. Another advantage of the sorting cell is that production processes are always transparent and can be planned more precisely. Each workpiece is tracked in the exact position.
At Starke, workpieces will be transferred in a freely selectable sequence towards a hinge placement station for glue application and hinge placement. It doesn't matter, in which sequence workpieces have previously been stored into the buffer - since the robot is able at any time to provide the precisely needed part due to the single access to each part. Here, the line demonstrates all its strength in batch size 1 production.
Robots ensure product quality and improve workplace conditions. As reliable solution for buffering, decoupling, and sorting, robots enhance production performance and increase yield. Another solution by the HOMAG Group - perfectly tuned to the customer.
Video
"In principle, every customer has to sort his workpieces. By using the cell he can do that automatically and feed workpieces in optimum order to his material flow. Or he will use the cell as central workpiece storage out of which panels are fed to the individual processing stations."

Christian Heißler, Technology Consultant HOMAG Group
Read more about STARKE Objekteinrichtungen
With around 70 employees, the medium-sized company from Oberlausitz realizes more than 50 major projects per year. Solid and of high quality - these are the principles of STARKE Objekteinrichtungen for more than 100 years.
www.starke-objekte.de
Here's how your colleagues produce
Use of Robots in a carpenter's workshop