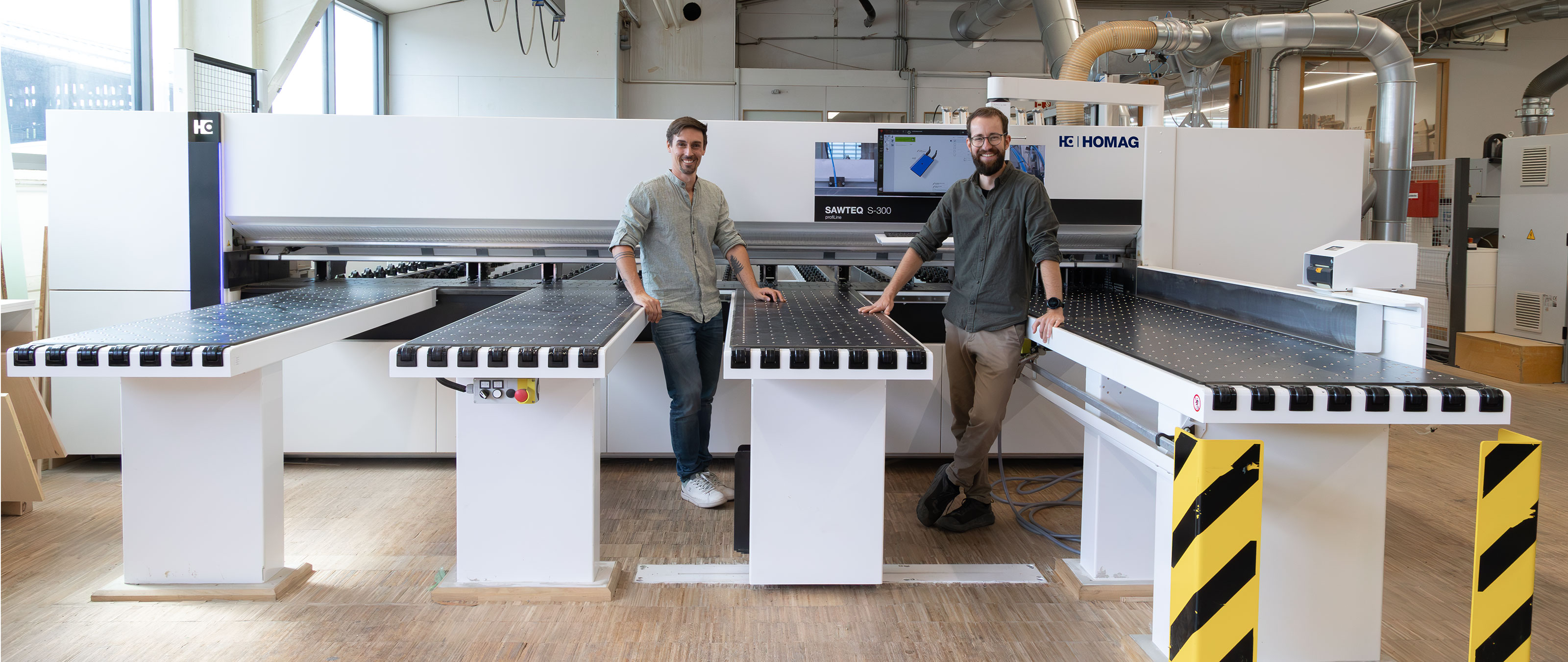 Since Fabian Ziegler (left) and Jan Riehle decided on the horizontal SAWTEQ S-300 panel saw from HOMAG, cutting has been even faster, more efficient and more ergonomic

Extra-wide air cushion table, Power Concept, intelliGuide, ecoPlus technologies and much more: the SAWTEQ S-300 at Artur Summ is equipped with almost everything that the HOMAG development department currently has to offer

The intelliGuide assistance system guides the machine operator through the cutting process intuitively using LED signals

Artur Summ supports customers in the realization of their dream homes from planning to production
Quality, throughput, intuitive operation, innovative apps and features: the expectations for a modern panel dividing saw are high, especially in woodworking shops. No wonder, as the stakeholders there are facing sharply increasing demands. Artur Summ GmbH & Co. KG in Villingen-Schwenningen, Germany, meets these demands and is more efficient than ever when it comes to cutting: with the new HOMAG SAWTEQ S-300 saw.
It seems paradoxical that, while the trend among industrial furniture manufacturers is to offer mass-produced products which can also be customized, the carpentry trade is concerned with producing products almost as efficiently as industrial competitors, even from batch size 1. Of course, also maintaining quality craftsmanship in doing so. Artur Summ GmbH & Co. KG has been proving that this is possible since the summer of last year. Since then, the company has been working with a new SAWTEQ S-300 panel dividing saw from HOMAG.
High quality or higher speed? Both!
Extra-wide air cushion table, Power Concept for increased material throughput, ecoPlus technologies, intuitive operator guidance via intelliGuide and much more: the SAWTEQ S-300 at Artur Summ is equipped with almost everything that the HOMAG development department currently has to offer. "And that's a lot," says Fabian Ziegler, manager of the carpentry workshop of the traditional company founded in 1929. On an innovation scale of 1 to 10, he gives HOMAG the highest mark without hesitation.
Why did the third-generation woodworking business invest in a new and so comprehensively equipped panel dividing saw? "We are committed to quality and meeting deadlines," says Jan Riehle, responsible for pricing and marketing at Artur Summ. "Our customers appreciate both — private as well as public and commercial clients. We meet expectations and therefore were able to maintain a high level of capacity utilization even during the pandemic," continues Riehle. Ziegler continues, "This repeatedly caused bottlenecks in cutting, as our old panel dividing saw was barely able to keep up with demand."
Since 1999, the company has been using a panel dividing saw from the successful HPP series, also from HOMAG. "We were always very satisfied with the old saw. After more than 20 years of daily use, however, the hardware was simply no longer up to date. In order to continue to deliver the required output, we would have had to compromise on quality at some point — and that was not an option," stresses the plant manager.
So a new solution had to be found quickly; a solution with which the speed of production could be significantly increased while improving cutting quality as much as possible. "In 2022, in search of such a solution, we traveled to the HOLZ-HANDWERK trade fair, visited the HOMAG stand there and discovered the SAWTEQ B-300 — the predecessor of our current saw," recalls Ziegler. One of the very first SAWTEQ S-300 saws then went into operation a little later at Artur Summ.
Ergonomics and operating concept from a single source
Quickness and the necessary decisiveness are just some of the strengths of the family-run company. "Unlike industrial companies, we can make decisions quickly. If we need a new machine and an opportunity like the SAWTEQ S-300 arises, we take advantage of it," says Riehle, adding:"Especially since a modern machine pool is essential for us not only in view of the increasing production requirements, but also to attract qualified specialists and to retain them in the company."
Fabian Ziegler and Jan Riehle are the best examples of how successful this can be. Both were trained at Artur Summ, made their way through the professional world and have since returned to the company after gaining experience in various posts. This has a lot to do with the team and the corporate culture, but also with the equipment at the company. "We use modern technologies to increase quality and throughput. At the same time, we want to improve resource efficiency, save energy and costs, relieve the strain on our staff and continue to optimize ergonomics and our processes," says Ziegler. A uniform and simple operating concept for as many machines as possible is worth its weight in gold.
Innovation in terms of quality — HOMAG toleranceCheck
For this reason alone, a new HOMAG solution was favored from the start. After all, the specialists at Artur Summ know the HOMAG operating concept back to front — both from the previous saw and from other HOMAG machines in production. "During my time as a CAD/CAM specialist at other companies, I experienced a great deal and can say that there is no manufacturer that offers a machine control unit with such a simple, clear user interface like HOMAG," says Ziegler. Equipped with the innovative intelliGuide Classic operator assistance system, the new SAWTEQ S-300 is also more convenient and simpler to use than ever before. "This means that we always know what to do next," confirms Ziegler, "and we can almost forget about scrap and waste caused by operating errors."
The quality of the cutting process has already increased significantly with the new SAWTEQ S-300. This is ensured, among other things, by the HOMAG toleranceCheck. This is an innovative feature that ensures the individually required dimensional and angular accuracy of the cut parts continuously and in real time. At the heart of the technology is a sensor system directly at the right-angled fence that helps the machine operator to see whether the individual parts are within the required dimensional tolerance even before the cross cut division. If this is not the case, the operator can react immediately.
"In the past, such anomalies were often only noticed during assembly, and therefore far too late," says Ziegler, and is pleased to add, "With toleranceCheck, we now have a lot more control over quality." Another advantage: even for parts that are within the tolerance range, the system notes on the part label which side is best suited as the reference side for further processing on the edge or CNC. This increases process reliability far beyond cutting.
Good advice included — with quickTip
Another highlight of the SAWTEQ S-300 is quickTip — the integrated assistant for the optimal use of machine functions. Power Concept, for example: parallel cutting to length massively increases the throughput of the saw. But when and for which parts can Power Concept be used effectively? "Thanks to quickTip, we no longer have to think about this question," says Ziegler, "if it is advisable, the system automatically informs us of this." The recommended functions and parameters can then be activated directly on the machine via the CADmatic saw control system. This ensures smooth processes.
Taking stock after one year
After one year and around 1000 panels processed on the SAWTEQ S-300, the company's plant manager is certain: "If we had had to handle the order volume that we have managed with the new cutting center over the past twelve months with our old saw, we would have had problems." But there were no problems. On the contrary: "We have become significantly faster, but we have in no way fully exploited the potential of the saw in terms of material throughput yet. At the same time, we were able to increase quality to an even higher level," says Ziegler and adds, "I am convinced that with the new saw, we will soon reach an industrial standard in terms of speed."

"During my time as a CAD/CAM specialist at other companies, I learned a great deal and can say that there is no manufacturer that offers a machine control unit with such a simple, clear user interface like HOMAG."

Fabian Ziegler, plant manager at the Artur Summ GmbH & Co. KG carpentry workshop