Discover our knowledge and solutions for Automation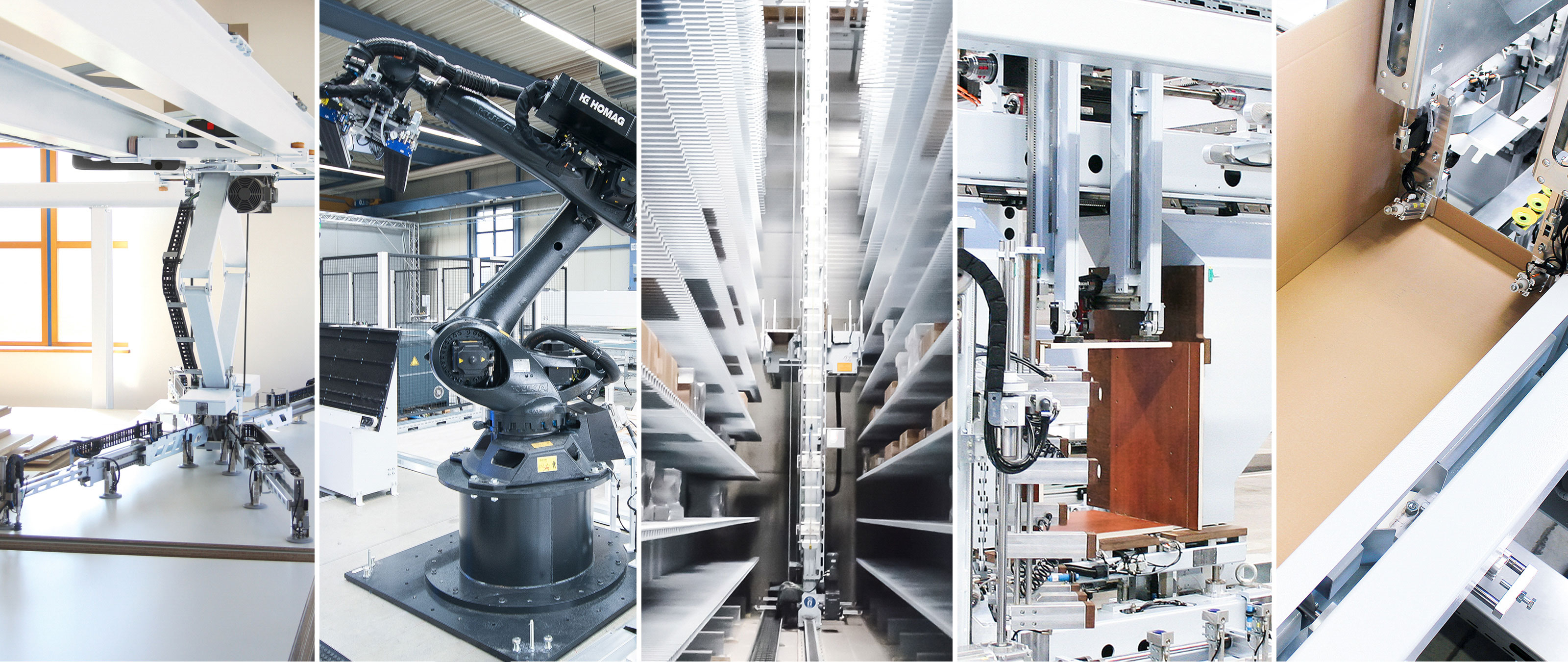 Individual design, customization and fast delivery require an intelligent production with optimal material flow. Batch size 1 production requires an absolute process command. Right here we have the best knowledge. Today we offer you best technical solutions for your tomorrow's production.
"Additional to the knowhow and experience of the employees, high flexible production lines and most modern control techniques are used in manufacturing to cope with the complexity of the products."

Jürgen Schmitt Production Manager, Leicht Küchen
Flexible, productive and efficient
Our solutions combine production islands to a productive overall concept. Continuous data management creates precise material streams in production. Process command ensures efficiency, flexibility and quality.
Storage Technology
Horizontal storage systems offer more leeway in combination with operating machines and in panel varieties. They are the ideal solution for an effective production.
Automation and Robotics
Robot applications, return devices, handling and transport systems add to core machines and complete them up to an unmanned cell.
Buffer and Collating
Sorting and collating lines equalize part flows, arrange them as needed and flexibly align them to the actual production process.
Assembly Technology
From a simple case clamp to customized assembly lines arise solutions for the demand-orientated final assembly.
Packaging Technology
Cost conscious concepts for packaging up to batch size 1. Every box a tailor-made suit with best product protection, easy and quick to produce.
That's how your colleagues produce
Edgebanding machine with workpiece return LOOPTEQ O-300

With the EDGETEQ S-380 you get exactly the edging result you were looking for!

smartPrefab – Industrial manufacturing of prefabricated houses

smartPrefab – Digitally networked systems for maximum efficiency

Are you still destacking manually?

Do you currently need a lot of time for destacking and coordinating the material flow after the saw? With the saw SAWTEQ B-300 flexTec stacking becomes easier.

Being faster

A key to success for Burger Küchen (Undertitle english)

A Storage System for the Plastics Industry

Whach the video and experience how item automates its panel handling with the storage system STORETEQ S-500.

Fully automatic Drilling Line with Robot Handling

Robots resolve the part flow in one of Europe's most innovative drilling lines at EGGER in Sankt Johann - precise, safe, and space saving.

Robot Sorting Cell

The robot sorting cell is interesting for everyone who produces furniture in batch size 1.

Automation Technology: That's what our customers say

Automation Technology: That's what our customers say

Single-axis feeder STORETEQ F-100 on a panel saw SAWTEQ S-200

Efficient, ergonomic, and gentle on material: The new HOMAG STORETEQ F-100 single-axis feeder