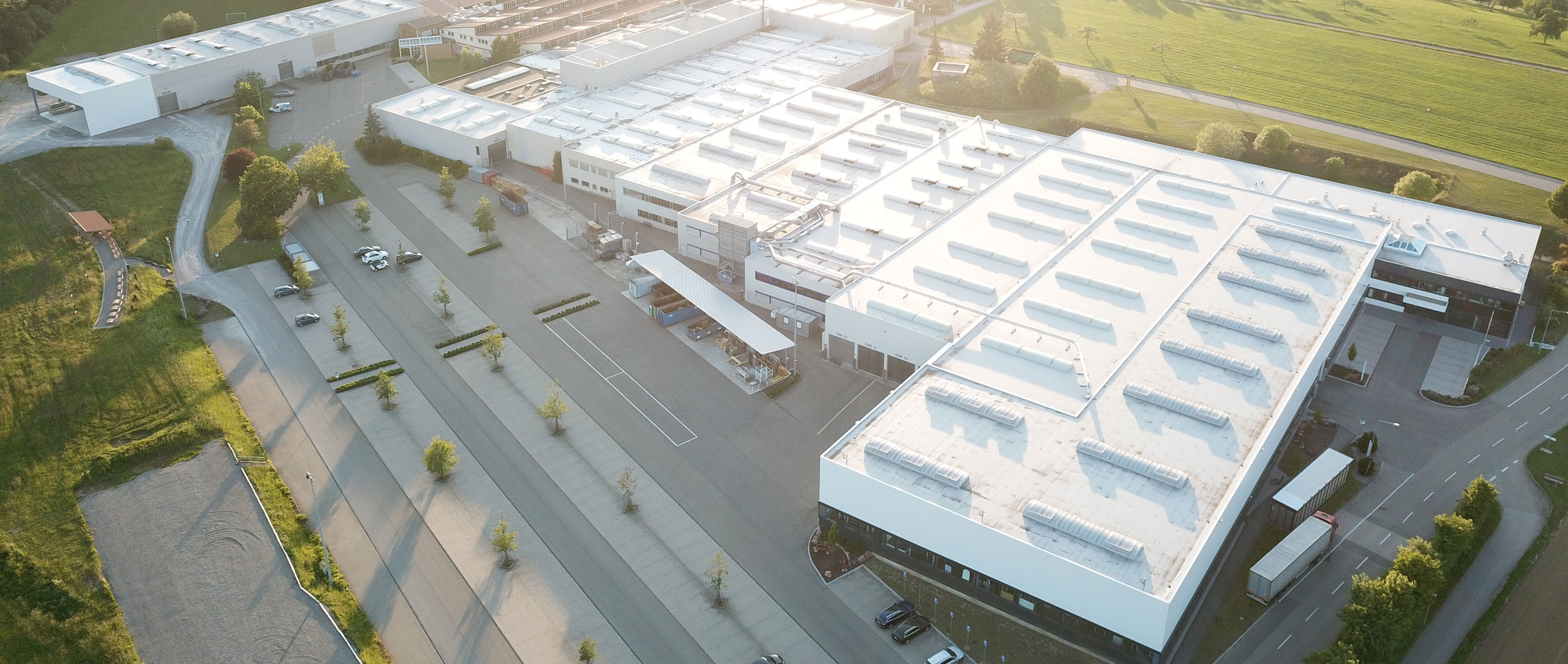 The Holzbronn location is the home of panel dividing saws. Today, some 420 people work here. "We are Panel Dividing" is our motto. In the course of the 50 years of our company's history, we have achieved the status of world market leader for horizontal panel dividing technology. We are a company of the HOMAG Group and supply our saws and systems to joiners and cabinet makers, interior fitters and contract furniture producers, kitchen and office furniture manufacturers – in short, the whole spectrum of the furniture industry, from small to large.
We have 5 production sites spread over 3 continents and so are always close to our customers.

We excel in innovation. 65 patents granted in the past 10 years alone attest to this.

We have a passion for mechanical engineering

In 2015, we had nearly 2 000 on-site assignments, answered the Service phone 30 000 times, sent out 60 000 spare parts and trained 444 customers and technicians.

We are offering customers intensive training courses at its in-house Training Center. In 2015, we trained 444 customers and technicians.

Our panel dividing saws offer precision finish cuts for every type of wood-based or plastic panel material.
A strong team – for optimum performance in panel cutting
We are a seasoned team of more than 400 experts and doers in Holzbronn. We are machine builders, engineers, accountants, receptionists, mechatronics technicians, welders, software developers, service specialists and business people. And, above all, we care about our customers; we listen to them carefully and, together with them, we shape the future of panel cutting – with custom solutions, increasingly efficient processes and automation concepts that are as intelligent as they are ergonomic.
Our strength: we offer the appropriate hardware and software from a single source – and tailor every particular of our services to the requirements of the customer: from the planning and production to training courses and maintenance and service during operation.
At home in the Black Forest – and all over the world
However, Holzbronn in the Black Forest would not be the home of panel saws if we did not also work on new ideas for the future of panel cutting here. We do this in close collaboration with our customers and with an eye on global market trends. In this way, we create top-quality products and transform revolutionary ideas into reality. Examples here include the fully automatic batch size 1 saw SAWTEQ B-320 flexTec, the dustEx extraction system, which is as simple as it is efficient, and a wide range of measures to make the operator's life easier – such as the new Operator Assistance System LED.
Then we carry these and many other new developments from Holzbronn out into the world, adapt them to suit the particular conditions and produce our saws locally in some markets – for example, at HM Machinery in Shanghai, Bangalore, Barcelona and São Paulo.
We would like to invite you ...
Every day we are working in Holzbronn and all over the world to ensure your success in panel cutting. We seek dialog, talk to each other, discuss and coordinate – and make your company more competitive. That is our aspiration and the standard we want to measure up to.
You would like to experience this spirit live, or become part of our team? Be our guest! Come and join us – as a customer, an employee or a visitor. We always have time for you.
... to the Black Forest
And, when you come to the Black Forest and visit us in Holzbronn, plan some extra time. Not only because the metropolis of Stuttgart is close by and you can find plenty of recreation options in its environs, but perhaps also because there are sincere people awaiting you here, as well as countryside that is beautiful at any time of the year, many attractive sightseeing destinations and a wide variety of sporting activities. The Northern Black Forest also offers your children many exciting opportunities – and good education and professional training as well. Perhaps even at HOMAG Plattenaufteiltechnik.