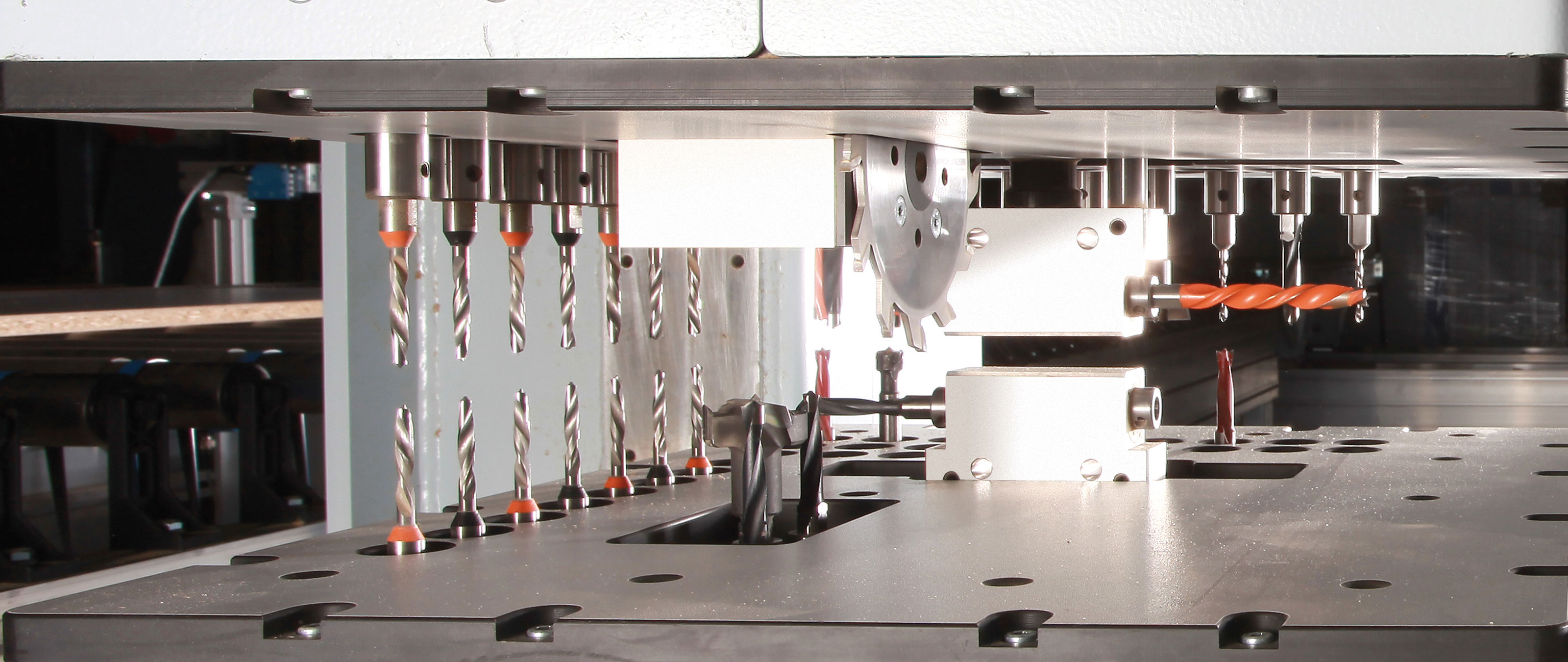 Leider keine Produkte für die gewählten Filtereinstellungen.
CNC Drilling and Routing Machining Centers
Drilling and routing in batch size 1 without set-up time, flexibly expandable up to fully automated machining cells
Setup time-free due to workpiece transport with tongs. The machine itself determines the correct position of the collets depending on the machining operations. No additional clamping devices and vacuum pumps required
Components from XXS to XXL:
Safe holding and machining from the smallest drawer panel to the largest panel.
Part measurement for validation and offsetting of tolerances
Scalable performance through wide selection of drilling gears and expansion with routing spindles and dowels
Automation for every need:
From automatic return to automated cells to integration into production lines
CNC Drilling and Dowel inserting Machines
Our HOMAG DRILLTEQ D drilling machines have mainly 2 tasks: Horizontal drilling and doweling. They are fast, reliable and easy to operate
Advantages of our drilling and dowel inserting machines:
Uniform woodWOP programming for all CNC machines
intelliGuide operator assistance system with LED light bar for displaying the workpiece contact positions
Expandable with units for drilling in the surface and for horizontal and vertical milling
Simple program selection via barcode scanner
Reliable technology for gluing with automatic cleaning and program-controlled glue quantity
Precise machining due to continuous support on the smooth machine table
Fields of application of the drilling and dowel inserting machines
With our machines we offer you the right solution for every challenge:
Flat drilling operations
Classic dowel hole drilling in the front face
Continuous back wall groove
Drilling machining to complement a nesting machine
Flat milling machining for integrated and high-quality hinges or fittings
CNC Automatic Drilling and Fitting Machines
Throughfeed machining centers for drilling and fitting setting technology for industrial batch size 1 machining. Individually configured to the requirement, for drilling, milling, fitting setting.
Reliable technology designed for continuous operation
For sides, bottoms, fronts, to ensure parts are ready to install with all necessary fittings
Scalable performance due to multi-stage machining and distribution of work contents to several machining stations
Througfeed Drilling Machines
High-performance drilling machines for furniture production - designed for industrial production in medium and large batches. Machines of the DRILLTEQ C- series are mainly used in interlinked machine lines. High output per minute at consistently high quality is our benchmark here.
The advantages of our continuous drilling machines:
High machining quality and absolute precision during machining
Reliable technology designed for continuous operation
Configurable for a wide range of production requirements
Highly flexible due to the proven changeable drilling gear system (DRILLTEQ C-500)
Individually retrievable spindles and automatically positionable drilling gears enable set-up in the gap in linked throughfeed systems or the machining of complex drilling patterns through multiple drilling strokes (DRILLTEQ C-800)
woodWOP programming system on the machine