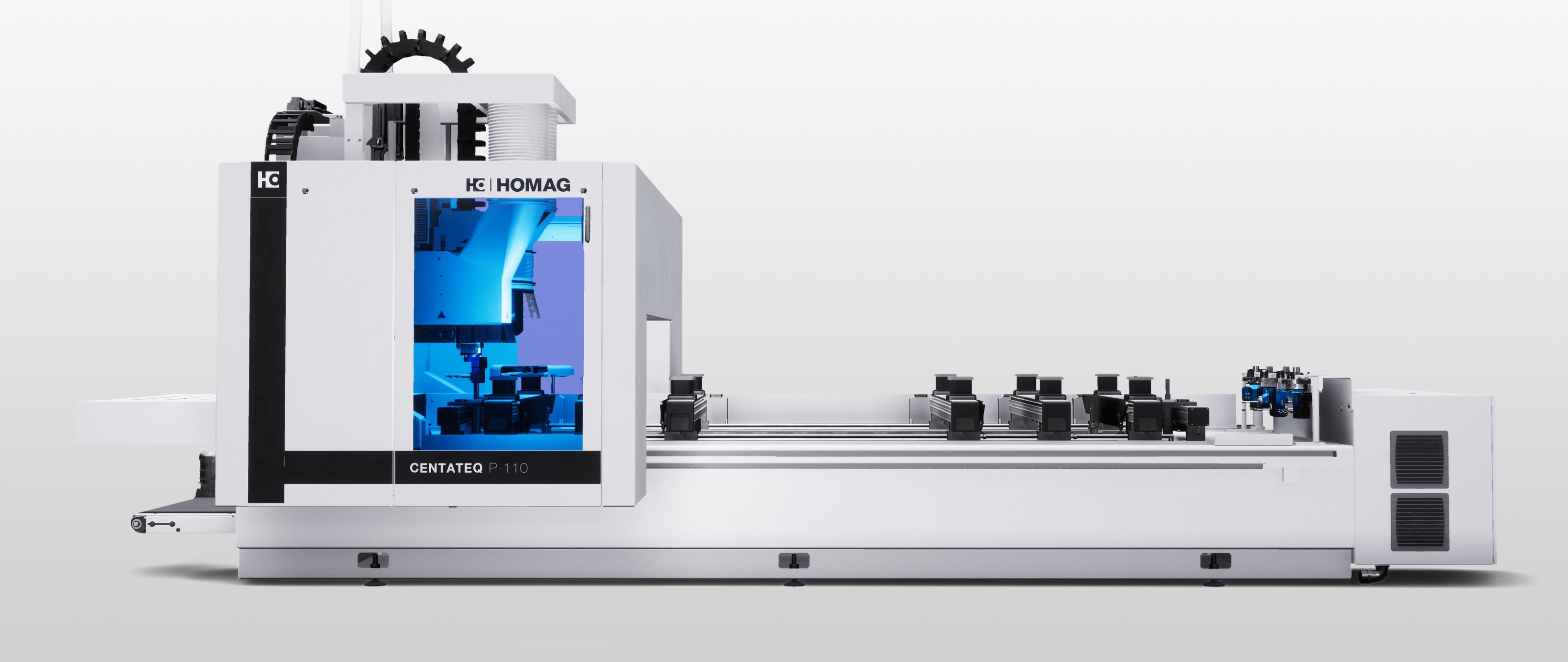 Leider keine Produkte für die gewählten Filtereinstellungen.
CNC Machining Centers
If you want to buy a new or used CNC router, you expect the machine to solve your manufacturing challenges. HOMAG CNC machining centers offer cutting-edge technology from the world market leader for all woodworking technology for manufacturers of all sizes.
The world market leader HOMAG presents its CNC processing centers:
We offer superior technology and equipment for the highly efficient production of furniture, interior fittings, construction elements, and millwork, for panel processing, plastics and solid wood processing.
Advantages of our CNC machining centres
The right clamping system for every task:
console or flat table, grid table, clamping table, multi-table, twin table, pod and rail table, console table
Available in 3, 5, or 5 axis options
Heavy machine frame made of a welded steel construction and stable mobile gantry construction
Scalable performance through customized assembly of the CNC machining center with milling spindles, drilling gears and tool changers.
Quick and easy access to the processing units and aggregates.
Maximum visibility into the machine during processing, while at the same time providing protection and reliable safety features for the operator
Easy refilling of hot melt glue adhesive
Easy and quick loading and exchange of edging materials
Energy-efficient extraction with low connection power
Reduced power consumption through stand-by operation at the touch of a button
Fields of application of a CNC machining center
With our CNC woodworking machines we offer YOUR solution. With a CNC machining center from HOMAG, you are perfectly prepared for all tasks.
staircase production
furniture production
kitchen and bath cabinets
millwork
window production
door production
formed parts
interior finishing
plastics processing
Equipment features of our CNC routers
As different as the required production demands are, so wide is the range of equipment features and technology. We are able to offer you everything to get the most from your machinery: from tool changers, aggregates, edge processing, console tables, grid tables, vacuum suction cups to tailor-made clamping solutions for our CNC router.
Process technologies:
sawing
cutting
connecting
separate
milling
drilling
glue edges
edge finishing
measuring
3D machining
Automation of your CNC machining center
With intelligent solutions, we are able to help you extend your CNC machining center into manufacturing cells with automatic material handling and more. From entry into automation to unlimited workpiece handling:
attached loaders/feeders
robot handling
labeling
production cell control
plant visualization/system visualization
Partnership, solution-oriented, innovative - CNC machining centers from HOMAG.
CNC Automatic Drilling and Fitting Machines
Throughfeed machining centers for drilling and fitting setting technology for industrial batch size 1 machining. Individually configured to the requirement, for drilling, milling, fitting setting.
Reliable technology designed for continuous operation
For sides, bottoms, fronts, to ensure parts are ready to install with all necessary fittings
Scalable performance due to multi-stage machining and distribution of work contents to several machining stations
CNC Drilling and Dowel inserting Machines
Our HOMAG DRILLTEQ D drilling machines have mainly 2 tasks: Horizontal drilling and doweling. They are fast, reliable and easy to operate
Advantages of our drilling and dowel inserting machines:
Uniform woodWOP programming for all CNC machines
intelliGuide operator assistance system with LED light bar for displaying the workpiece contact positions
Expandable with units for drilling in the surface and for horizontal and vertical milling
Simple program selection via barcode scanner
Reliable technology for gluing with automatic cleaning and program-controlled glue quantity
Precise machining due to continuous support on the smooth machine table
Fields of application of the drilling and dowel inserting machines
With our machines we offer you the right solution for every challenge:
Flat drilling operations
Classic dowel hole drilling in the front face
Continuous back wall groove
Drilling machining to complement a nesting machine
Flat milling machining for integrated and high-quality hinges or fittings
Robot Solutions for the Furniture Industry
Increase productivity completely automatically with robot cells from HOMAG.
The robot as a real all-rounder
Regardless of whether it's handling in conjunction with sawing, laminating, processing edges, drilling, routing, assembling, packaging, or sorting and picking — robots are all-rounders in batch size 1 small series or series production. Innovative feed and stacking systems or pick-and-place applications ensure high performance with maximum repetition accuracy and extraordinary precision.
Robot systems for automation
Industrial robots can fully exercise their strength in areas including the automation of CNC processing cells, edge processing machines, buffer and picking systems, assembly systems, and packaging lines: regardless of whether that's the individual construction of the cell with different supply and discharge situations, part sorting, turning and alignment stations, parts checking, or part destacking.
The cell control system enables easy operation from series production to batch size 1 production.
One robot cell, many advantages for your production
Maintenance-friendly
High availability
Greater efficiency
Greater flexibility
Better ergonomics
Greater process reliability
Less part damage
Reproducibility
Continuity
A selection of our robot solutions is available here.