Discover our knowledge and solutions for Digitalization
Let us go on this journey together.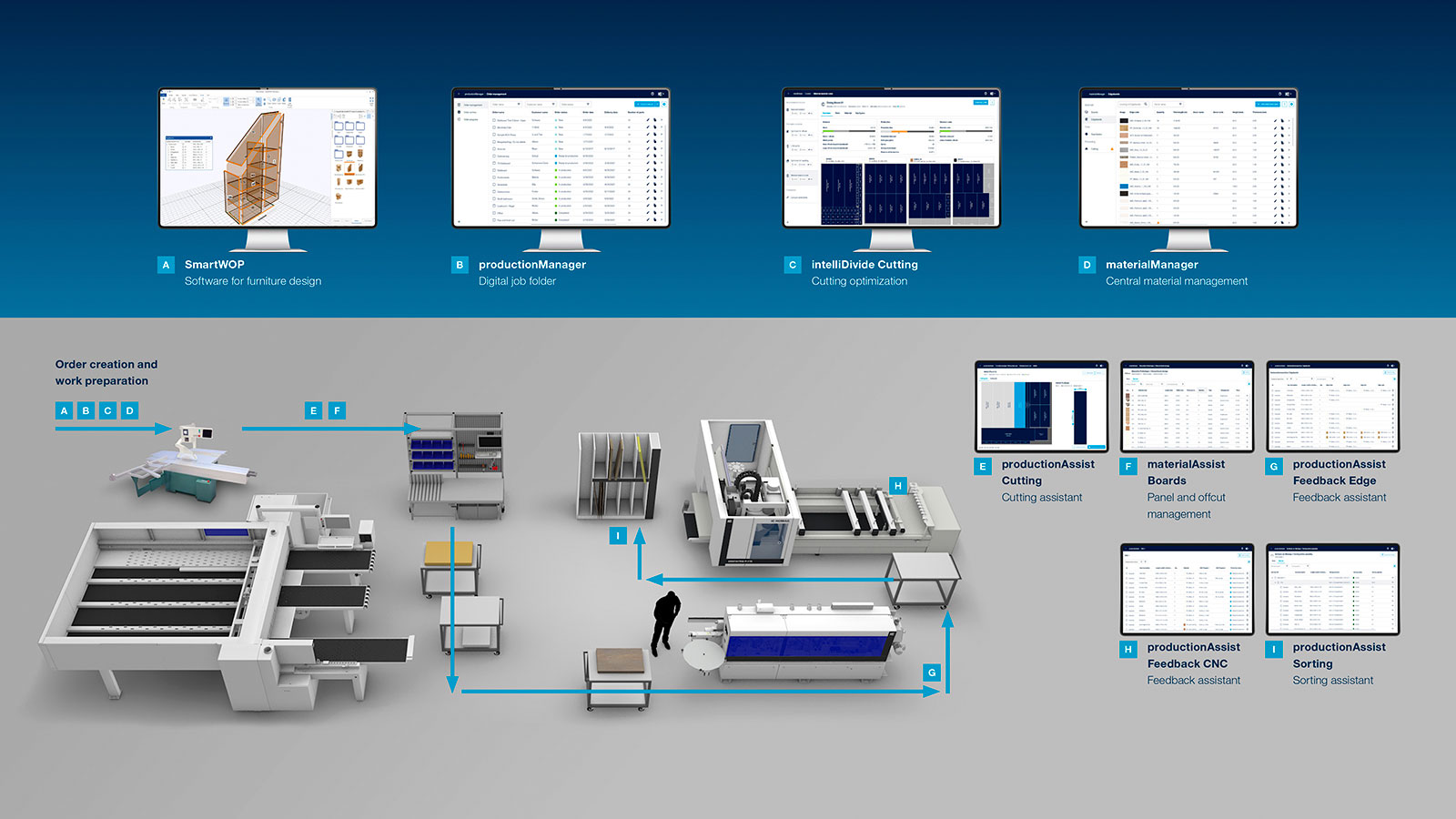 Digitalization for carpenters and joiners: apps and assistants from HOMAG
Solutions for your workplace in the workshop.
Everyone is talking about digitalization in the woodworking shop, but how to start in your own company? From our conversations with you we know that especially in the carpentry and workshops you are all dealing very often with the same questions.
What is the difference between digitization, digitalization, and digital transformation?
Are there simple solutions that can remove various challenges in everyday work (e.g. the organization of materials or the sorting of parts)?
How can you slowly approach digital helpers in the workshop?
Which tools can you try out simply and easily without investing large amounts of money?
We have developed powerful and smart solutions for you.

In our video you can see at which workplaces in the workshop we can currently easily support you with digital assistants.
Digital support in service
Rely on a digital assistant in the service area as well and take the next step in digital support for every machine operator with us.

Regardless of whether unknown fault messages are displayed on the machine or you need the help of a HOMAG service employee: We are there for you - digitally too!
Our digital assistants serviceAssist and the ServiceBoard from tapio will help you.

Our HOMAG service experts are already on hand to answer all your machine technology questions by phone. With serviceAssist, you now additionally benefit from faster and future-proof technology for our TeleService.
What should you do if you receive unknown fault messages on the machine?
How can you prevent unexpected downtimes?
serviceAssist will help you find a solution quickly and easily at precisely these moments in the future.
But how exactly does serviceAssist work? Find out more in our video!
Are you interested?
If you would like to book or inquire about our apps and digital assistants, you can either use the HOMAG eShop or the tapio Shop.
Test our apps now for 30 days free of charge!
Almost all apps and digital assistants can be used as individual modules - depending on the requirements in your company. You can test almost every app free of charge for 30 days in advance. Get your trial version now in the tapio Shop.
Satisfied with your trial version? Then simply book your app in the tapio Shop on a monthly basis or take out an annual subscription - depending on your needs!
Digital support for you from us!
For more information, tips and all the latest news on the functions of the individual apps and digital assistants, visit our online documentation at docs.homag.cloud.
Would you like to get an overview? You can find all apps and digital assistants at a glance on our landing page at digital.homag.com.
At a glance
All apps and digital assistants for your workshop at a glance.
digital.homag.com
Online documentation
Get detailed descriptions of the features of our apps and digital assistants.
docs.homag.cloud
The Edge Data Package in use

The Edge Data Package in use at the Lechner joinery

Heinz Dürr Award 2022

Edge Data Package wins the Heinz Dürr Award in the Innovation category. Congratulations to the whole team for this great achievement!

The App-Plus Package

Free of charge with every new HOMAG machine

Powerful software duo

SmartWOP and woodWOP in interaction

SmartWOP: Cabinet construction

Design your cabinet quickly and easily

SmartWOP – the smart way to design furniture

Clever, simple and fast

Label printing also on the manual saw

The Cutting Production Set at the Schmidt & Bauer joinery

Unboxing

The HOMAG Cutting Production Set

Digitalization for carpenters and woodworking shops

Your entry into the world of digitalization - apps and digital assistants from HOMAG

Digital support in service

An indispensable tool for every machine operator. Fast, preventive and helpful.

HOMAG CUBE

Your central component for the digital workshop.

ServiceBoard App: Your direct line to the HOMAG Service Team

The ServiceBoard App allows a rapid identification of errors, direct connection to the HOMAG contact person, and a simple overview of all cases.