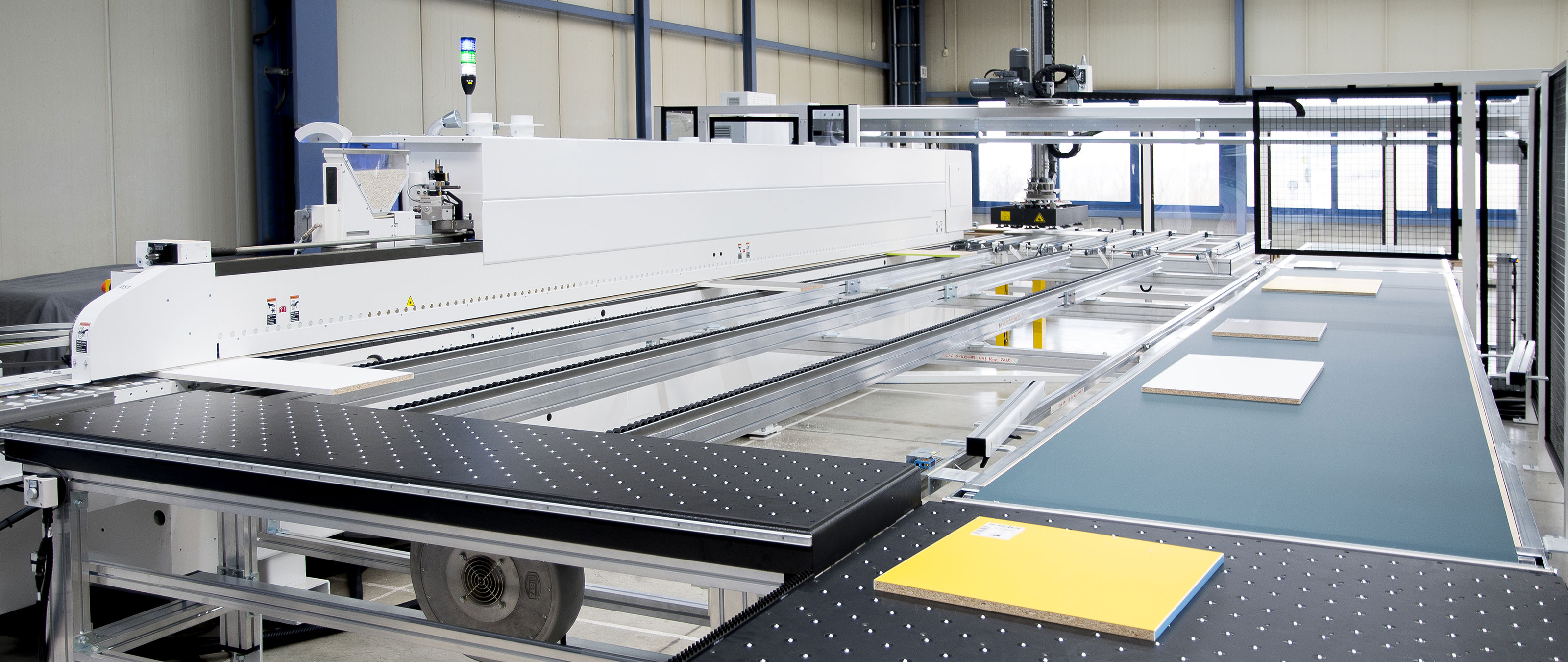 Leider keine Produkte für die gewählten Filtereinstellungen.
Return Conveyors
Workpiece returns for automated edge processing
The workpiece returns from HOMAG are the perfect supplement to single-sided edge banding machines. Ideally aligned with the properties of the edge banding machine, workpiece returns optimize the entire edging process in furniture production. The material flow is automated and ordered, making the edge banding machine more efficient. The result is a leaner and more efficient edging process with an ordered flow of parts for any production solution, regardless of whether you produce batch size 1, customer-specific orders, or series.
From the entry-level variant of the workpiece return to fully automated edge circulation
When combined with a return, even the entry-level models of the HOMAG edge banding machines can be designed optimally, effectively, and ergonomically. Thanks to automation, one machine operator is sufficient for the complete processing of the workpieces. The automated parts flow is the decisive advantage over competitors who still feed workpieces in manually.
The HOMAG returns and edge circulations are also ideally suited to furniture production with a high level of automation. The focus is on a continuous, high-performance, and flexible production process in which workpieces are identified by their barcode. With a single or dual transfer gantry, parts are turned and transferred accordingly, supplied to the edge banding machine, or ejected from the process. Furniture parts with finished edging are transported out or can be stacked.
Workpiece returns and edge banding machines from HOMAG are perfectly aligned with one another in terms of size, speed, and control system.
Edge and surface protection
A further advantage of the workpiece returns is their protective workpiece handling. The edge banding machine decides whether the air cushion table or vacuum cross rail is used. The processing quality is significantly increased with all solutions.
This means that a wide range of parts—from small, light workpieces to large, heavy workpieces—can be transported. Even sensitive surfaces such as those with an aluminum or stainless steel look can be transported without any problems. The ergonomics provide a noticeable benefit for the machine operator, bringing an end to the days of manual handling of heavy items.
Advantages of the workpiece return for your production
Better machine utilization and significantly reduced downtime
Wide variety of workpieces
High profitability and short amortization times
Increased quality
Ergonomic handling
Simple operation
Flexible organization of personnel
Saying yes to automation for edge processing is therefore not a question of the size of the business. Rather, it is essential for greater economic efficiency. A workpiece return will benefit any company operating an edge banding machine in their production.
You can find the right automation solution for your edge banding machine here.