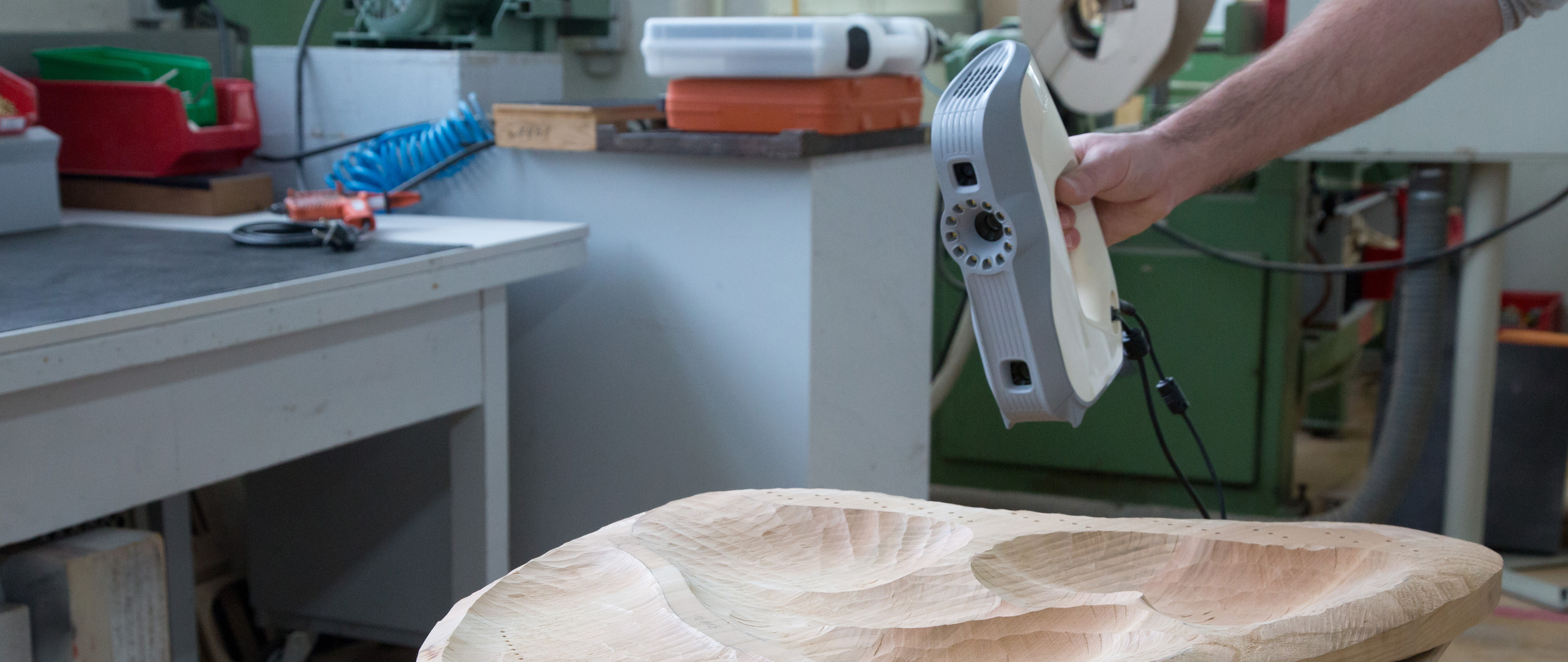 Data generation in 3D: scan and get started
Extraordinary items made from solid wood — that has been the motto of Josef Wochner GmbH & Co. KG since the company was founded in 1934. The joinery is now living up to the company's claim of offering exclusive wooden items once again — reproducing a hand
Anything that's fun really!

Adrian Wochner, Managing Director Josef Wochner GmbH & Co. KG
An article from the specialist magazine DDS, 02/2016, Here you can read the article on DDS-Online.
Extraordinary items made from solid wood — that has been the motto of Josef Wochner GmbH & Co. KG since the company was founded in 1934. The joinery is now living up to the company's claim of offering exclusive wooden items once again — reproducing a hand-carved unique product using a 5-axis processing center for the very first time. The product is the basic body of a lyre, requested by a lyre manufacturer. HOMAG generated the data that Wochner needed using the new "3D scanning" service.
Josef Wochner GmbH & Co. KG was founded by Alfons and Josef Wochner. At the time the company was founded, the brothers produced turned pieces, shells, pillars, decorative tips, and later barometer cases, clock housings, and much more. Today, the company, with its headquarters in Rosenfeld-Heiligenzimmern on the edge of the Black Forest, has developed into a high-tech supplier business employing a staff of 50, and has excelled as a provider of exclusive wooden items, in accordance with the company's claim. The various products that the company produces range from classic shapes, through modern models, to extraordinary individual items. This is where Wochner clearly stands apart from other wood processing businesses. The company primarily uses solid wood to manufacture its products, which include small series goods, individual items, and prototypes, mainly for clocks and clock collectors. However, the company's product range also includes technical housings, loudspeaker boxes, safes and covers for safes, cases and caskets for expensive jewelry, humidors, and collector cabinets.
And there was certainly a great deal of fun to be had with the latest project: reproducing the basic body of a lyre for a special customer who manufactures special lyres. The individual postprocessing steps that this customer performs by hand means that he determines the final shape of the lyre and the ultimate resonance properties, but can have a CNC machine carry out the more strenuous preparatory work. This presented Wochner with the challenge of producing parts that had previously been carved by hand by machine in a small series.
Published in the dds / February 2016.
Back to List