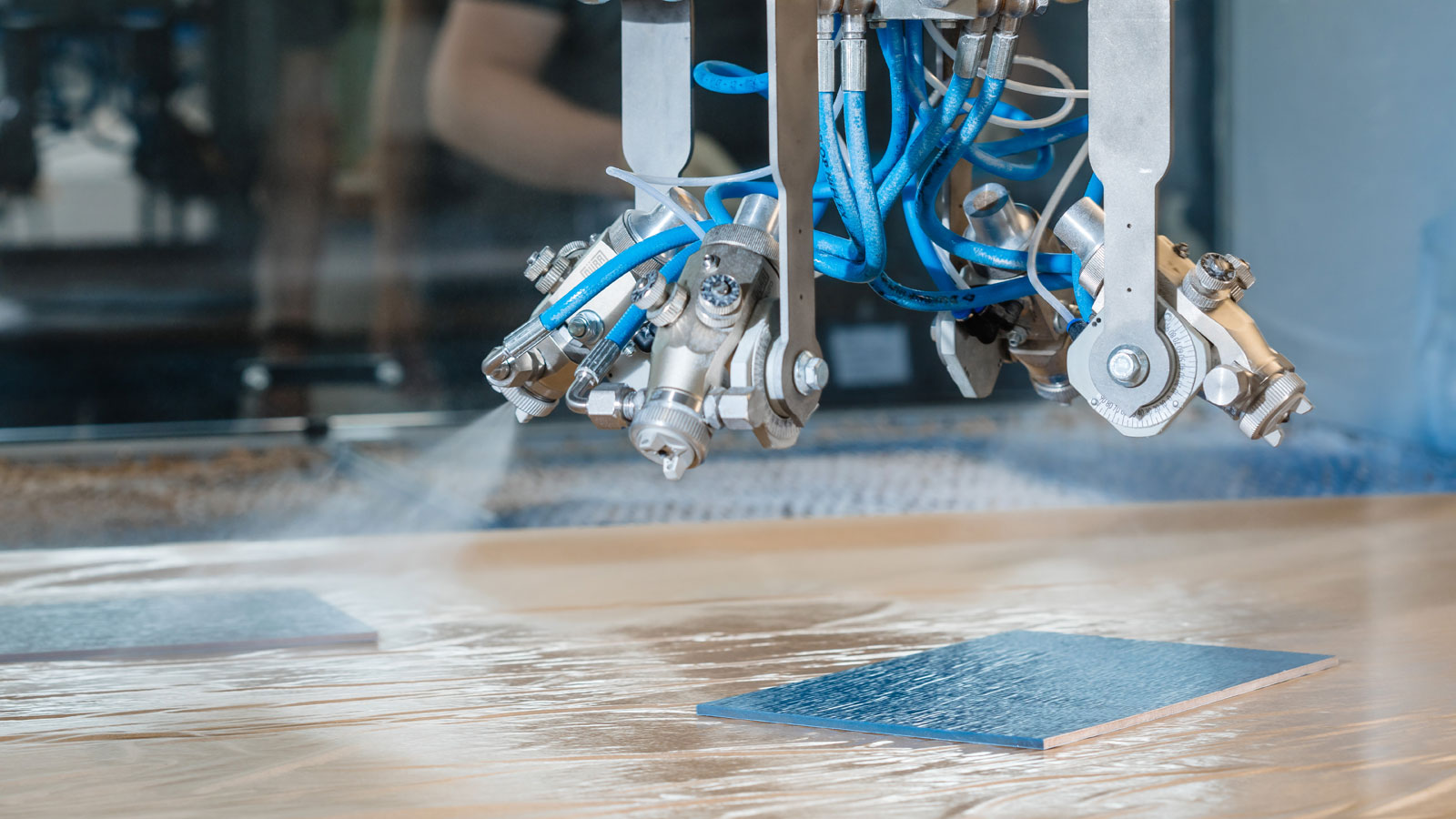 Cutlist puts its trust in HOMAG for new spraying solution
When Oxfordshire based Group, Cutlist and Langstaff-Ellis was looking to invest in an automated spray solution, they knew they wanted reliability and high quality.
Usually, when you buy a new piece of equipment, there is always something that the salesman tells you it will do, but in reality it won't; I have to say, however, the SPRAYTEQ has delivered everything HOMAG promised

Alex Langstaff-Ellis, joint business owner of Cutlist and Langstaff-Ellis
When Oxfordshire based Group, Cutlist and Langstaff-Ellis was looking to invest in an automated spray solution for its businesses one of the companies it turned to was HOMAG UK. Cutlist wanted a reliable, high quality automated spraying machine to offer its customers additional services; whilst Langstaff-Ellis was looking to gain control over previously outsourced spray finishing.
"Cutlist was founded in 2014 to meet a demand for panel processing," explains, Alex Langstaff-Ellis, joint owner of the business. He continues, "My business partner Edward Birks and I set up Langstaff-Ellis Limited as a bespoke cabinet maker in 2009. Fast- forward ten years and we've had multiple workshop moves driven by rapid growth to the point where we are now.
"At Langstaff-Ellis, we serve a lot of high-end private individuals, but also some developers and commercial clients too. About five years ago we set up Cutlist as a panel processing supplier. This business cuts panels to size, edge bands them and sends them out as a kit for trade-based clients, including carpenters, joiners and cabinet makers.
"Cutlist has experienced rapid growth too and it became clear that a spray machine would be advantageous to both companies."
The need for an automated spraying solution
"The reason we considered an in-house spray solution was to gain control of our entire manufacturing process at Langstaff-Ellis. At that time, we were spending a lot of money on a third-party traditional hand spray service.
"Not only was it expensive, but also it was difficult getting the parts to and from the supplier without damage occurring. In addition, it was very time consuming; we were reliant on his capacity and his ability to get things done to our timeframes. So we just weren't in control of the process in the way we wanted to be.
"The volume of business we were putting out meant that investing in our own spray solution started to look a more effective solution. In addition to this, we recognised that there was a significant demand for Cutlist customers to have access to a primer and lacquer service for finished boards.
"Our competitors weren't offering that service with an automated machine so it made sense for us to fill the gap. For Cutlist, it's now a unique selling point over the competition and it gives us the control we were looking for, not to mention a new profit centre for the business.
"We didn't want to go down the hand spray route because as a company, we are focused on automating as many of our processes as we can. Automation gives us consistency, reliability and ultimately, improved profit margins."
The decision to buy from HOMAG
"When it came to investing in the spray machine we looked to see what the market had to offer. We'd previously invested in a HOMAG beam saw and CNC machine, both of which have given us tremendous confidence in them as a company. Despite this, we weren't just going to roll over and pick HOMAG as the solution.
"From our point of view it was vitally important that we carried out due diligence to ensure we chose the right long-term solution for our business. With this in mind we singled out HOMAG and one other potential supplier. We then supplied some test sample panels to both companies and visited each, scrutinising the outcomes to see which delivered the best results for us.
"There wasn't a big difference between the performances of the two machines. Where HOMAG did score, however, was their open and honest approach to the sales process. In addition, there were some aspects of the other party's offer that we didn't warm to, so that automatically swayed our decision towards HOMAG's favour.
"With HOMAG, we just had every confidence that they would deliver and support us for the years ahead. Whereas with the other company, we felt the future service support may not be as good.
Specifying the right machine
"As we were completely new to spraying, we had to put our confidence in HOMAG to work with us to specify the right machine for our business. Paul Mosley, the HOMAG area sales manager, was a great support throughout the purchasing process and all the advice that HOMAG gave us turned out to be spot on.
"The throughput of the SPRAYTEQ is superb. It's a conveyor fed machine so you can process high volumes of product very quickly, all with the same high quality finish. The continuity is excellent; you just can't get that level of consistency with hand spraying.
"Another advantage is that although we were effectively novices at the spray game, the machine allowed us to learn how to program and set it up without having ten years of tradesman's experience behind us. With a modicum of basic training, anyone can operate the machine and get identical quality results.
"In addition, because the panels are running through the machine on a conveyor you don't get any over-spraying on the underside of the panels. For traditional hand sprayers, this is a major issue; they would have to mask up the back of the panel before they sprayed the top side.
"With our machine, we don't have to do that because every panel is laid flat on a paper conveyor so the spray just doesn't reach the underside. Consequently, not only does it save time, but it also saves paint – we're told that the SPRAYTEQ S-100 is 20 per cent more efficient than hand spraying."
The SPRAYTEQ S-100 from HOMAG UK
"The SPRAYTEQ S-100 is owned and operated by Cutlist. Once the panels have been cut and edged, they are sent to the spray machine for a coat of primer or lacquer. At this stage, we haven't offered a colour top-coat service to our clients, but that is definitely something that we might add in future.
"This facility is proving to be very popular with Cutlist customers; on top of this, however, Cutlist also serves our Langstaff-Ellis bespoke kitchens and furniture business. Here we do the whole package including top-coat colours and finish work.
"With Langstaff-Ellis, we design kitchens and furniture using Cabinet Vision and, of course, the HOMAG machines 'talk' to Cabinet Vision very effectively. So the designs are sent through the computer system to the HOMAG HPP 300 beam saw where the panels are cut and then a label is printed out for each panel with a barcode and product details for ongoing edge banding and CNC processing.
"Our goal was to achieve as much automation as possible and we've made sure that, no matter how people order, whether through Cutlist or Langstaff-Ellis, the system works for both feeds of work."
A new partnership for HOMAG
"One slight concern we had about going forward with HOMAG was we were fully aware that this was a new partnership triad between HOMAG, Makor and the Durr Group who supply all the pumps and guns.
"Looking back, we needn't have worried; everything was very open and transparent which really impressed me. The energy and positivity everyone has put into the deal has been great, we can't fault it.
"Operationally, the machine is both straight forward and intuitive. Our operator is from the automotive industry with no real woodworking experience, but within a month he was able to completely get to grips with the SPRAYTEQ. He can trouble shoot and make adjustments to solve any issue pretty much straight away. It is also very easy to clean and maintain which is another significant bonus.
"Usually, when you buy a new piece of equipment, there is always something that the salesman tells you it will do, but in reality it won't; I have to say, however, the SPRAYTEQ has delivered everything HOMAG promised, it is a superb piece of kit which has added a whole new dimension to both our businesses," concludes Alex Langstaff-Ellis.
If you'd like a demonstration or more information about HOMAG SPRAYTEQ solutions, please contact HOMAG on 01332 856424.
Back to List