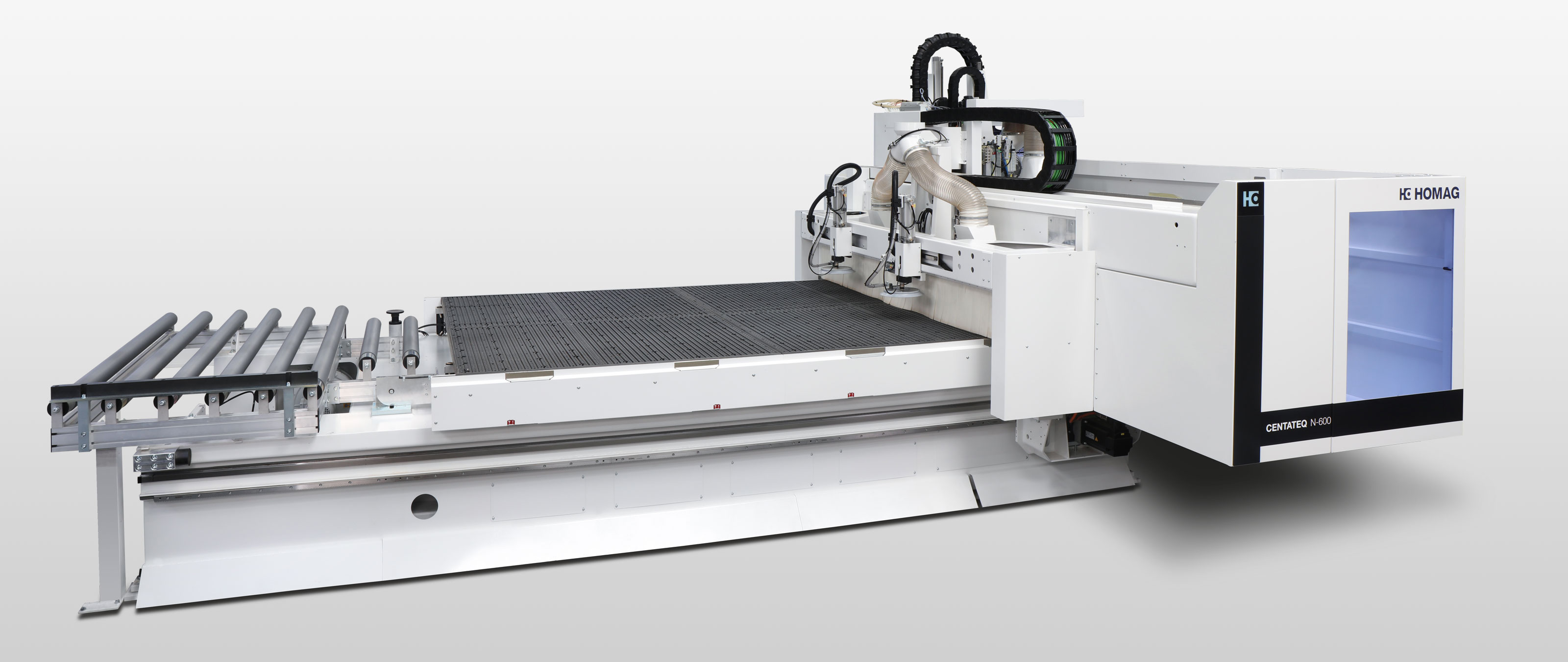 CNC Machining Centers

CENTATEQ N-600

CNC Machining Centers CENTATEQ N-600
Nesting with 3-, 4- or 5-axis technology.
Our nesting machines enable cutting-optimized processing and dividing of plateshaped materials. We divide the typical nesting areas into four areas. The classic areas of nesting can be divided into carcass procressing, cutting and finishing of furniture fronts, processing for modular furniture production as well as "advanced materials" (e.g. Plexiglas, aluminum, Alucobond). Various possibilities for the automation of the material handling ensure a high time saving and more effective work.
Benefits
7 levels of automation enable a perfect production process
3-, 4- or 5-axis processing for your entire processing portfolio
Everything in a single machine: nesting and hardware insertion
Intelligent optimization software such as intelliDivide and Cut Rite
Labeling/workpiece identification
Robotized destacking
Images
The smart DRIVE5CS 5-axis head – compact design with short force paths

Folding transfer station at the front of the machine for efficient set-up

Our stop systems for a high automation level

New labeling terminal on outfeed conveyor

Flush connectors, fixtures or hinges can be fed onto the CNC machine.

Robot Connection

intelliDivide – Optimized panel division

Faster, clearer, easier to use: reap the benefits of our powerTouch2 touch user interface, which has been developed further.
Features
2 synchronized digital servo-drives in X-direction guarantee highest processing quality

14-fold tool changer moving in X-direction

Vector speed X/Y 130 m/min

Efficient table field occupation by MATRIX Pro Plus

2 CNC-controlled Z-axes in combination with drilling block

The whole working field is reachable with all processing tools

intelliDivide Nesting – cutting optimization for CNC machines

Design furniture online and automatically receive all production data – with the cabinetCreator (Optional)
Technical Data
CENTATEQ N-600

31/15/R

5 × 10 ft

37/15/R

5 × 12 ft

31/22/R

7 × 10 ft

43/22/R

7 × 14 ft

Working field in X [mm]

3.100

3.700

3.100

4.300

Working field in Y [mm]

1.550

1.550

2.250

2.250

Working field in Z [mm]
without automation

210

210

210

210

Working field in Z [mm]
automatic push-off

60

60

60

60
(Previous product name: CNC-Gantry Processing Center BHP 300)
Brochures