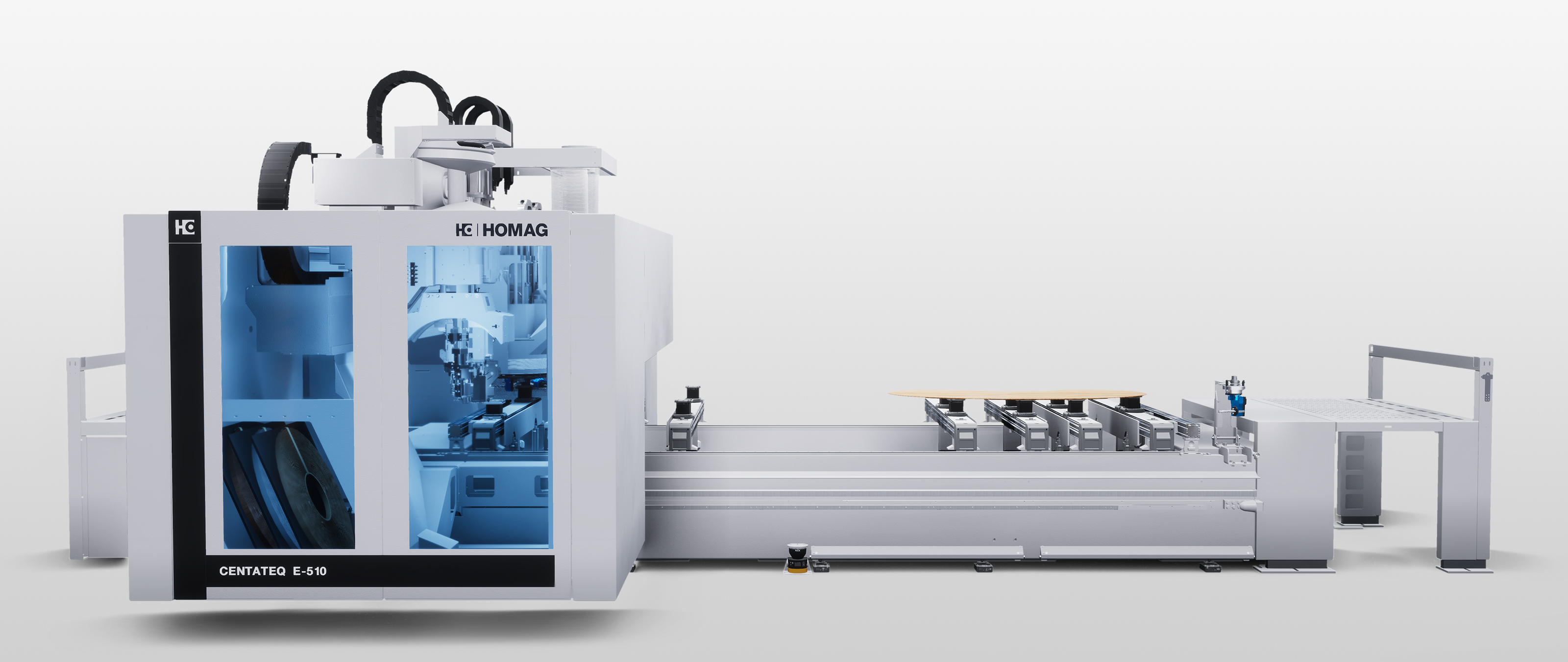 CNC Machining Centers

CENTATEQ P-510|610 + E-510

CNC Machining Centers CENTATEQ P-510|610 + E-510
Your choice in CNC machining for demanding production requirements
Stairs, furniture, windows, doors, interior fittings – the machines in our CENTATEQ P-510|610 + E-510 series provide you with the optimum equipment for all of your work. Each of these CNC machines is a complete system, ensuring maximum performance and efficiency to fulfil your customers' individual requirements. Experience the versatility and performance of our systems for your-self.
Benefits
Knowledge and experience gained from over 50 years constructing machines
Processing center configuration and alignment customized to meet your specific needs
Optimum view into the machine during processing
Edge banding in various performance classes, perfectly tailored to your individual require-ments – right through to zero joints for shaped parts
Standardized interfaces ensure that the functionality of the machines can always be expand-ed to meet future requirements
Images
More than 2000 satisfied customers around the world. You too can benefit from our all-round solutions

Unlimited processing options: Powerful 4- and 5-axis trimming spindles with spindle sensor and encoder feedback

Flexible — can be used with a wide range of materials

Exact rounding off at the top and bottom regardless of the thickness tolerances: use of traced units with the pneumatic interface with the 3-way support

Ready for gluing: choose from edge banding units in various performance classes

Bevel edge banding – The maximum variety for the realization of individual designs.

Automatically in the right location, thanks to the program-controlled positioning of the consoles and clamping devices

Want to process components with a large Z height? Part heights of up to 500 mm are possible!

Window production made easy. With swivel clamping elements, window sashes can be easily inserted, aligned and held in place.

Different tool change systems can be combined to provide up to 99 magazine slots

Ergonomic touchscreen operation and easy navigation: Experience the benefits of the powerTouch control system

Upgrade your CNC to an autonomous production cell with automatic material handling
Features
Staircase construction, furniture manufacturing, window processing, interior fittings, door production — the right choice for any production task

Offering optimum processing quality thanks to vibration damping, and extremely robust thanks to the basic machine construction from solid SORB TECH composite material

Scalable performance — configure your new machine with up to three processing units

Damage to the trimming spindles is avoided thanks to the regulated main spindle with electronic speed monitoring including vibration sensors

Drill change without tools thanks to high-speed drill technology with patented quick-change system

Console table, automatic setup A-table or aluminum grid table — choose the right processing table for you

Energy-saving features inside, such as intelligent flap control, which reduces suction costs by up to 20%
Technical Data
| Workpiece length X [mm] | /33 | /40 | /60 | /74 |
| --- | --- | --- | --- | --- |
| Individual processing (all units) | 3,300 | 4,000 | 6,000 | 7,400 |
| Pendelbearbeitung* (all units) | 1,025 | 1,375 | 2,375 | 3,075 |
| Workpiece width Y [mm] | /xx/12 | /xx/15 | /xx/19 | /xx/29 |
| --- | --- | --- | --- | --- |
| All units in main spindle (front stop) | 1,100 | 1,450 | 1,800 | 2,800 |
| With tool diameter 25 mm (rear stop) | 1,550 | 1,900 | 2,250 | 3,250 |
| Gluing (rear stop) | 1,550 | 1,900 | 2,250 | -- |
| Workpiece thickness Z [mm] | 510 | 610 |
| --- | --- | --- |
| With tool length 230 mm | 300 | 500 |

Some workpiece parameters may depend on the tools used. Please see the relevant brochure for further technical data.
*Dimension with central division. Pendulum field size adjusted dynamically to component size.
(Previous product name: BMG 510|610 processing centers)
Videos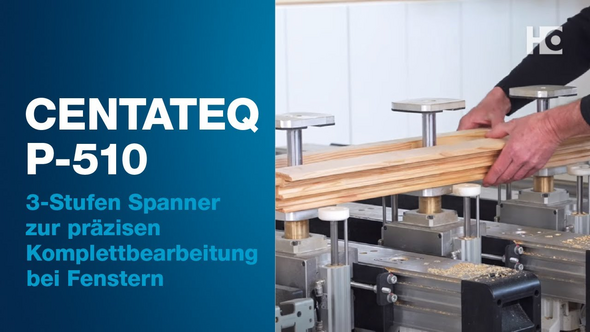 Bearbeitungszentrum CENTATEQ P-510 | Fensterfertigung mit 3-Stufen Spanner
Die CENTATEQ P-510 ist die richtige Wahl bei anspruchsvollen Produktions-Anforderungen wie Treppen, Möbel, Fenster, Türen und Innenausbau.
Fensterfertigung mit der CENTATEQ P-500 bei der Peter Schröder GmbH

Das CNC-Bearbeitungszentrum CENTATEQ P-500 hat den Kundenkreis nachhaltig erweitert. Die technisch machbaren Lösungen haben sich vergrößert und die Abläufe beschleunigt.

Fensterfertigung mit der CENTATEQ P-500 bei der Biersack GmbH

Das CNC-Bearbeitungszentrum CENTATEQ P-500 steigert den Output, da sie die Abläufe beschleunigt, die Qualität der Bearbeitung hebt und die Geschwindigkeit der Produktion erhöht wird.
Brochures