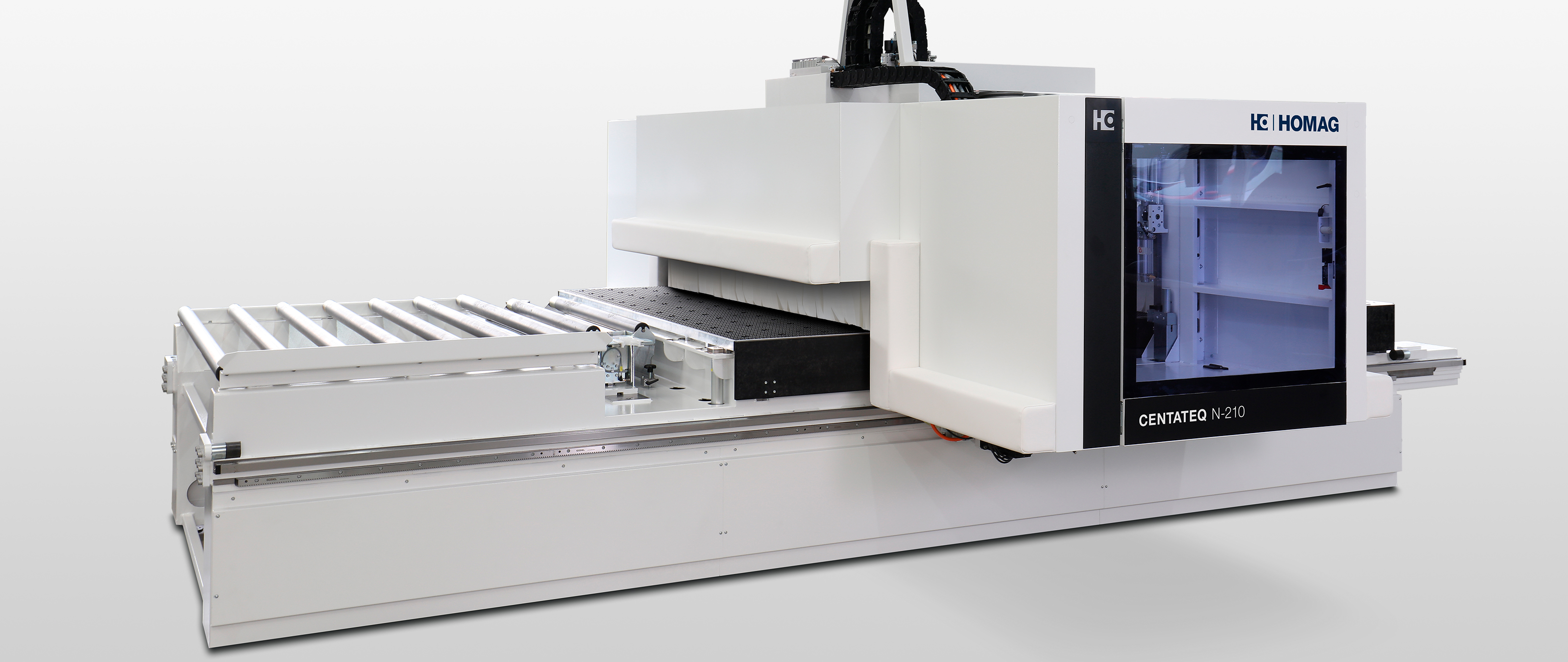 CNC Machining Centers

CENTATEQ N-210

CNC Machining Centers CENTATEQ N-210
The new Nesting concepts: Individual automation for furniture production
Our nesting machines allow for machining and dividing of panel-shaped materials with waste reduction as a focus. The traditional nested based field is in the creation of carcass furniture, or the dividing and finishing of furniture fronts. Automation concepts, which are easy to connect via Plug & Play, offer the possibility of subsequent additions to the machine. Differently equipped drilling gears and tool changers offer a high degree of diversity. With a focus on sustainability, changeover times have been reduced, and chip extraction and vacuum suction have also been optimized.
Benefits
Wide selection of table sizes, from 1.25 x 2.5 m to 2.1 x 7.4 m - also half-size with up to 84 possible vacuum fields.
Three possible equipment variants of the table's vacuum field layout are available according to requirements or table size. Classic, Advanced and Premium.
Tool changer with space for 8, 14 or 22 tools allows for time-saving handling. Tool changing can be done in parallel with the handling of the panels.
15 different drilling gears are available in various versions consisting of vertical and horizontal spindles and grooving saws.
14 automation concepts – addition via Plug & Play.
Simple individual adaptation to the premises and needs on site.
Lift tables for loading, automatic belt conveyors for pushing out the parts or handling by means of robots are possible.
Images
Automatic labeling at the infeed

Integrated feeding device

Combined exhaust and Push-out device

Central exhaust port on the gantry

Better extraction results thanks to blow-off nozzles in the extraction hood

MATRIX table with defined grid for efficient table field assignment

Pneumatically lowerable aluminum Stop cylinder

Stop guides with on-demand, automated control

Various clamping elements are optionally available

8-fold tool changer in X-direction, moving with the machine

High-speed drilling technology in different variants from vertical and horizontal spindles and grooving saws

Manual labeling with swivel arm

Picking from the nest – automatic stacking thanks to possible Robot integration
Features
Processing height in Z-direction to 160mm material thickness possible without any problems.

Integration of the infeed device into the machine housing to protect components from dirt and dust and facilitate material handling.

Energy efficient machining. Sustainable design for vacuum generation, tool change and suction during nest splitting.

Dynamic shuttle operation using separate vacuum supply and ventilation of the table halves for efficient and seamless changeover between left and right table halves.

Newly designed MATRIX table with defined grid dimensions. Cross-segment positioning of suction cups possible without restriction.

Optimized suction volume thanks to CFD flow simulation. Redesigned central suction nozzle and change in the arrangement of the integrated blowing nozzles.
Brochures