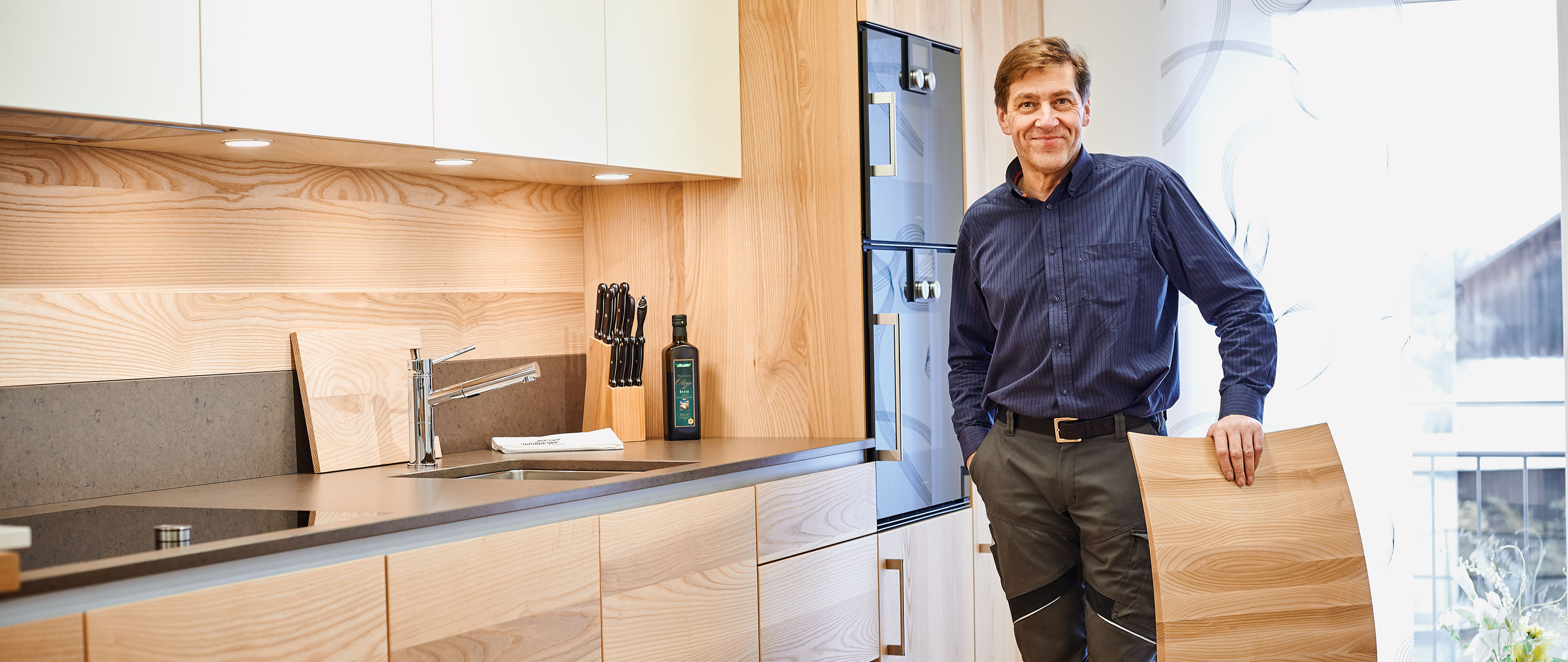 Bespoke kitchens by Schreinerei Geisberger
Eighteen members of staff, 11 of whom work in production, use a range of HOMAG machines that you'd be highly unlikely to find in a regular joinery workshop
We put our customers first. If they want something that's never been made before, we check whether it's feasible. It's important for us that there's mutual trust and that we get along on a personal level.

Martin Geisberger
Bespoke kitchens by Schreinerei Geisberger.
Daring to be different, applying a high standard of workmanship and listening carefully to customers' needs have made Schreinerei Geisberger what it is today: a state-of-the-art joinery in Bonbruck, Bavaria, that produces premium-quality bespoke kitchens and can even provide matching dining rooms upon request.
The joinery's success story began back in 1987 when Martin Geisberger decided to go freelance aged just 20. He started off as a one-man business making corner seats, but soon decided to expand his portfolio to include kitchens. Today, his family-run business puts together around 220 kitchens a year, often with matching dining room furniture. Customers can marvel at the quality and aesthetics of Martin Geisberger's high-end furniture in the spacious kitchen studio run by his brother Rudi.
Customer satisfaction is our top priority.
Of Geisberger's customers, roughly 95% are private customers who come to him mainly because of his reputation for flexibility. He doesn't advertise his services because he doesn't need to — the joinery relies solely on word of mouth, which speaks volumes about the company's quality and dependability.
The joinery has been developing alongside its customers and evolving in line with their requirements, in much the same way as HOMAG has spent over 60 years growing with its customers. Collaborating with people like Martin Geisberger is instrumental for HOMAG in this regard. After all, it would not be possible to achieve success and develop in line with market requirements without first-hand feedback and engaging with the needs of the joinery trade.
A machine pool unlike most others.
It was eight years before the joinery acquired its first HOMAG machine. When Martin Geisberger purchased a WEEKE machining center in 1995, he laid the foundation for the high-tech fleet of machines his joinery uses today. A year later at the third HOMAG Treff, he bought a HOLZMA panel dividing saw. Today, his team of 18 staff—11 of whom work in production—use a range of machines that you'd be highly unlikely to find in a regular joinery workshop.
The centerpiece: The edge banding machine.
Martin Geisberger is particularly fond of his new edge banding machine, which forms the centerpiece of his workshop. "We weren't happy with the machine we had before. We've been using the KAL 350 (now known as the EDGETEQ S-500 profiLine) since 2015 and, honestly, it's a perfect machine. This just goes to show what I've been saying since the beginning: HOMAG makes the best edge." Machine operator Bernhard Blenninger, who clearly enjoys using the machine, agrees: "We work with laserTec and PUR here. I can switch between the two banding techniques in just a few steps — it's really easy. It did take me a while to get used to everything, but now the machine and I work together in perfect synch." Offering the two techniques means that the machine gives joiners everything they need to manufacture kitchen cabinets that are highly resistant to heat and moisture. At the same time, the FK31 profile trimming unit makes the glue joints practically invisible thanks to the smooth and barely noticeable transition between the edging strip and the surface. This produces cabinets of superlative quality.
Why choose HOMAG? Everything from a single source.
Martin Geisberger had good reasons for choosing HOMAG right from the very beginning. "I prefer using machines made by German manufacturers. That's really important to me. Not least because they're close by if ever there's a problem." Even though HOMAG experts can reach Geisberger's workshop in just a few hours, he still uses ServiceBoard: "We've tested the video function and I think it works well, but we haven't actually used it yet. What we have used frequently so far is the QR code on the machine. We scan it and submit a service request online, then someone at HOMAG calls us back a little while later." Geisberger feels he's in good hands with HOMAG. He values being able to procure everything he needs from a single source. "I have a HOMAG contact person in Denkendorf, who I've been working with for many years now. He brings his specialists in whenever I need something particular. This close collaboration I have with the HOMAG Sales team is one of the main reasons why our partnership is mutually rewarding. I always know who I need to call and who's looking after my business."
HOMAG helps Martin Geisberger keep his customers satisfied. His staff help him even more. His aim for the future is to work together with his employees to be one thing above all else: joiners.
Back to List
Schreinerei Geisberger
Products: Kitchens and dining rooms
Location: Bonbruck, Bavaria
Founded: 1987
Employees: 18
First HOMAG machine: 1995
HOMAG machines used:
DRILLTEQ V-200 vertical CNC processing machine
BMG 512 five-axis machining center
EDGETEQ S-500 profiLine edge banding machine
HPP 530 panel dividing saw with TLF 420 storage system
SCR 313 sanding machine
MDE 100 body press
ABD 150 doweling machine
KTD 720 molded parts machine
www.geisberger-kuechen.de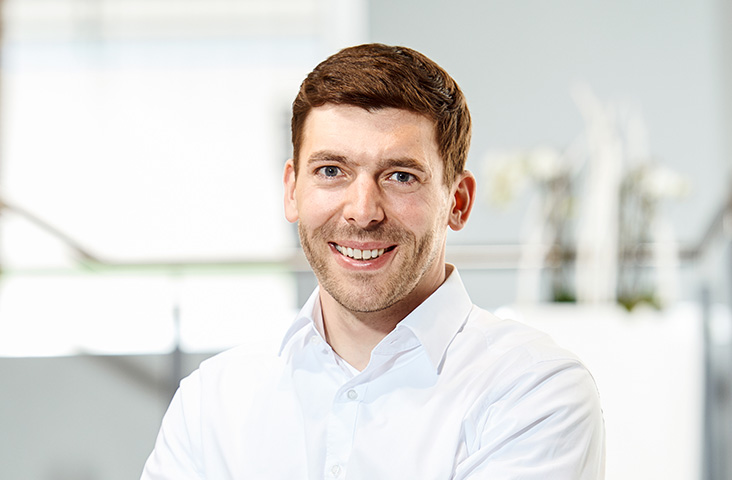 That's how your colleagues produce