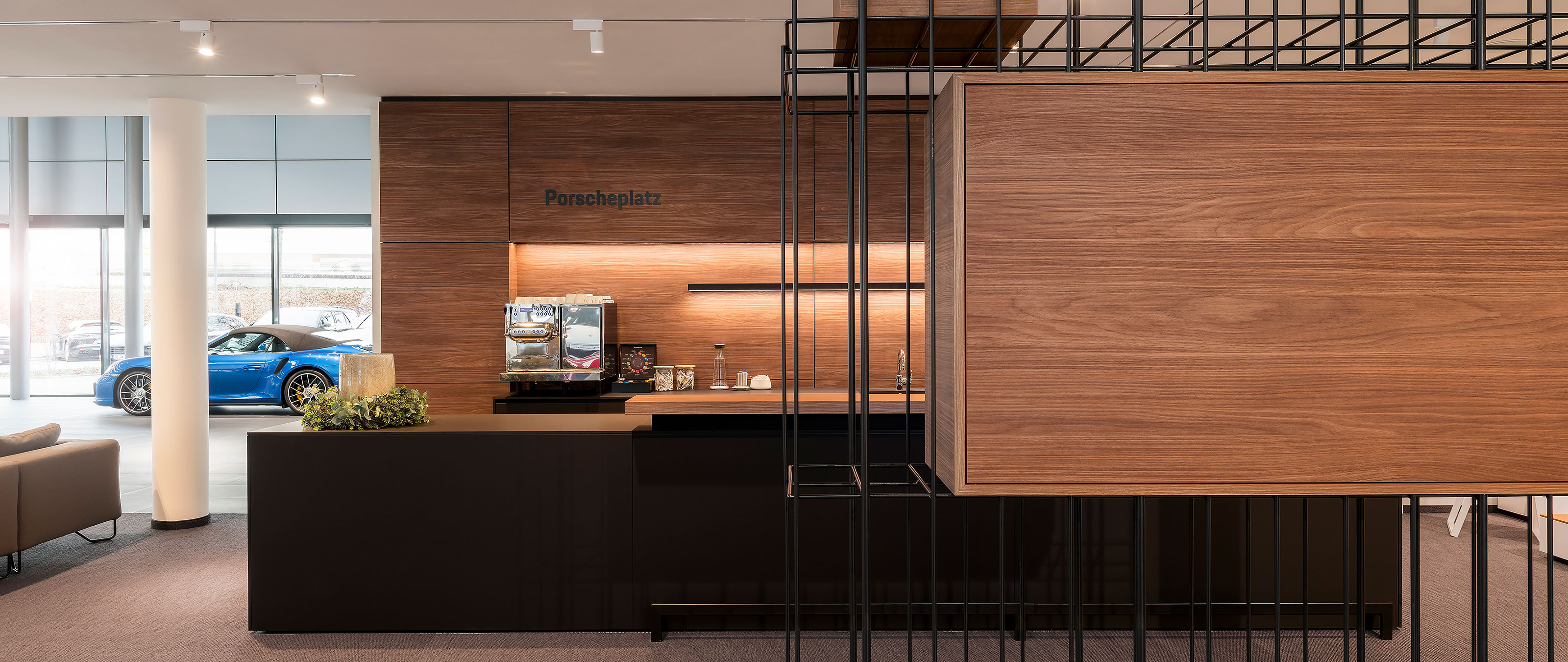 Delivering precise quality
Oberhaizinger GmbH, based in Julbach, Lower Bavaria, specializes in series production of furnishings for car dealerships, banks and real estate.
"We need a strong, reliable partner that can meet our requirements and offer the necessary reliability."

Günther Wiedl
Just two companies in Germany have been given the opportunity to furnish Porsche Centers all over the world (excluding the USA and China) — Oberhaizinger is one of them. To give a little background: Porsche sells vehicles internationally using its network of around 830 centers, with 88 in Germany alone. There are also 43 certified partner centers around the world that maintain and repair the acclaimed cars from the Stuttgart-based brand. All of these centers are furnished in line with strict guidelines from Porsche itself — and it was just these exacting specifications that Oberhaizinger followed last year when fitting out two Porsche centers in Canada, to name but one example. In July, a similar third project was started in Halifax, the capital of the Canadian province Nova Scotia.
Projects worldwide
Overall, Oberhaizinger counts eight automobile manufacturers and premium retailers among its clientèle, including Porsche, Porsche Design, Audi, Mercedes, Seat, Škoda, Volvo and VW. The company also works for three large banks and a well-known manufacturer of cosmetic products. In all of its projects, Oberhaizinger aims to make specific corporate designs set out in precise detail by the clients into reality. Furniture is a key element in such projects. However, renovating the flooring, walls and ceilings at the premises is often the first port of call during the planning phase. In most cases, the clients are remodeling existing buildings, but sometimes entirely new buildings are designed, too. As a service provider, Oberhaizinger always tailors its services to the requirements of the customer at hand, designing interior fittings and furniture according to its specific needs. Oberhaizinger is also in the position to offer its services internationally for disciplines that are covered by in-house expertise. "We have now completed over 2000 projects—700 of which were international—in which we provided interior fittings," says Klaus Raab, Head of Corporate Design.
Interwoven into a global network
Oberhaizinger is a family-run company that is now run by its fourth generation, Hans-Martin and Stefan Oberhaizinger. Founded in 1905, the company relocated its headquarters to Julbach, northeast of Burghausen, Lower Bavaria, at the end of last year. The company's three profit centers—Production, Corporate Design and Office Solutions—now operate from a smart and functional new building. Oberhaizinger IDP GmbH, managed jointly by Martin Unterstaller and Stefan Oberhaizinger, is also based at the same location. This structure enables Oberhaizinger and its current staff of 87 employees to generate annual sales of more than €20 million. One important factor for this success is that Oberhaizinger is part of a closed international network operated by Corporate Identity Service AG, based near Munich, which helps facilitate the company's international sales approach. CIS offers global brands access to all of the services required for a consistent brand image at the point of sale across all international markets. CIS helps companies plan and consolidate expertise in order to open up opportunities with like-minded organizations, as well as solving interface problems and organizing local service providers. Members therefore benefit from strategic exchange within the network and open up new business potential.
Delivering quality on time
Oberhaizinger now carries out series production and special production for brands at its Julbach site, creating standardized furniture for some orders, and adapting items to meet specific customer requirements for others.
The production process is organized into two stand-alone operations on two rails. For most products, a full digital image is created at the start of the work preparation — but the setter is also prepared to use "analog" manual techniques for short-notice requests. Generally speaking, production runs according to a project-specific just-in-time approach, although some stocks are held in the warehouse. "A prescribed Porsche standard is to use both bought-in furniture (e.g. chairs, lamps, carpets and much more) and custom parts that we produce," says Raab. "The small series produced as stock products are significant in making this approach cost efficient." At the same time, the customers—especially those in the automobile industry—demand 100% delivery reliability at a consistently high quality.
An ever-reducing number of processing steps
At Oberhaizinger, customized products, single parts and small series are made using a concept that consists largely of HOMAG machines: When it moved into its new production facilities, the company invested extensively in a horizontal storage system, a horizontal saw, a five-axis nesting system and a horizontal processing center from Schopfloch. A free-form edge banding machine and a painting unit were also integrated into the production facilities.
On the one hand, products are still manufactured in a classic workflow using this machine concept: The STORETEQ S-200 horizontal storage system supplies the SAWTEQ B-400 panel dividing saw and the CENTATEQ N-600 CNC processing center, followed by the DRILLTEQ V-500 vertical CNC processing center and the EDGETEQ S-500 edge banding machine. Once the relevant processing steps have been completed, the parts go to the assembly area or to final assembly. "On the other hand, alongside this classic workflow we are also increasingly performing five-axis nesting processing, which removes one processing station from the chain," says Raab. "By using the CENTATEQ for cutting and CNC processing, we can produced a finished part that only has to be edged and undergo final assembly in a comparable time to if we used the classic process." This has had a significant effect in terms of producing series effects on stock items. For example, the company can now produce Porsche series effects for coated chipboards that are very expensive as customized production. "We can save a lot of material and time with serial nesting and produce more cost-effectively with a high level of flexibility."
For this reason, the CENTATEQ N-600 in Julbach always runs as a combination machine that is used to produce both series parts and an increasing number of batch size 1 and project-specific components. The machine is arranged at a right angle to the STORETEQ S-200 horizontal storage system and the SAWTEQ B-400 panel dividing saw so that the warehouse can feed both machines. In turn, the vertical processing center is downstream of the CENTATEQ N-600 so it can carry out the horizontal processing that cannot be done on the nesting machine. "However, we can produce 99 percent of our parts using the five-axis machine," states Wagner.
High-quality, integrated, lean
The fact that Oberhaizinger is relying on HOMAG for its new production concept has a lot to do with quality and consistency. Günther Wiedl points out: "We need a strong, reliable partner that can meet our requirements and offer the necessary reliability. We are especially interested in integrated solutions, regardless of the production area, so we can optimally safeguard our investments and future fields of development. For example, in the area of solid wood, which we concentrate on more under certain circumstances." HOMAG offers the opportunity to expand the concept at any time with machines that are aligned with one another. This also applies to software, as the work preparation process in Julbach currently requires multiple systems. However, there will soon be a new, standardized system in use. "This will help us create a lean overall process that we can use to free up resources currently being used in series production for special customer solutions and special short-notice orders," says Günther Wiedl.
Creating quality repeatedly
Making the process leaner and increasing efficiency ultimately benefits the customer, which closes the circle. "We have long-term contracts with our brands that always cover over one hundred projects. Even just in terms of winning follow-on orders, it's essential that the current order is fulfilled to 99.X percent," says Raab. "Nothing must go wrong: no bad service, no loss of image. We have to repeatedly deliver consistent quality." This quality and delivery reliability is to be achieved above all by increasing flexibility. "That's crucial," says Raab, "as we have an unbelievable variety of materials and products. We've got everything from concrete surfaces and plexiglass to unusual geometries. Mapping this variety in the production of single parts and small series flexibly and with no waste from the very first part is a basic prerequisite for the efficiency of our services." The concept from HOMAG is the basis for this.
Back to List