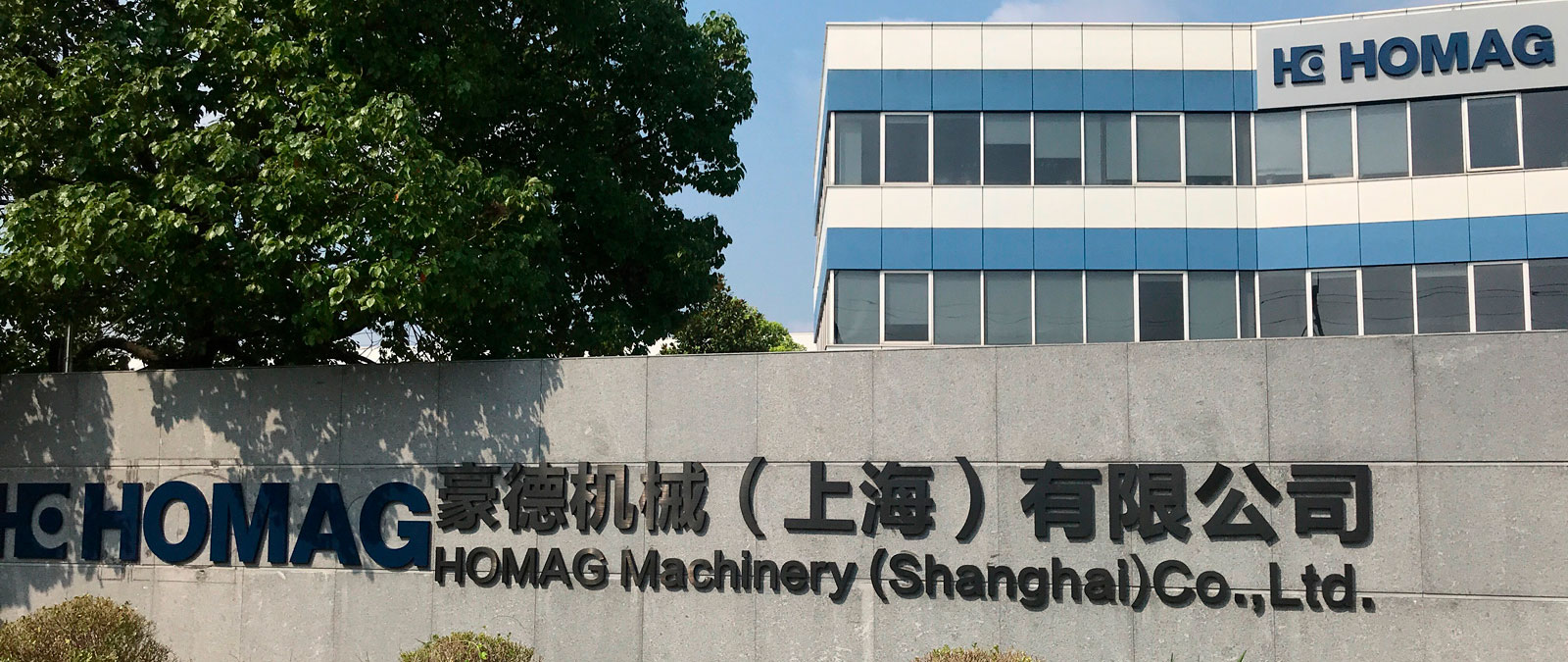 About us
In 1994, Homag Group expanded its business to China by establishing the Homag Machinery (Shanghai) Co., Ltd in Shanghai Songjiang District. In 1998, the factory of Homag Group in Songjiang District was established. It concentrates on producing edge banding machine, drilling machine, sanding machine, double-end profiler and other equipment meeting needs of domestic market and has taken manufacturing the world class woodworking machinery of German quality, domestic price and higher cost performance as its goal. As its equipment has won more and more popularity in China, in August 2004, the Homag Group made second investment to establish the phase2 factory. On October 28th, 2005, the new factory was completed.
Besides paying the five one insurance fund and one housing fund for employees according to provisions, HOMAG also provides supplementary medical insurance. After one year of service, the company will again share half of the part of five social insurances assumed by employees. Charge-free bus will provided to staffs living in urban area. In addition, employees of HOMAG will enjoy the annual travel and physical examination. At the end of a year, employees will receive sufficient year-end bonus and performance bonus. The favorable employment conditions attract a number of outstanding talents of the field to stay in HOMAG and devote themselves to the work.
In HOMAG, every employee is able to find a kind of family-like warm and sense of belonging. Old staffs working in HOMAG for more than 10 years will be additionally treated. Meanwhile, each upcoming old employee with 10-year work experience in HOMAG will be given a 5g pure-gold souvenir pendant. At present, there are 286 employees in the company. And 91 of them are old employees with 10 years of work experience in HOMAG accounting for 32% of total number.
Mr. Qian Hua, the HOMAG Managing Director, said: "I will communicate with each employee about management details; I will conduct in-depth communication with production –line workers, sales team and management team so that each staff can have a look at company's development prospects. As a general manager, it is my job to make my employees be clear about the development direction." In recent two years, we can find that research and development of new products are dominated by Chinese Engineers and based on clients' demands of Chinese market. Chinese service staffs and product manager also get involved in the process. In HOMAG's R&D process, the "Chinese Wind" makes HOMAG talents more international, have more independent learning ability and subjective initiatives.
HOMAG is making efforts to bring in more outstanding talents to develop with enterprise and Chinese future. We firmly believe that under HOMAG's excellent and favorable corporate culture, HOMAG will become the best employer in the heart of numerous workers.
Contact
HOMAG Machinery (Shanghai) Co. Ltd. Shanghai China
685 Fangta North Road, Songjiang District, Shanghai, China
Service Hotline: 4000 9333 77
Tel:+86 21 5774 0978
Fax: +86 21 5774 0978
marketing-chn@homag.com