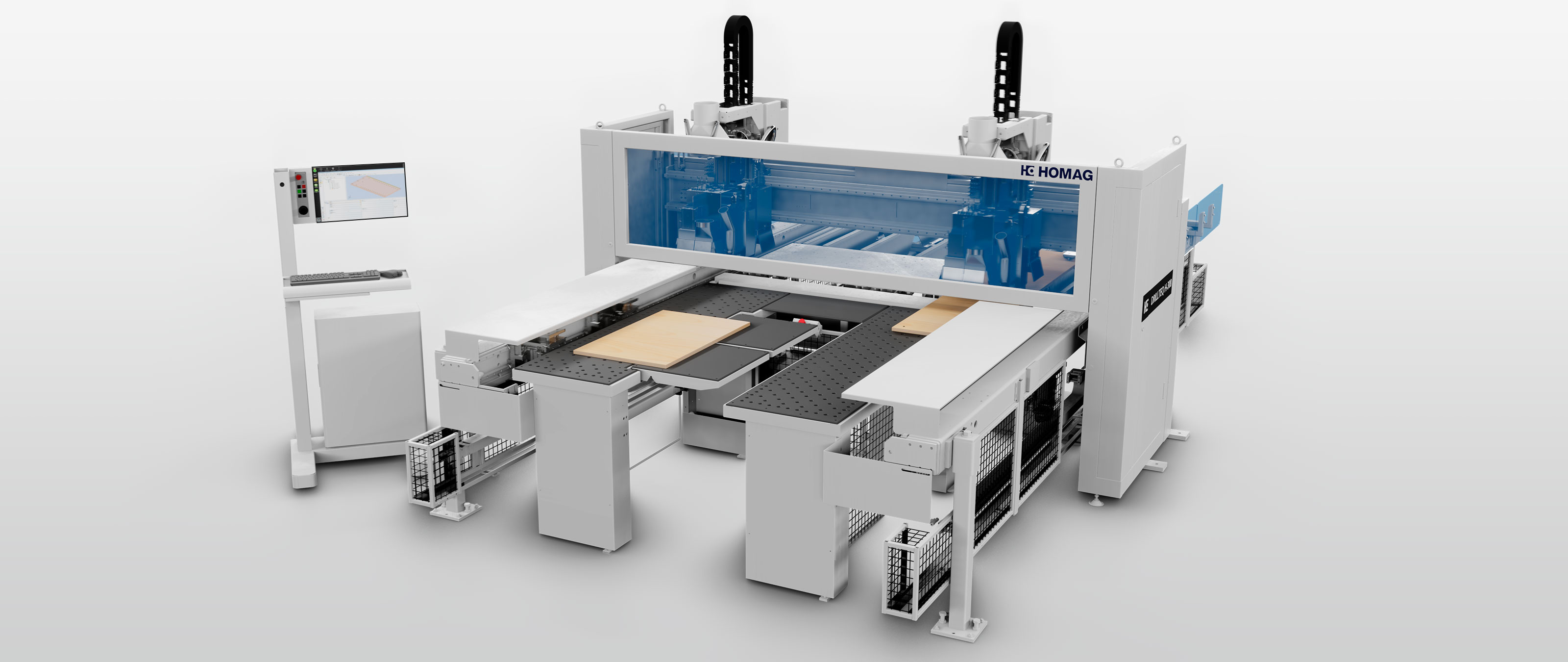 CNC-Processing Center DRILLTEQ H-308 | H-310
Two in one. 6-sided processing.
By feeding two work fields at the same time, the DRILLTEQ H-308 offers virtually two machines in one. While production is running on one work field, the workpiece can already be prepared for seamless further processing on the second. This guarantees high availability and highly flexible production. The machine running time can be extended up to almost 75%. Work interruptions such as breaks or downtimes are reduced to a minimum. Whether flexibility for high variant diversity through batch size 1 production or efficiency through series production – the DRILLTEQ H-308 offers the right solution for you.
Product available only in Bangladesh, Bhutan, Brunei, Cambodia, China, Hong Kong SAR of China, India, Indonesia, Japan, Malaysia, Myanmar, Pakistan, Philippines, Russia, Singapore, Sri Lanka, Thailand, Vietnam.
Benefits
Routing and Drilling units perform in highspeed. 6 sided-processing along 2 working fields
4 CNC-controlled clamping devices ensure permanently firm and precise positioning of the workpieces – regardless of the speed
Even workpiece dimensions of length 250-2500 and width 60-1250 mm (2 x 620 mm) are easy to handle
The patented spindle clamp ensures an always accurate drilling depth for all drilling
The closed straight guiding system is protected against dust and dirt and thus very durable
Footprint without Switch Cabinet
L
mm
5.910
W
mm
3.900
H
mm
2.530
Workpiece dimension
Length
mm
250 – 2.500 (3.050)
Width (single part)
mm
60 – 1.250
Width (double parts)
mm
2 x 620
Height
mm
8 – 40
Drilling Head TOP 1 & 2
Vertical spindles
No.
2 x 13
Vertical spindle clamping
patented
Yes
Horizontal spindles in X+/X-
No.
2 x (3X+/3X-)
Horizontal spindles in Y+/Y-
No.
2 x (3Y+/3Y-)
Frequency controlled
RPM
1.250 – 7.500
Drilling Head Bottom 1
Vertical spindles
No.
14
Vertical spindle clamping
patented
Yes
Frequency controlled
RPM
1.250 – 7.500