The A to Z for your timber framing needs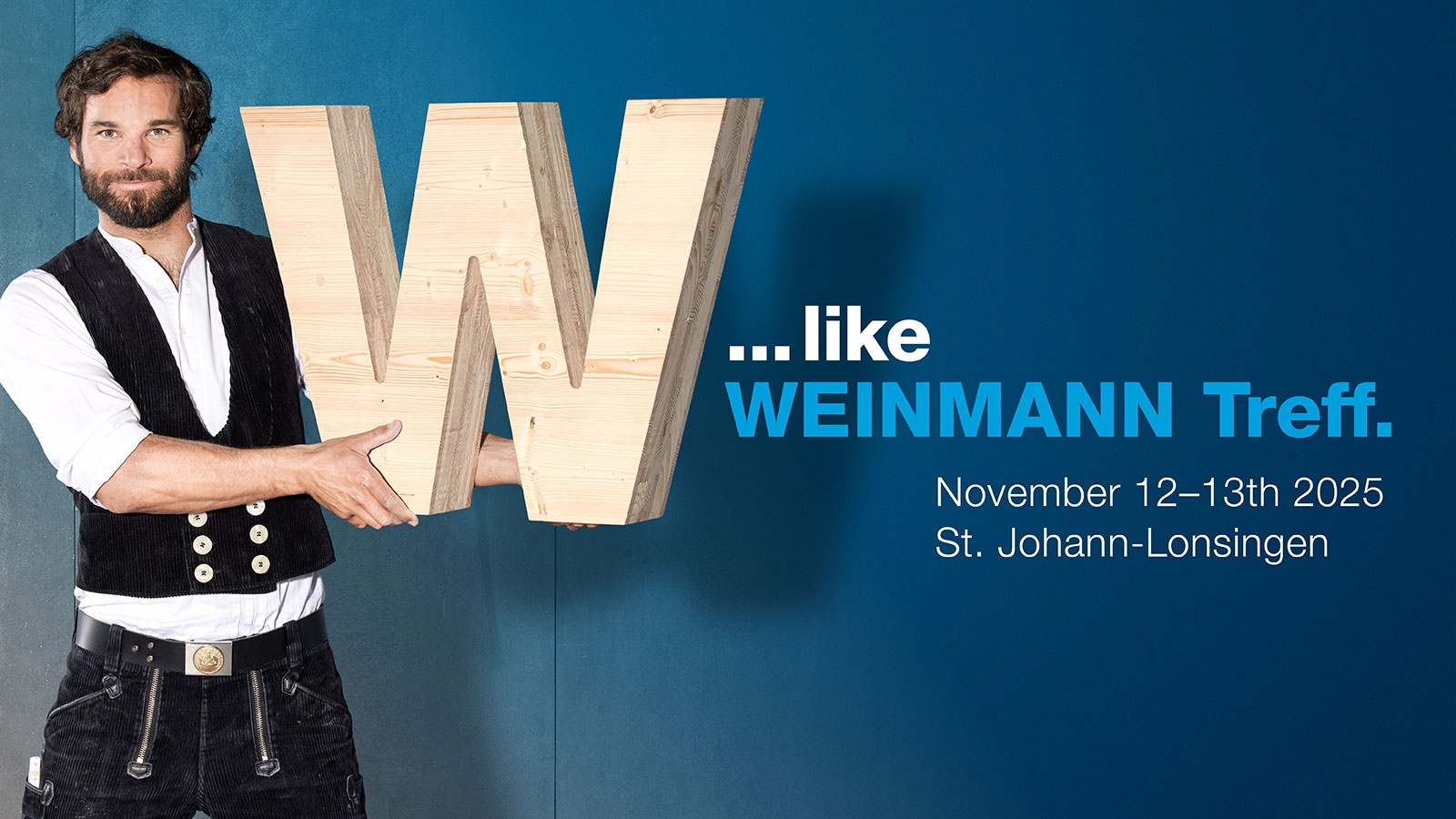 From November 15 to 16, WEINMANN once again invites you to the annual in-house trade fair at its plant in St. Johann. Technical presentations offer a wealth of knowledge on current market trends such as the construction of multistory buildings and modules. The accompanying exhibition from our partner companies enables direct exchange on the topics of software, fastening units, tools and insulation solutions.
At the industry conference for timber construction, there are also plenty of opportunities to make contact and exchange ideas and information with experts from WEINMANN.
State-of-the-art machine technologies and holistic service offerings
Informative technical presentations and trade exhibition by partner companies
Opportunity to exchange ideas and information with industry experts
This year, we are also looking forward to welcoming our partners System TM (wood optimization), Kallesoe (cross-laminated timber production) and HOMAG (window technology).
Lecture program
Wednesday, 11/15/2023
11:15
A Future with Timber Construction – Why Building with Wood is a Successful Business Model for the European Housing Market
Johannes Schwörer, SchwörerHaus KG
13:00
Current Requirements for Fire Protection in Modular and Multi-Storey Buildings (Building Class 4/5)
Jürgen Küllmer, ISOCELL GmbH & Co. KG
14:30
From Conventional Building Style to a Timber-Hybrid Construction – Manufacturing with a Highly Automated Robot Cell
David Coutado, Lignumtech
Thorsten Linke, HOMAG ESPAÑA S.A.U
16:00
Holzbau-Offensive BW – For a Climate-Friendly Building Culture with Wood
Jan Bulmer, Holzbau-Offensive Baden-Württemberg
Thursday, 11/16/2023
10:00
Opportunities and Challenges in the Timber Market of the Future
Lars Schmidt, Deutsche Säge- und Holzindustrie Bundesverband e. V.
11:30
Refurbishment of Existing Buildings from a Craftsman's Perspective
Florian Wissel, Zimmerei Wissel GmbH
14:00
Serial Refurbishment as an Accelerator in Climate-Neutral Retrofitting of Existing Buildings
Emanuel Heisenberg, ecoworks GmbH
15:30
Optimizing Existing Production Sustainably – A Field Report
Dr. Sonja Engelhart, WEINMANN Holzbausystemtechnik GmbH
Live machine demonstrations
You can experience the following machines live at WEINMANN Treff:
Highlights from our service areas
• Individual consultations regarding your production processes and company development from our specialists at SCHULER Consulting.
• Discover our intelligent digital solutions for machines and work preparation from our software experts.
• Learn more about the networking of production processes from the software specialists for MES solutions at granIT.
• Gain an overview of current training offers and further education opportunities from our training experts at the WEINMANN Academy.
• Find out more about spare parts management, remote service, modernization, inspection and maintenance from our service colleagues.
Exhibition
With the exhibition from our partners, we look forward to welcoming companies from the following areas: software, fastening units, tools, packaging solutions, wood materials, suction systems, insulation solutions and transport systems.
WEINMANN Treff
15th-16th of November
9 a.m.- 5 p.m. In-house fair
5 p.m.- 6.30 p.m. Get-together (Wednesday)
Adress:
Forchenstraße 50
72813 St. Johann-Lonsingen
Back to List