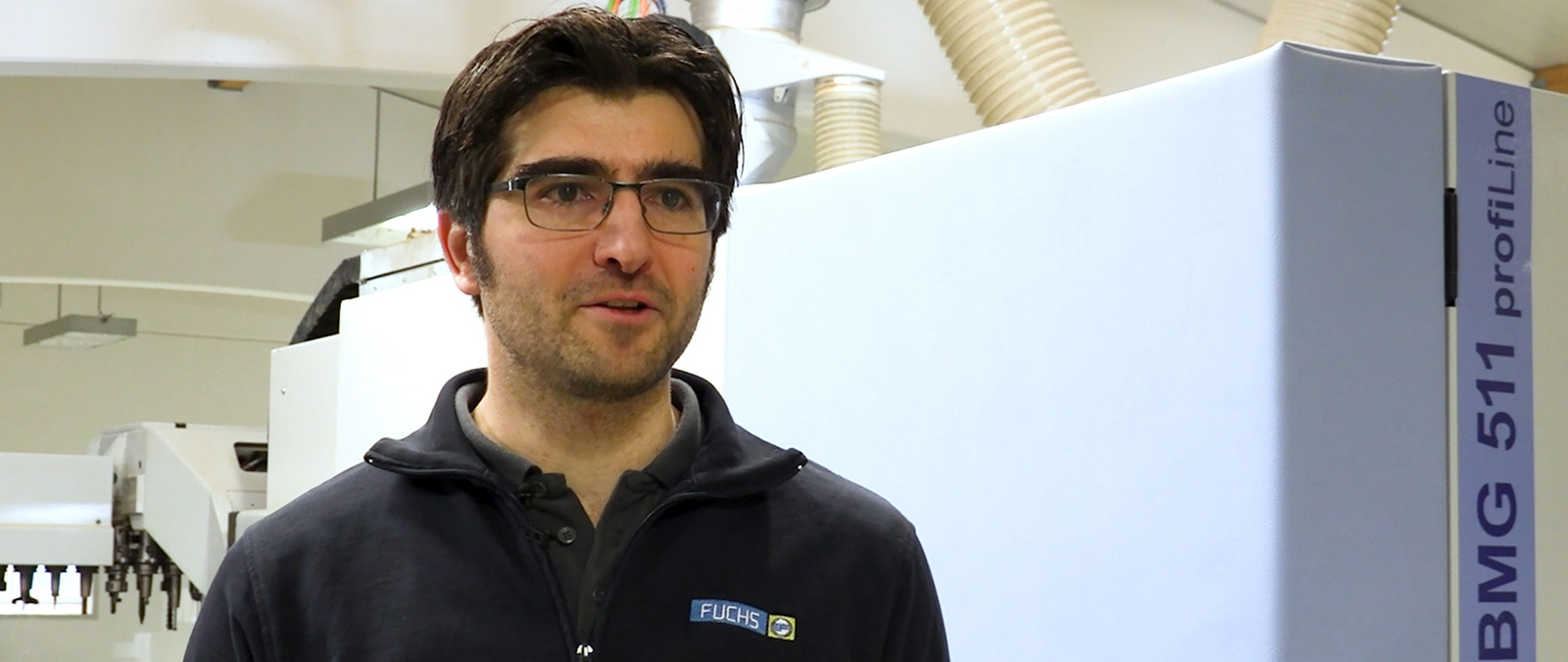 Schreinerei Kilian Fuchs: When one man becomes a team.
Authentic. Dynamic. Single-minded. That is what Kilian Fuchs, founder and managing director of Holz- und Kunststoffbearbeitung Fuchs, radiates from the moment you meet him.
When Fuchs started a one-man business 20 years ago, he wasn't thinking about employees and a machine pool like this one.
"It all started when I was 16," remembers Kilian Fuchs. Back then he went into debt for the first time so that he could buy a circular saw. While he was still training to become a carpenter, he founded a sideline business and, three years later, attended master craftsman training. On evenings and at weekends, he produced furniture in his own little workshop. Once he had completed his master craftsman training, Kilian Fuchs set up his own company. "For me, it was always clear that I wanted to set up my own company. I didn't want to join another carpentry business because I didn't want to have to compromise."
Today, the one-man business has become a carpentry business with nine employees. In addition to individual pieces of furniture, kitchens, store and trade fair construction systems, the company also processes plastic parts for machine construction and manufactures all wood and plastic parts in series production in its two-story workshop in Feldkirchen-Westerham, Bavaria.
One. Two. Many.
The first HOMAG machine was a second-hand BHC 550. "Back then, I thought a new CNC machine would be too expensive — now I know it would have been worth it." The horizontal HPP 350 panel saw and the BAZ 211 CNC processing center with gluing station followed shortly afterward. The workshop now has six HOMAG machines. These include the KAL 370 profiLine edge banding machine, the BHX 200D drilling center and the BMG 511 profiLine five-axis CNC processing center.
"Buying the five-axis CNC was particularly important for us. It enabled us to expand our product portfolio," reports Fuchs. Today, the employees in Feldkirchen use it to create lots of complex components — including components made from plastic. Initially, it was not clear whether the CNC processing center would be able to process plastic without any problems. Asked what would have happened if the processing had not worked, Kilian Fuchs simply laughs, "Then we would have simply continued working with wood."
Today, the CNC is in use for more than 15 hours per day. However, the employees still work in single-shift operation. "A lot of the programs simply run on their own and we don't have to check on them. And if something does get stuck, we can quickly get help from the super HOMAG Service team."
Lack of skilled workers?
That's nothing new to Kilian Fuchs. The lack of skilled workers will be a big challenge in the future for carpenters. Kilian Fuchs is therefore taking action: "We train our own carpenters and this gives us access to skilled employees. The employees specialize in the operation of specific machines, which is an exciting development opportunity and addition to the job profile of a carpenter. It combines classic carpentry with modern computer technology — an absolutely diversified working environment for carpenters today. The team—and the equipment—are decisive for a company's success."
Making progress and getting bigger.
"I'm never completely satisfied, and that's what drives me forward," says Fuchs. And further development is not stopping: a new saw connected to an automatic panel storage system is intended to optimize cutting even further. However, to enable this, the entire production would have to be changed over first, as there is currently no space for a storage facility at the existing position of the panel saw. "When I started in this production hall, I thought it was enormous. Now, however, I would say I need three times the space." But the company in Feldkirchen has an ace up its sleeve: some years ago, the company built another hall right next door. This hall is currently rented out, but the option is there.
Back to List