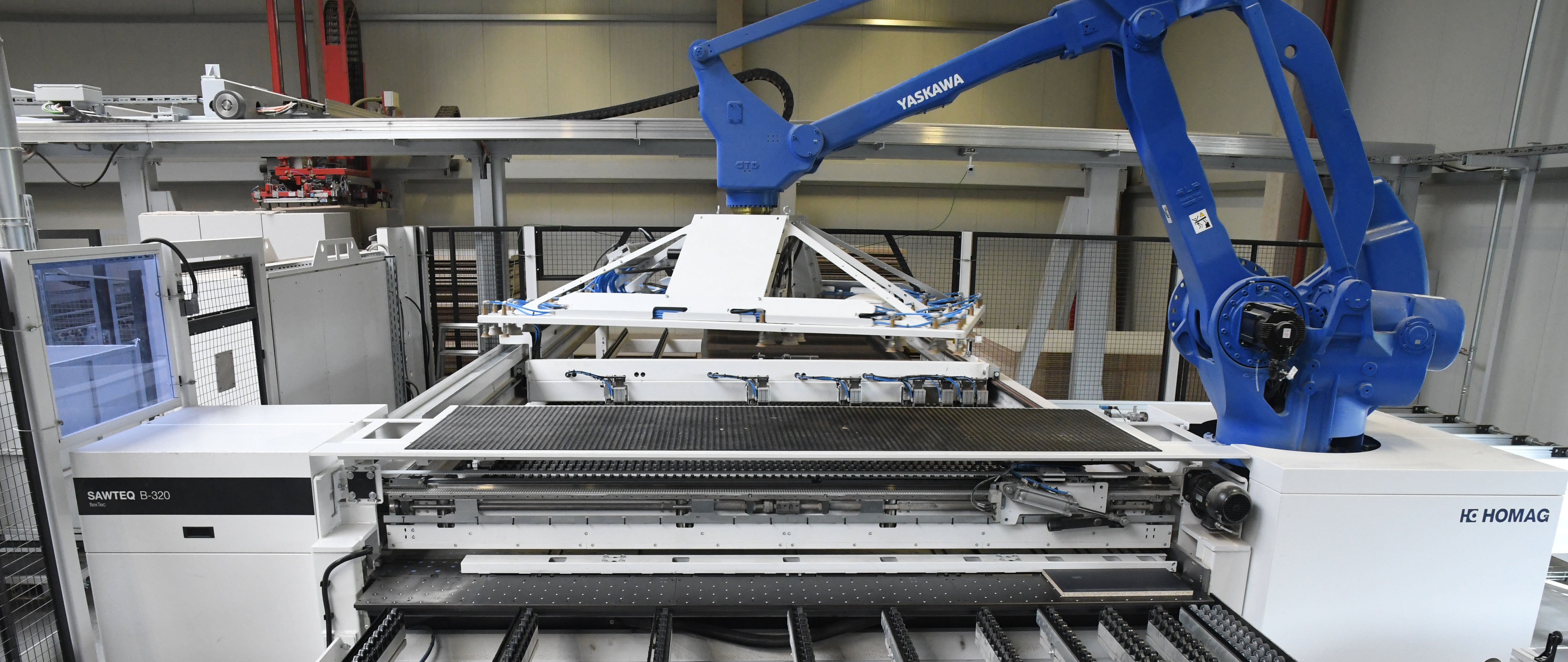 A SAWTEQ B-320 flexTec robot saw from HOMAG forms the foundation of two automatic batch size 1 lines at horatec in Hövelhof.
"The flexibility of the robot saw was also impressive — both for the standard layout design of the cutting cells, in order to adapt to changing production conditions, and for the cut itself, for which the number of recuts is, in principle, unlimited."

Wolfgang Thorwesten, horatec GmbH
Horatec primarily produces finished furniture parts for carpentry that are produced to a high quality from cutting and edging through to drilling and routing. A SAWTEQ B-320 flexTec robot saw from HOMAG forms the foundation of two automatic batch size 1 lines in Hövelhof.
When Wolfgang Thorwesten founded Horatec 25 years ago, the world of carpentry was an entirely different place. "There were significantly more large companies. And one thing was clear: carpenters don't make surplus purchases; as craftsmen, they do everything themselves," explains the managing director. "Over the last ten years, things have changed substantially. It isn't just that the number of employees in the company has fallen substantially — most importantly, there is now a whole new way of thinking. On the subject of skilled workers, there is one reason for this: "Our customers find it difficult to find qualified employees." However, when it comes to the increasing range of materials, "if you take a look at the range, there are materials that can only be processed to a high quality using special machines and processes." A carpenter with a traditional machine finds themselves in a difficult position if they cannot invest the required amount. There is also a third point to consider: digitalization. Not all carpenters can go along with the vast changes in this field. "Whereas at Horatec, we have been able to use automation to establish a great advantage and therefore streamline our processes, which has had considerable economical effects," says Thorwesten. The changes in the woodworking industry ultimately appear to be the cause for the strong growth of the company and similar suppliers.
The carpenter generation
Despite the challenges, Thorwesten believes there are excellent prospects for carpentry. Many carpenters must, however, carefully consider which services they will provide themselves and which they will purchase. Ultimately, product lines today are extremely complex. For a carpenter to be able produce a comprehensive range 30 years ago, they often had to have specialized expertise and machines. "For many traditional carpenters, it is not possible to make the investment necessary to achieve the high quality we supply at a similarly attractive price," Thorwesten believes. Therefore, one-man operations are just as much a part of Horatec's client base as a 20-employee company. And while one-man operations seldom make use of their services universally, a larger team may compensate for peaks in demand. This is also true of companies that do not choose to decide on future replacement investments, but rather change their concept and subsequently have parts supplied.
Serving the full range
With this all in mind, Horatec optimized its carpenter interfaces at an early stage. "For instance, through planning or sales solutions," explains Thorwesten. "As an example, we offer plausibility and reliability when configuring a cabinet by fully determining a level of individuality and quality and assuming responsibility for the accuracy of all parts and fittings. At the same time, carpenters can also plan entirely in the room using our online tools and an offline planning solution."
The entire Egger collection, which includes all edge materials in storage, is the foundation of all Horatec services. Starting with 8-mm panels, the range includes 19-mm cabinet and front materials as well as 25-mm panels. Special thicknesses, such as 22-mm or veneered panels, are also available in five wood types. And naturally varnished surfaces. Since carpenters require a broad spectrum, the range includes everything from drawers to fixtures. "We are working with a huge assortment," says Thorwesten. "So carpenters receive everything from a single source."
Production with minimal personnel
Horatec is a batch size 1 manufacturer — fully interlinked, fully networked. "At horatec, the average batch size per production is 1.7," reports the managing director. "There are also no product concepts in this core activity, since no part is repeated. Each provides individual data for customized processing." Production therefore starts and ends, if you will, in their own fleet. "We transport finished Egger commissions to Brilon, where our goods are distributed to dealers in the DACH region. This delivery deadline is also the starting point for all our planning. On our return, we bring materials for our three local plants. The goods then go into storage and from there into production."
While B and C items are stored in block or area storage, the most common half formats go directly into production. "From the moment the forklift operator places down the package, we are essentially unmanned," emphasizes Thorwesten. On each gantry, the panels move from area storage to single cuts on the saw. When it comes to sawing, Horatec has defined six positions per production line where offcuts are automatically returned and posted. These offcuts are always given first priority for use in the next steps. When cutting, Horatec relies on a SAWTEQ B-320 flexTec robot saw and a semi-automatic HOMAG saw, e.g. a SAWTEQ B-300 (previously: HPP 300), in parallel, for each production line in Hövelhof, wherein the robot saw carries out almost all cuts. The semi-automatic saw only makes recuts or packaging cuts. Once divided, the now labeled parts move to an initial sorting buffer, before moving into an EDGETEQ S-800 edging machine (previously: KFR 610) from HOMAG, which works in circulation at both the infeed and outfeed, with a robot at both ends. After edging, the parts move through a second sorting buffer before reaching a drilling cell, comprising a CENTATEQ E-500 processing center (previously: BMG 511) and a DRILLTEQ H-600 horizontal throughfeed machine (previously: BHX 500) from HOMAG. "In principle, the movement from the panel storage through the SAWTEQ to the drilling cell is unmanned," Thorwesten emphasizes. "Ideally, the first time an employee touches a part again is for packaging." A triple-shift production is therefore produced using just five employees and one production manager per shift. The processes are controlled by proprietary ERP and PPS systems as well as a production control system from 3Tec.
Something new
In the past, Horatec worked with two semi-automatic HOMAG saws for cutting, each of which made 500 parts per shift. The saws were operated by four employees in two shifts. However, after production in Hövelhof was converted with automation in mind, the spark was missing from the cutting process: then the in-house trade fair for HOMAG Plattenaufteiltechnik in Holzbronn came around in 2016. "I saw the flexTec and had a gut feeling to purchase it," explains Thorwesten. "Because unlike the semi-automatic saws, where further developments were typically made over several years, the robot saws were something completely new, solely because of the automation. The flexibility of the robot saw was also impressive — both for the standard layout design of the cutting cells, in order to adapt to changing production conditions, and for the cut itself, for which the number of recuts is, in principle, unlimited." The ROI calculation followed shortly thereafter, in which the managing director compared the two semi-automatic saws with the flexTec — primarily with regard to a shortage of skilled workers, the cost of skilled workers, and night shifts, which were to start imminently. "The decision was made"
Thinking in pools of 1000
Today, Horatec approves every employee for sales projects, whereupon the part properties, around 150 features in each case, are recorded in a database. Production managers then use the proprietary PPS system to sort by shipping date and then filter the material so that parts families are formed, which represent a specific shift performance. Once items are sorted, Ardis optimizes cutting patterns and transfers production data to storage and the saw. In each case, Horatec thinks in pools of 1000 parts, for which all information must be specified: when leaving the panel dividing saw, each part is labeled in the throughfeed, where the barcode manages processing and a full history is guaranteed.
According to Thorwesten, the cutting results of the SAWTEQ B-320 flexTec are nothing short of impressive. This is evidenced, first and foremost, by an availability of 95+X percent, estimates the managing director. "However, the precision and quality are also exceptional," he goes on to say. "Generally speaking, accuracy isn't so important for us, because formatting is still carried out. However, from time to time we do have parts that are cut to the finished dimensions. This is where the saw's precision is a decisive factor for Horatec, in addition to its performance, which was clearly simulated by HOMAG in advance on a customer-specific basis. "I have 1000 parts that are reliably cut by a flexTec and that I can produce as individual parts. In terms of maximum output, which HOMAG previously specified as 1500 parts per shift, we still have significant reserves, meaning we can make good use of any production offcuts," Says Thorwesten. In short: "This is the best machine available for our requirements." This is also thanks to the consistent output—production in Hövelhof is designed around continuity—as well as the downstream separator, which the robot uses to bring the single parts into production as required.
Taking hold
Horatec and HOMAG have collaborated together for 20 years. Many processes have been played out in this time, whose foundations have always been standard machines with the same data structure. Currently, a Belgian company is building a new production line under license from Horatec. Here, the SAWTEQ B-320 flexTec and a semi-automatic panel dividing saw are also used in parallel. "In this respect, at HOMAG we always reach into the same drawer and use tried-and-tested technology," states Thorwesten. Construction on the line will start in March 2022. Production is planned to start in September, fully interlinked, fully networked, in batch size 1, cut by the SAWTEQ B-320 flexTec robot saw.
Back to List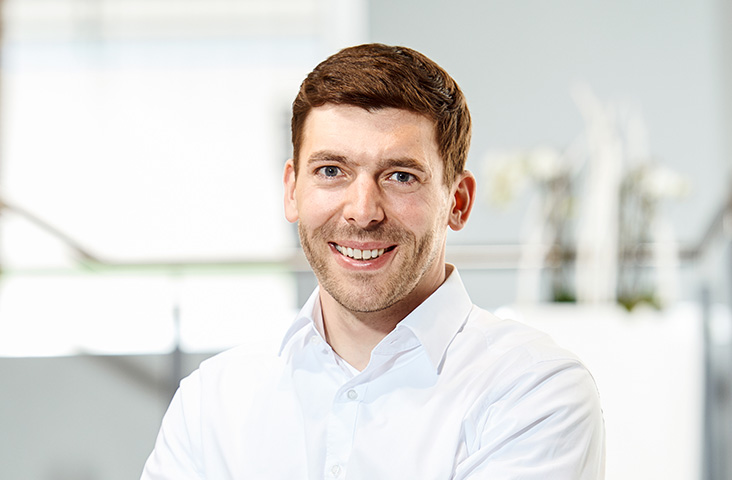 That's how your colleagues produce