Portrait of an employee: Jörg Groß
Jörg Groß has been employed at WEINMANN for 21 years and advises house construction companies worldwide on the development of suitable solutions. He is also responsible for the project department, with seven employees. What part of his work does he particularly enjoy?
Give us an insight into what you do at WEINMANN.
My tasks are very diverse and varied, because we support a wide variety of companies, from woodworking shops to industrial businesses. We deal with requirements and facts in detail and work closely with the customer during project planning. Thanks to the many different insights, we have a large wealth of experience and can see what works well in businesses, what does not work well and how things can be done differently. Our knowledge and experience flows into every consultation, with the aim to improve the production processes of our customers and make them economical and efficient. Our aim is to find the best solution for the respective customer.
What have been the highlights for you during this time?
There were a lot of interesting projects, both from a technical perspective and for me personally. One of them was at the very beginning of my career in 2000 — the plant of our customer Space4 in England. At that point in time, this was the factory with the most automation (except for ExNorm), with fully interlinked machines. This was very demanding not only technically; managing the project was also a big challenge. I spent a lot of time in England and I learned a lot. That was a very nice time.
An important milestone for WEINMANN and the entire timber construction industry was the entry into the world of robot technology. In 2015 I planned the new plant of our customer Bien-Zenker, in which a robot was integrated for the first time. That was really exciting and above all, an enormous step in development. There are a lot of big and important projects in my area this year too, and I'm very excited about them. I can't say too much yet, but the vision of the "smartPrefab" will become a reality.
What drives you in your daily work?
For me, the driving force is offering our customer a solution that they are impressed by, where they say "Wow, WEINMANN has done a great job, we want to buy from them." In those situations the solutions are long-term solutions. By giving the best possible advice, we want to develop exactly the solution that our customer needs.
And do you also have "wood in your blood"?
Definitely, because wood is just such a great product. It feels good, it smells good, it's sustainable and it's easy to process. And when you go into a wooden house, you immediately feel the difference to a solid construction house. A wooden house radiates warmth and it feels like the house is living with you. It always feels nice and it's comfortable. In my opinion, wood should be used a lot more in construction, particularly in public facilities, such as schools and kindergartens.
How do you think timber construction will continue to develop?
Today, the future of timber construction for the next ten years looks very positive. Lots of building codes have already been changed and continue to be adapted, and timber construction is being pushed everywhere. This is almost certainly also because, with timber construction, it's easier to build in a more compact way. This is because extensions are much easier due to the statics. What's more, building with wood is much quicker. And don't forget the CO² storage in wood. If you look at how many houses have already been built in wood on our plants and how many tons of CO² has been stored in that wood, that's quite remarkable. Since 1998, around 500,000 houses have been produced with our plants, and these store around 18 million tonnes of CO².
How does your passion for wood fit with what you do at WEINMANN?
The areas of technology and wood have always fascinated me. That's why I decided to study wood engineering. And in my current position at WEINMANN, I can combine precisely these areas. Our projects are very challenging from a technical perspective and are always connected with processing wood. And our customers are just really nice, our dealings with them are open and fair. That means a lot. The world of timber construction is very pleasant; contact is always on an equal footing and that makes it enjoyable.
WEINMANN has been part of HOMAG for 22 years. What are your experiences with HOMAG?
If you look at how WEINMANN has developed, that's tremendous. What started as a garage business has become a global company. Entry into the HOMAG Group in 1998 opened up global sales opportunities for WEINMANN, which involved a big change and big opportunities. What's more, HOMAG is a technology leader, which also offers big opportunities for WEINMANN. We can also use a lot of products in-house, both in the mechanical field as well as in software and digitalization.
And the collaboration with colleagues is great. I haven't come across anyone in the group who wasn't prepared to help. For such a big company, it's amazing that whoever you call, you always get information and someone will always help you. Especially here in the planning department — support is always there and that's brilliant.
What else is important to you?
I'm glad that I can contribute to our customers being able to build healthy and beautiful houses for their customers, because for most people, building a house is a big and important step. It's a good feeling to know that the plants, with the houses they produce, make people and families happy for many years.
Back to List
Further Information
All information about 60 years of HOMAG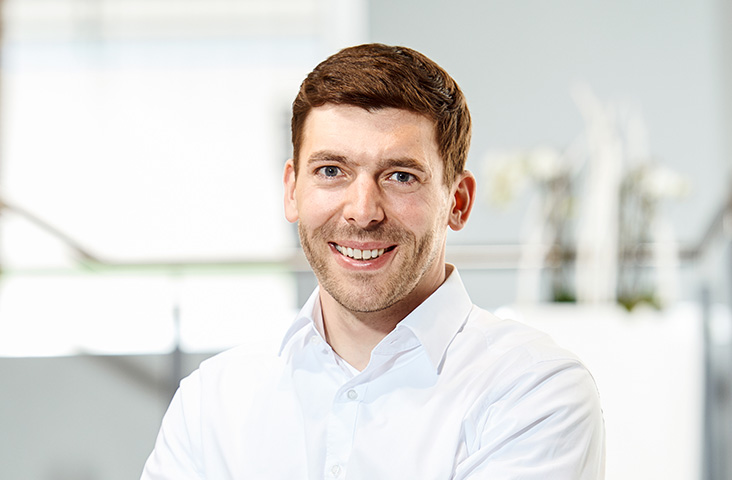 That's how your colleagues produce