Come and visit us at HOLZ-HANDWERK in Nuremberg. Let HOMAG help you to find your best solution. We´re looking forward to meet you!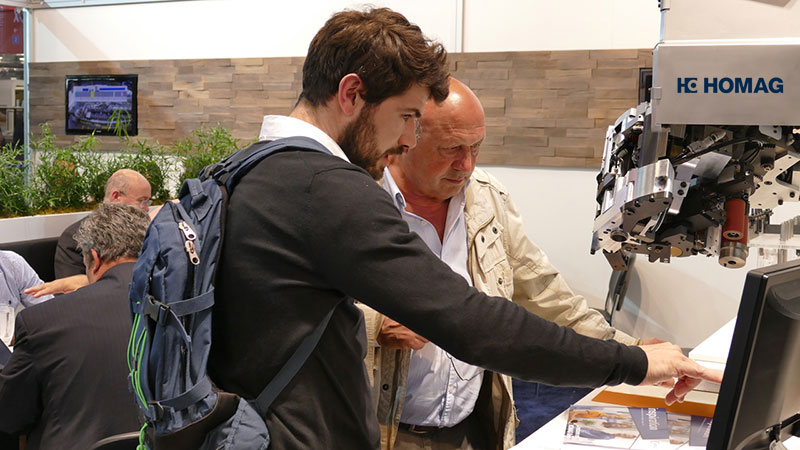 HOLZ-HANDWERK will not take place in 2020
Against the background of the ongoing corona pandemic and its effects on the global economy, NürnbergMesse and the VDMA woodworking machinery, in coordination with the Environment and Health Department of the City of Nuremberg, decided not to carry out HOLZ-HANDWERK in conjunction with FENSTERBAU FRONTALE 2020.
Save the date: HOLZ-HANDWERK 2022:
The HOLZ-HANDWERK in conjunction with the FENSTERBAU FRONTALE will again take place from March 29 to April 1, 2022.
Production in the digital age: practical solutions for your daily work
Every day we are concerned with the question: How can we make your work even easier and your production even better?
We will show you our ideas and solutions at HOLZ-HANDWERK. We want to convince you with a holistic view of the organization of your company and your work processes as well as with well thought-out individual solutions.
The focus is on practical solutions that make your day-to-day work easier and increase the efficiency of your company.
Modern machine technology
Custom software
Intelligent control concepts
Innovative service products such as serviceAssist and ServiceBoard
Digital assistants directly for the workstations in the workshop
Our highlights:

Digitization: serviceAssist for independent, quick problem solving through suitable and proven solutions. Helping people to help themselves - quickly and preventively.
For your employees in the workshop, we show digital assistants live at work - in the form of apps or intelligent shelves. All HOMAG apps can be tested free of charge for 30 days and can then be booked monthly as required (software as a service).
You will experience live how to work with the digital assistants in everyday workshop work in Nuremberg.

Flexibility: Paneldividing saw SAWTEQ B-300 flexTec panel sizing saw combines the strengths of automation with manual versatility.

Automation: The automated guided vehicle system TRANSBOT as an entry-level solution for automatic transport between fixed points without a higher-level control system.

Machine technology: For example, the next generation of planing machines for window production - now with subsequent glazing bead processing.

Together with you we develop your individual workshop of the future.
See you in Nuremberg!
Back to List