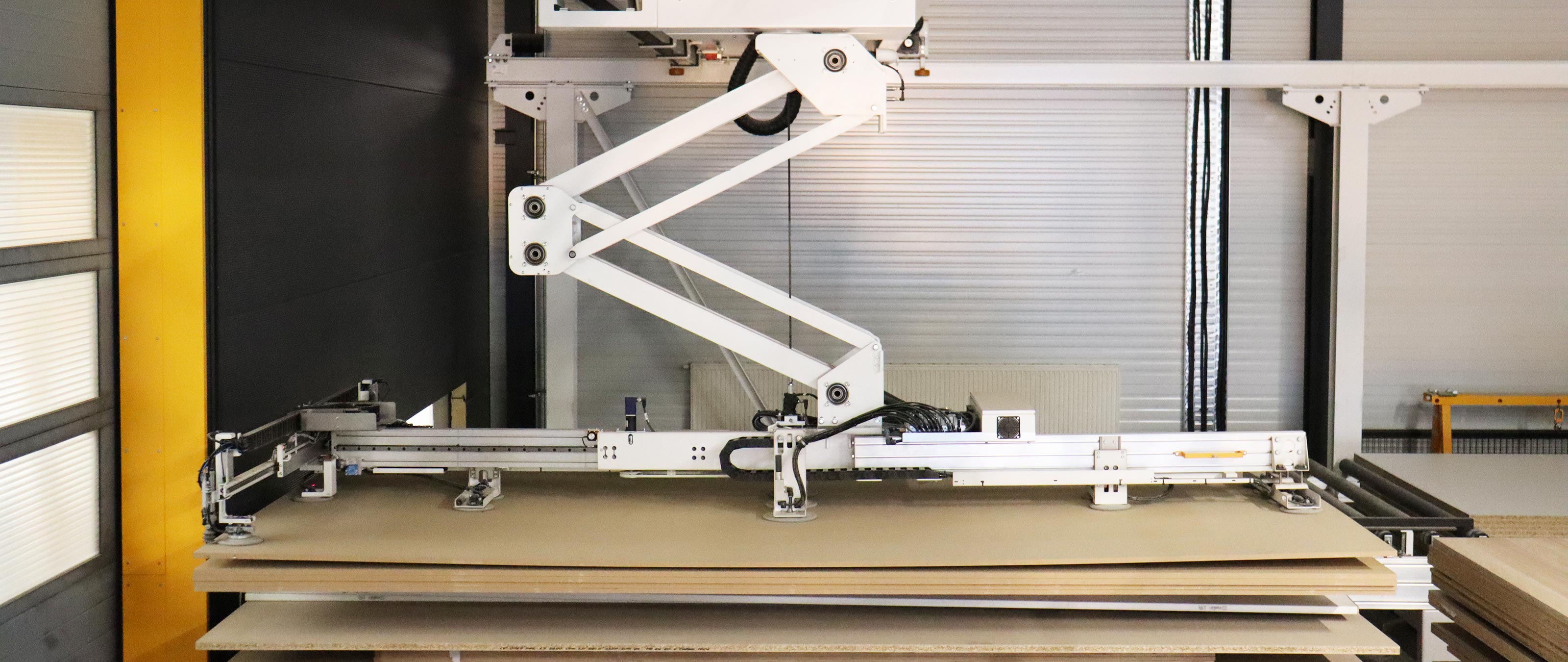 Plenty of potential for healthy growth
Interior fittings specialist Reuss invests in HOMAG storage-nesting combination
"One machine operator is sufficient for the complete system — we don't need more manpower. It used to be very different. Panels had to be moved in and out of storage manually — we needed a forklift truck operator and usually two machine operators. We can now use these employees in other places to add value."

Emanuel Reuss, sales manager Reuss Einrichtungs GmbH
Reuss Einrichtungen GmbH is known as an interior fittings specialist for medical practices and pharmacies far beyond southern Germany. Precision and quality are essential in this field. To be able to guarantee both, even in times of shortages of skilled workers and materials, the company regularly invests in state-of-the-art production technology. The latest acquisition—a storage-nesting combination from HOMAG—has been in use since 2021 and has significantly increased the company's performance.
Thinking big but pragmatically, being daring and determined, striving for perfection and never giving up — with this attitude, the Reuss family has built up a company in the Black Forest that today has more than 30 employees and generates around five million euro in annual sales, mainly through tailor-made furnishings for medical practices and kitchens. This attitude is particularly noticeable in times of crisis — for example, at this moment in time, when raw materials are becoming scarce due to supply bottlenecks and COVID-19.
"We are increasingly hearing from suppliers that there is a shortage of unprocessed panels or that the panels cannot be delivered because a lot of drivers are sick and isolating at home," reports Emanuel Reuss, sales manager and son of the company's founder. He adds: "But sitting around waiting and hoping for the next delivery is not our way. Fortunately, a year ago, we replaced our old 7.5-ton truck with a swap-trailer truck with a permissible gross weight of 18 tons. I got my truck driver's license at the age of 18 and, if necessary, I drive to our panel merchants myself and get supplies."
STORETEQ S-200 storage system with CENTATEQ N-700 CNC gantry-processing center
It's good that the company also has the capacity to store panel materials in large quantities. The conditions for this were created in 2020. At that time, the Reuss family decided to purchase a new storage-nesting combination consisting of the automatic HOMAG STORETEQ S-200 storage system and a CENTATEQ N-700 CNC processing center from HOMAG. To accommodate this combination, the production area was expanded by 450 square meters to around 3000 square meters.
A large part of the additional area is used by the automatic storage system. It has eight storage positions for half formats and three storage positions for countertops up to 4.10 m in size. "We store the panels both by type and at random using the HOMAG storage software woodStore. However, there is never any physical work involved because the vacuum suction cross rail of the HOMAG storage system moves the panels reliably and feeds them to the nesting gantry just in time and fully automatically," explains Reuss.
25 percent more output with significantly less work
To ensure the company always has enough material for the high-performance storage-nesting combination, a new outside storage has also been set up. Here, another 10 to 15 tons of panel material can be stored. The need is there. The family-run company sets up one or two new medical practices every week, including entire medical centers. Customers come from southern Germany, Switzerland, South Tyrol and France — their references even include a medical practice in Monaco. "The engine and heart of our production is the new system combination that was put into operation at the beginning of 2021," says Reuss, adding enthusiastically: "I cannot imagine where we would be today if we had had this solution ten years ago."
The company has in fact increased its productivity by 25 percent at a stroke with the new storage-nesting combination. "So far, we have only been producing in one-shift operation and have not yet used the machines at full capacity," says Reuss. In addition, the new investment means that the interior fittings company is also much better equipped than many competitors to cope with the shortage of skilled workers. "One machine operator is sufficient for the complete system — we don't need more manpower. It used to be very different," the junior manager recalls. "Panels had to be moved in and out of storage manually — we needed a forklift truck operator and usually two machine operators. We can now use these employees in other places to add value."
Efficiency through intelligent technology
The HOMAG solution also stands for added value and efficiency in terms of material yield. For example, all production parts are automatically labeled with barcode labels. This helps during further processing at subsequent stations as well as with offcut management. Large offcuts are returned to storage directly via the storage return position, while smaller offcuts are moved to the manual offcuts storage that is also managed by woodStore. This makes woodStore the central element in the entire material management and in intelligent material management along the process chain.
Consistent part identification ensures a continuous flow of information. This means that the HOMAG optimization program Cut Rite can replan all offcuts in subsequent jobs directly. Now, there is almost no material that cannot be recycled. Waste due to processing errors is practically also a thing of the past: "The new system doesn't produce any waste," Reuss confirms, "if there is any, it's usually due to programming errors in the work preparation, or the panel was already damaged when it was received from the supplier."
100 percent HOMAG – out of conviction
At Reuss in Dunningen, the storage-nesting combination is part of a production concept whose pillars all come from HOMAG. From the warehouse through the nesting gantry, to sanding, doweling, drilling, setting fixtures and edge banding, the company uses HOMAG machines at all processing stations. There is also a HOMAG single saw for special cutting tasks, making a total of seven HOMAG machines.
The oldest HOMAG unit is an edge banding machine. "That has been going since we've been at the new location, so, since 2004 or 2005. That's awesome," gushes Reuss, referring to the tremendous quality and longevity of all HOMAG machines. There is another reason for the high brand loyalty of Reuss. "I grew up with HOMAG," says Reuss, explaining: "We haven't used anything else for 18 years. And that's good, even though it all started with a disaster." This took place in 2004, when the previous site in neighboring Tennenbronn was completely destroyed in a fire. Instead of languishing in despair, founder and managing director Rüdiger Reuss was already displaying the attitude described above. He searched for, found and bought the location in Dunningen and set it up completely within three weeks. "HOMAG supported my father in doing this and immediately provided all the necessary machines, including a number of leasing returns, so that we could maintain operations despite the fire disaster," explains Emanuel Reuss. This has forged a strong bond between the two companies.
Back to List