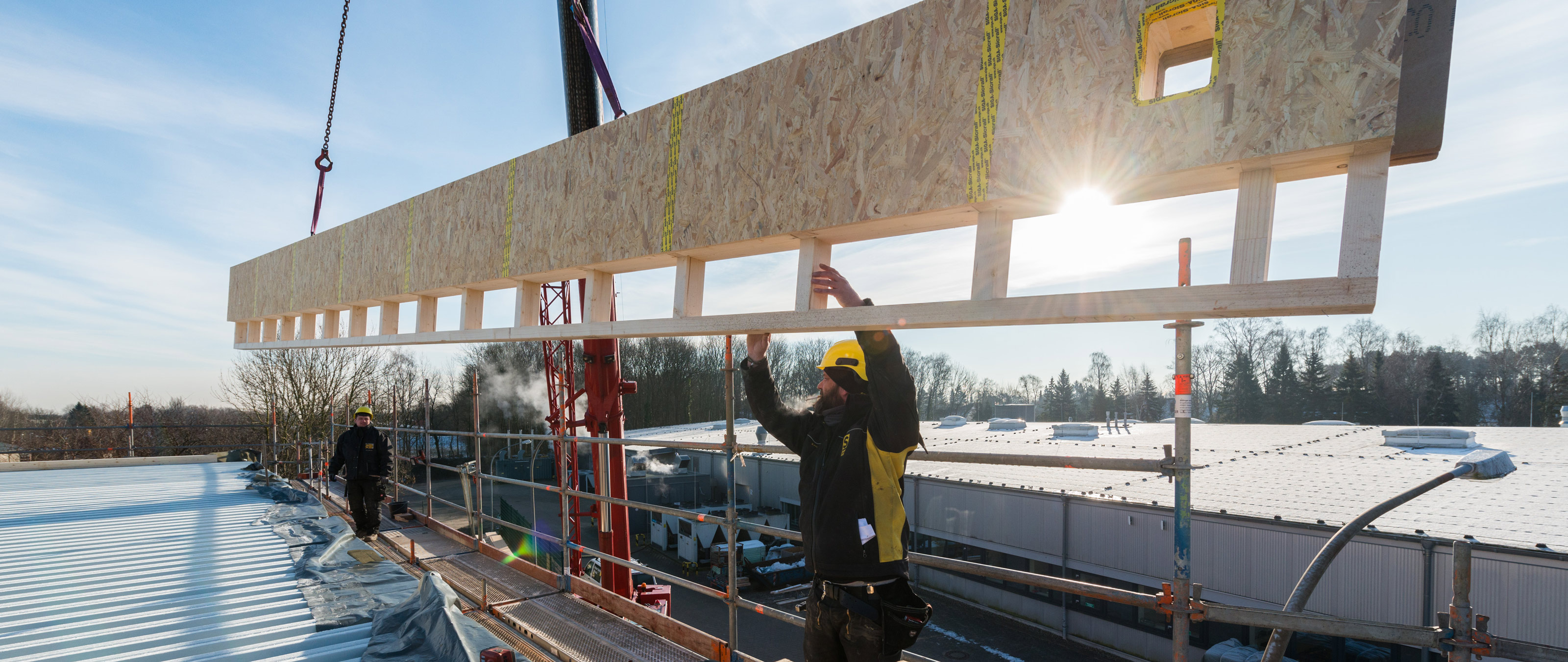 Gebr. Schütt KG invests in an automated production line
"With CNC-controlled production and the installation of windows in the production hall, we have improved the quality of our components and reduced the assembly times. Thanks to the improved transport logistics, we can pre-fabricate large quantities of automatically produced elements, load them, and bring them to the construction site. This means that we can supply even large projects with components without a bottleneck."

Tillmann Schütt, CEO
An article from Mikado, 07/ 2018. Here you can read the article.
Investment opens up new areas of business
In light of a boom in the wood work sector, Gebr. Schütt KG in Landscheide in northern Germany has automated its element production extensively. With a new production line, the company can now secure large projects that just one year ago, would have been beyond its capacity.
Whilst in southern Germany, wood work is a traditional method of construction, widely accepted by the population there, in northern Germany, the situation for wood work companies was much harder. Skeptical developers, stubborn prejudices, and a hard price war with the competition from solid construction made their life difficult. However, for some years now, a significant change has been noticeable. The desire for energy-optimized and now also sustainable buildings has led to an increase in demand for wood work - not only from private clients, but also from public and commercial clients.
Focus on industry and commerce
In light of this situation, Tillmann Schütt is optimistic that there are excellent prospects for wood work in northern Germany too. Schütt is the managing director and owner of Gebr. Schütt KG, in Landscheide, Schleswig-Holstein. The company has 196 employees and is active in the areas of industrial and commercial construction. In this market segment, the company builds production halls and business and office buildings, often with a supporting structure made from glue-laminated wood. This is not a coincidence - according to its own information, the company in Landscheide is the most northern manufacturer of glue-laminated wood in Germany. Manufacturing a quantity of 5000-6000 m3 per year, the company may not be one of the big players in this segment, but uses approximately ¾ of the glue-laminated wood products it makes for its own projects, which generates additional added value. Gebr. Schütt KG makes approximately 75 percent of its annual sales with orders from commercial customers. Other areas of business include the construction of agricultural buildings and equestrian facilities, residential accommodation, and special buildings. At present, all signs point to growth for the company: "The changes in the state building code in the north, particularly in Hamburg, have led to a significantly higher demand for wood in urban construction", explains Tillmann Schütt. His company has already completed some projects in the nearby city and wants to put a lot of energy into expanding this business area in the future. Therefore, last year, strengthened by the tailwind of a significant boom in wood work, the company built a new production hall, equipping it with an automated wood frame element production line from WEINMANN.
Time advantages due to a high degree of prefabrication
Wood frame construction is being pushed in Landscheide "because we also want to complete our construction assignments in commercial construction with wood as far as possible. In light of the increased acceptance of wood work, in recent years we have increasingly used wood frame elements in office buildings, we have built commercial buildings to a passive house standard, and we have done so within extremely tight timeframes in some cases." In addition to the energy standard and sustainability, this time factor is another important argument in favor of wood work. In comparison to solid construction, which is slower, it can offer commercial customers significant cost benefits. However, a wood work company can only take full advantage of this time factor if it employs a high level of prefabrication. In Landscheide, the company is now able to assemble even larger projects that are rainproof in two to three weeks. As an example, Tillmann Schütt names a kindergarten that was handed over after three months.
Production line with a multifunction bridge
The fact that in such projects, large quantities of high-quality elements have to be delivered promptly was one of the decisive reasons for the extensive automation of element production. Before the new production hall was built, the company had reached its limits with manual production on a conventional turning table, in terms of capacity and efficiency. "For normal projects, this equipment was OK; for large projects, it was no longer sufficient," remembers Tillmann Schütt. "Back then, we wouldn't have had the confidence to do the projects that we are doing today. For example, we're currently building student accommodation in Kiel with 155 residential units. We wouldn't have been able to do that without automated production." The new production line starts with an insert table for creating the frame work. This is followed by three further work tables, two of which are designed as turning tables. The tables are supplemented by two longitudinal transports with hinged slat conveyors. The required openings are formatted and routed by a WALLTEQ M-380 multifunction bridge, previously known as the WMS 150 under the old naming convention. The bridge is equipped with a 12-slot tool changer and two clamping devices with sliding shoes, thereby enabling soft wood fibers to be processed in a way that protects them. In Landscheide, the multifunction bridge is used not only in the production of wood frame elements but also for fully automated processing of special parts. These parts include templates made from sheets of glued spruce, which are used in the production of spruce trusses. The WALLTEQ M-380 has also been used to process spruce trusses that were 12 m long. Consumable materials are stored in the immediate vicinity of the workstations. These consumable materials are delivered by construction material suppliers at the correct time for production so that Gebr. Schütt KG requires little of its own storage capacity. Panel materials are placed on the elements using two FEEDTEQ H-300 handling systems. At Gebr. Schütt KG, wood frame elements run through four production stations: on the insert table, the frame works are clamped automatically with pneumatic main clamps, which ensures that the dimensions are highly accurate. An integrated longitudinal transport conveys the frame works to table two automatically, where the sheathing is applied for the inner side and processed by the multifunction bridge. Insulation is applied after the turning operation on table three, from where the elements are transported to table four via a longitudinal conveyor. Table four moves transversely. On this table, the second element side is closed and then secured, cut, and equipped with the desired openings by the WALLTEQ M-380. All work on the wood frame elements is completed with the WALLTEQ M-380. Using longitudinal transports, turning equipment, and the movable table, the complete transport of the elements between the work stations takes place automatically.
Completing large projects without a bottleneck
From the production line, the elements are taken by overhead crane to the area for window installation, where they are positioned vertically and fixed in place with wood. The carpenter than loads finished elements onto low-floor changeover platforms: the optimization of the entire production and transport logistics was part of the restructuring. "With CNC-controlled production and the installation of windows in the production hall, we have improved the quality of our components and reduced the assembly times. Thanks to the improved transport logistics, we can pre-fabricate large quantities of automatically produced elements, load them, and bring them to the construction site. This means that we can supply even large projects with components without a bottleneck," explains Tillmann Schütt. In one-shift operation, the production line has a capacity of approximately 10 elements per day. When purchasing the machine, they thought big in Landscheide rather than in half measures, which is understandable taking into account the large projects: "Of course, there are also some days when the machines are not used," says Tillmann Schütt. "But then there are weeks in which elements can't be produced quickly enough." In such times, the benefits of automated production can be deployed particularly efficiently: "On the one hand, the throughfeed time of single elements has reduced drastically compared to manual production," explains Tillmann Schütt. "The cutting pattern is better and the precision and accuracy of fit of the elements have increased significantly. Those are central aspects for us because if you work in the field of multistory construction, you need components that fit accurately. We were already very good at this aspect before. But now we also save time on the construction site because a lot of little corrections are no longer necessary, which is then ultimately reflected in the overall situation."
Wood work solutions absolutely preferred
For Gebr. Schütt KG, skeleton constructions with suspended wood frame facades are the construction method of choice. However, the company is open to customer requests and also builds pure wood frame constructions or hybrid buildings with an intelligent mix of wood and concrete components where this makes sense, as is the case for the student accommodation in Kiel. In general, the company, which has its own planning department and employs 27 engineers, looks initially for a cost-efficient wood work solution. Tillmann Schütt: "That's easier for us because with this department we can get involved in specific projects at a very early stage and join the customer at the stage of the construction idea. As part of the project development, we can then make suggestions for materials and develop optimal wood work solutions, whereby we always place a lot of value on cost-effectiveness." The target group for Gebr. Schütt KG is medium-sized companies, to which the company also provides advice with regard to growth and expansion options, multifunctionality, or a subsequent passing on or conversion of the company building.
Gebr. Schütt KG's own modular construction system
Gebr. Schütt KG's new SMB (Smart Modular Building) system is specially tailored to this clientèle: "Because we always get similar assignments from our customers, we have been looking at the idea of a standardized system for quite a while," explains Tillmann Schütt. The SMB that was developed from this idea is a scalable modular system in grid stages of 1.35 m. According to Tillmann Schütt, the system increases the efficiency of planning and cost-efficiency for commercial constructions. The first two projects in the new series have already been realized with two two-story office buildings each with office space of approximately 550 m2. From the upper edge of the base plate to the turnkey handover, the construction time was three months in each case. For Tillmann Schütt, an important additional benefit of the new system is that the sources of errors in construction can be minimized further by means of standardization and systematization. The new production line fits in with this philosophy seamlessly: on the one hand, sources of error are largely excluded in automated production, and on the other hand, the synergy effects of a standardized form of construction can be utilized optimally, thereby further increasing the cost-efficiency in commercial construction.
Back to List
Gebr. Schütt KG
Gebr. Schütt KG has been working with wood for more than 100 years and the company has always been owned by the same family. The special relationship with this unique material has always been passed on to the next generation. Find out more about Gebr. Schütt KG and its product portfolio here.
Website Gebr. Schütt KG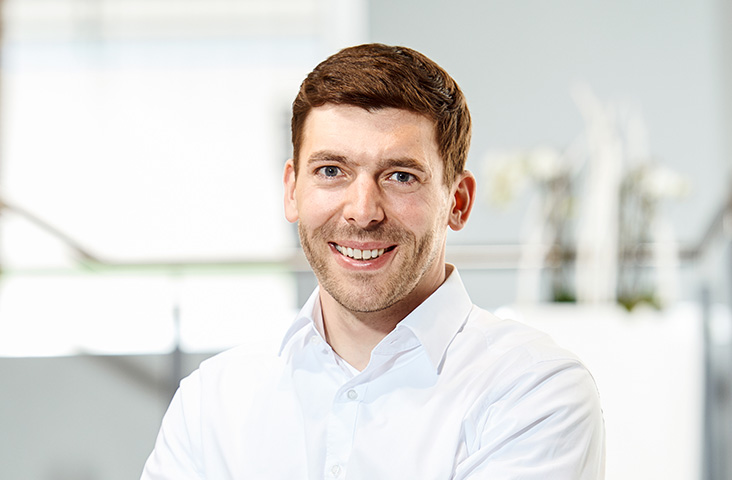 That's how your colleagues produce