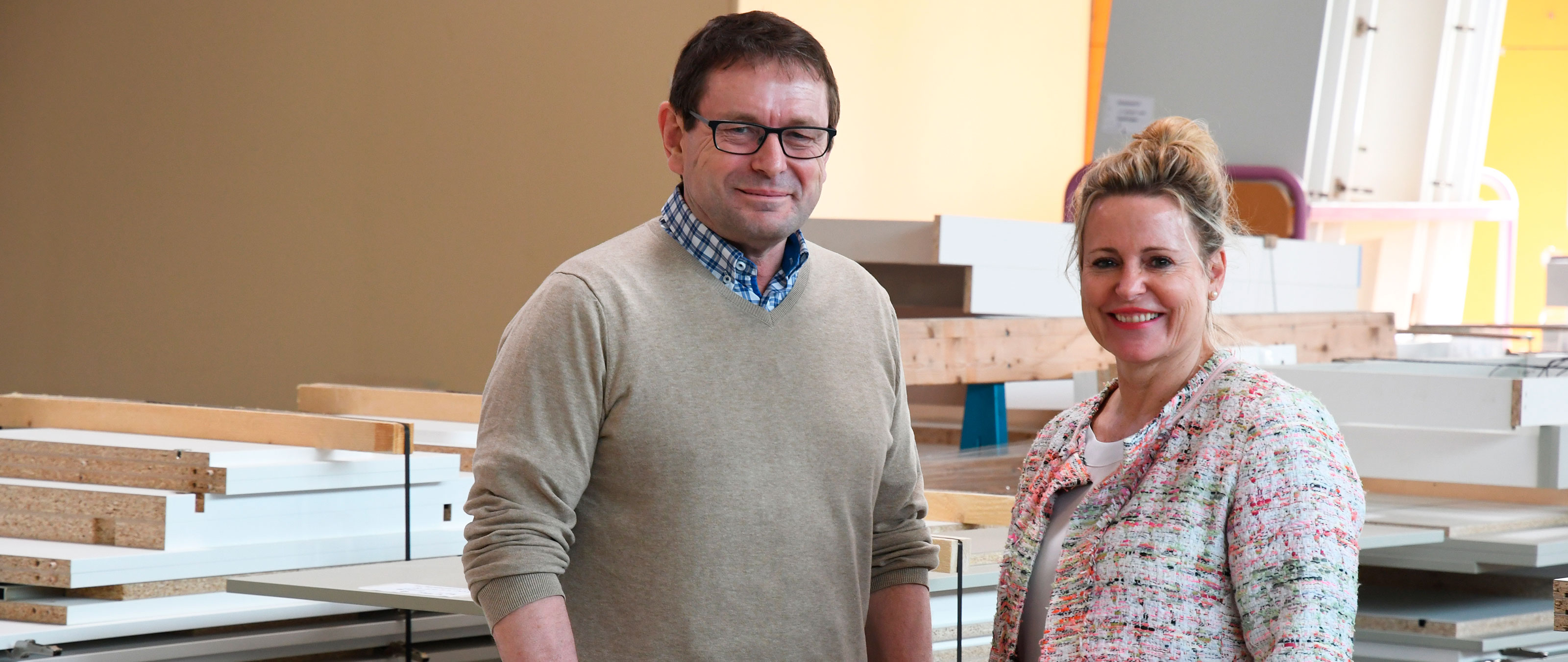 Robotic saw solves bottleneck at Alpnach Schränke
Flexible cutting in batch size 1
"For us today, the greatest advantage of the SAWTEQ is unmanned, flexible working. What is particularly reassuring is that the parts are correctly labeled and that no process interruptions occur on the edge banding machine."

Bernhard Wyrsch, technical director of Alpnach Schränke
Alpnach Schränke AG is one of the leading manufacturers of storage furniture in Switzerland. Production is now exclusively in batch size 1. For two years now, the company has been using a SAWTEQ B-320 flexTec robot saw (now S-320 flexTec) from Homag for cutting, including interlinking to the edge banding system.
As of late, a new landmark has been adorning the UNESCO city of Bern: BäreTower in Ostermundigen. At 100 meters, it is the second-tallest building in the canton after the cathedral. The tower houses businesses and a restaurant on the ground floor, as well as another restaurant on the ninth floor — with a magnificent view of the Bernese Alps. There are also 152 apartments in BäreTower. "We fitted each of these apartments out with closets in 2021," reports Brigitte Breisacher, manager and owner of Alpnach Norm, proudly.
In this case, they were standard designs from the Swiss company, but the range of storage furniture the company offers is evident in a recently fitted out villa: "Dressing room for her, dressing room for him, office for her, office for him, children's room, etc." were all provided here — with four times the budget of the entire BäreTower.
"Alpnach Norm is a group of associate companies that operate autonomously on the market as Alpnach Schränke, Alpnach Küchen and Zurag," explains the manager. While Alpnach Schränke produces all storage furniture such as cabinets, shelves or sideboards for living and office areas, Alpnach Küchen offers custom-made kitchens via specialist retailers and kitchen studios. Zurag also sells cabinets through specialist dealers, but the company has specialized particularly in sanitary partitions.
Unlike Zurag and Alpnach Küchen, Alpnach Schränke delivers directly to the market. The company produces around 40,000 to 45,000 units each year, while Alpnach Küchen produces around 1800 units. "In order to be able to offer these products close to the customer, we have twelve branches in Switzerland. By dividing up these displays for cabinets and kitchens and controlling various distribution channels, we are very successful." Around 90 percent of cabinets currently go into private apartments or residential redevelopments, 10 percent go to shop fittings or commercial premises. In the private sector, 70 percent are sold through architects and general contractors and 30 percent are sold directly to the end user. All products are based on a common production principle: batch size 1.
"In the last 15 years, we have systematically adapted production to the changed customer requirements," emphasizes Bernhard Wyrsch, technical manager of Alpnach Schränke. "In this context, the former production of stock parts have declined sharply. In the meantime, we have been running two tracks, stock and series production on the one hand and batch size 1 production on the other. Today, however, 100 percent of production is in batch size 1, based on orders."
This also applies to cutting, where the company has been using a SAWTEQ B-320 flexTec robot saw from Homag since mid-2021. Until then, cutting was regularly a bottleneck in terms of capacity. Alpnach also purchased the material for the production of stock parts from the panel manufacturer, with the material already cut to size. "In particular, we had to employ one person who would handle the parts, label them manually and push them to edging, where they were picked up again manually and fed into the next process," Wyrsch explains. "That was, of course, a physically strenuous, monotonous job. But it was also a waste of manpower." There was also the risk that incorrectly labeled parts would force the edge banding system to stop. "Last but not least, there was a large amount of waste because we were unable to optimize cutting across all the parts required (exclusively stock parts)."
The demands on the new cutting system arose from this constellation almost automatically. First and foremost, in the future, Alpnach wanted to run cutting without employees and the latent risk of errors. HOMAG offered the SAWTEQ B-320 flexTec as a solution. A competitor brought an angular saw unit into play. "Both variants would have been practical for us, because they are designed for batch size 1 production with a high degree of flexibility. The angular saw unit would even have delivered higher performance," Wyrsch emphasizes. "Ultimately, the decisive factor in favor of the robot saw was the better price/performance ratio and the fact that HOMAG had addressed our needs intensively, had really worked very hard."
The system was then installed in two steps. After the installation of the SAWTEQ in the summer of 2021, the interlinking to the edge banding system was added in the winter. "We currently have a shift output of 1500 parts, which is sufficient for us on average. If we need a higher throughput, we can compensate for this with an additional shift."
Cutting today begins with a panel storage system that Alpnach Schränke has organized as a high-bay warehouse. The panels are recorded by barcode in packets, placed on a roller conveyor using a forklift truck and guided into the storage. Here, a rail-bound operating device supplies the cantilever racks with stacks of panels according to fixed rules. "For example, we have defined which positions are used to store only single-type panels, which is what we mainly need, and which positions are filled with random stacks." While storage software automatically controls this storage return and removal from storage, the order in which jobs are processed is determined by production management. This also includes defining which jobs are cut separately or combined into a batch.
"The cut batches are then released in order via three setup positions," explains Wyrsch. "Behind the saw, there is another slot for cutting. If this slot is empty, a pre-set stack is retrieved. Ultimately, there are always three slots available, which means that we have the certainty that the process will run without interruption. Now the process runs on the SAWTEQ."
At this point, the entire work preparation, which Alpnach executes with Imos (CAD) and Kuhnle (industry software), has already been completed. The data required for production has also been imported onto the machines via the Intranet, with Cut Rite from Homag taking over cutting optimization. "We are currently implementing an MES system so that we can bundle jobs even better," explains Wyrsch. "After all, we place the jobs in production based on orders," he says. "That's a priority. In future, however, we want to increasingly combine the same materials and deadlines beyond the jobs. At the same time, it makes sense to only pass special thicknesses through once a day, because they require the greatest changes and slow down productivity the most. With the MES system, we want to make even better use of our capacities."
The SAWTEQ B-320 flexTec, designed as a cutting cell for flexible order-based or customer-specific cutting in woodworking shops or industry, enables fully automatic pattern amendment thanks to robot and recut technology. Headers and therefore main parts can be cut to any length, with a production capacity of up to 3000 parts per shift being achieved. Because the robot saw and the subsequent edging system have slightly different throughputs at Alpnach Schränke, a buffer is used after the saw, "so that we can also run the saw without personnel — during the lunch break, for example," says Wyrsch. "The buffer is thus always sufficiently filled, and the edge always has enough supply." The robot technology ensures almost 100% availability for this cutting process, with a saw cutting in a fully automatic process in both longitudinal and transverse directions. Compared to other saw concepts, such as an angular saw unit, this has significant space advantages. Last but not least, the robot is particularly gentle when moving the panels thanks to vacuum technology.
"For us today, the greatest advantage of the SAWTEQ is unmanned, flexible working," Wyrsch emphasizes. "What is particularly reassuring is that the parts are correctly labeled and that no process interruptions occur on the edge banding machine." In addition, synergies result from Alpnach not only working with HOMAG for cutting and edging, but also operating a number of other systems from the manufacturer. "Thanks to the comprehensive control and operating software, we have a number of recognition effects and can deploy employees flexibly."
Against this backdrop, the cooperation is already continuing beyond the last projects: the commissioning of another dividing saw is planned for the end of the year, which should enable an extended range of parts. "In the future, we want to use it to cut the material that is not transported back to the high-bay warehouse. In addition, there are self-coated raw and synthetic resin panels," explains Wyrsch. "There are always parts that do not run on a system. By closing this gap with the conventional horizontal saw, we will have a completely coherent concept in the future."
Back to List