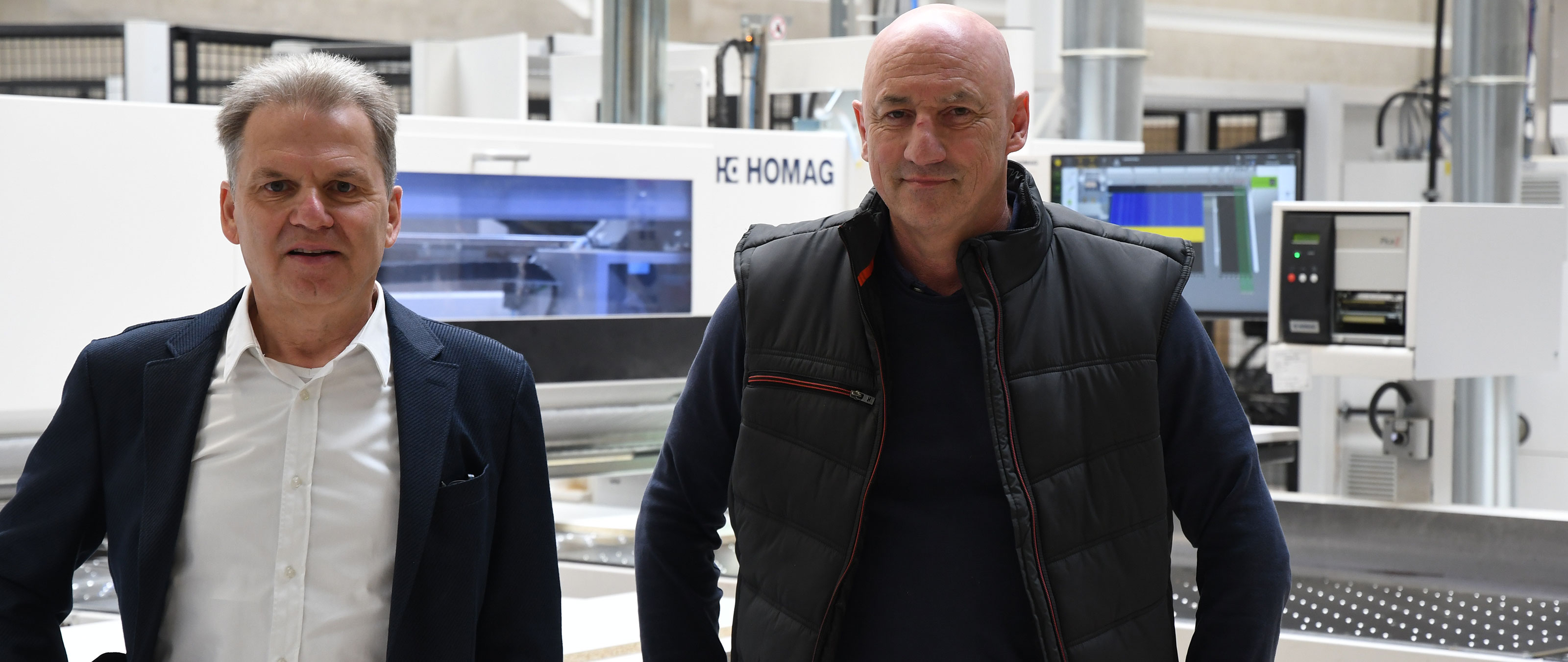 Production line for batch size 1 kitchens
At Breitschopf in Steyr-Dietach, kitchens are custom-made — always. What the kitchen looks like and how it is designed is entirely up to the customer.
The train must keep on rolling
In production, this bespoke production process is implemented with iron principles: quality and flexibility of course, but above all production reliability. HOMAG systems ensure a reliable process from start to finish.
Do they want solid wood in their kitchen? Alongside glass details? Stone worktop or ceramic? Breitschopf makes design ideas like these into reality on a daily basis by producing one-of-a-kind dream kitchens. The customer can design their unique product together with 50 planners located throughout Austria. The kitchen is then made from high-quality, often local materials. Breitschopf is so confident in the quality of its kitchens that it also provides a ten-year warranty. And because its kitchens come directly from the manufacturer without any detours, the quality and bespoke design can be offered at an attractive price-performance ratio. "We have six sales bases covering a large part of Austria and sell our kitchens directly to the customer," says Managing Director Johann Breitschopf. As the final step, 20 assembly teams install the kitchens at the premises of the new owner.
2000 unique products per year
But how can a bespoke approach be implemented across the board, from planning, production and assembly through to service? After all, Breitschopf produces 2000 kitchens per year using a whole range of surfaces, from wood, veneer and melamine right through to paint. There are three different lines available: classic, designer and country-style kitchens. In addition, Breitschopf keeps up with the new trends every year: "For example, matte surfaces are currently super popular, especially when it comes to paint. Bright kitchens with wood details are also very fashionable at the moment, as are anthracite and concrete colors." There are no limits to imagination and taste, the Managing Director continues: "Over 90 percent of our kitchens contain stone worktops or ceramics. Nobody else does that." The customers buying these bespoke items are exclusively private individuals — usually people building their own homes or who want to replace their first, rather simple kitchen with a high-quality upgrade. "Our typical customer wants something that's both clever and durable." So what means of production does Breitschopf use to realize such a wide range of requests? What are the underlying principles? Firstly, Breitschopf has high in-house production capabilities — its 150 employees do almost everything themselves, from planning to assembly. The most useful metaphor for the company's manufacturing approach and principles is as a train that runs through the entire production process, taking each kitchen along with it and bringing it to its destination, finished, after nine days.
Rails and rivers
This train runs through the entire production process in Steyr-Dietach and implements the bespoke production principles. With a throughput time of exactly nine days, a kitchen is produced to order and on a customer-specific basis: three days in work preparation plus six days in production. "The processes are tightly timed, which is why the machinery must be aligned accordingly," says Production Manager Manfred Hoffmann. "This means that we need more than just a high degree of flexibility — above all, we need reliability. The material flow must be constant because the delivery date is fixed." The train's carriages—to continue this metaphor—are then picking trolleys, its tracks a continuous roller conveyor. "Once the material has been cut, it comes onto the carriages and runs on the roller conveyor throughout the entire production process — always at the same speed, never going back," says Hoffmann.
Breitschopf named the six production stages that the train passes through after rivers: Inn, Danube, Drava, Enns, Steyr and Moldova. The train starts at the Inn group, where a STORETEQ S-200 panel storage unit and three HOMAG saws are used to split the parts. Reliability is key, even at this initial stage. That's why there are three saws — including a SAWTEQ B-400 profiLine. "We could have cut the 1500 parts that go through this section daily fully automatically using just one saw. But it is important to us that the train continues to run — even if one machine fails. Our short throughfeed time and the customer-specific, order-based work do not allow anything else."
Air now comes into play
The same applies to the Danube group, which includes four edge machines, two of which were supplied by HOMAG. While the older machine processes only thin edges, the other edges are processed using laser and hot-air technology on a new EDGETEQ S-500 profiLine, which can perform all processes. For example, high-quality zero joints are produced using the airTec process. A rotating fan heater heats the air and also serves as a heat storage device for subsequent re-heating, meaning less air is required and the heating effect on the surrounding area is reduced. With regard to the EDGETEQ S-500, which Breitschopf had specially adapted to the requirements of their Steyr-Dietach facilities, Hoffmann also stresses that alongside airTec, they were particularly interested in an angle stop. This is why they currently have a jointing unit in which the angle stop ensures accurate trimming at right angles. "We searched for years until we found the machine that optimally fits our needs. The EDGETEQ S-500 is just that machine."
Always onward, always forward
After the edge, selected parts then run onto a HOMAG BMG 311 Venture processing center, where they are trimmed without buffers and waiting times. These parts are carousel floors, table top attachments or cover plates, all of which have no straight edges. "But that's only a small number," clarifies Hoffmann. And so, after processing when the sanded and painted parts have been fed onto the train, the bulk of the parts roll on to drilling and assembly. While the fronts are drilled with two vertical HOMAG DRILLTEQ V-500 processing centers, a DRILLTEQ H-600 is used for the large parts. A V-500 has already ensured reliability in this flow when a separate dowel machine was not available for a long time. "We had the V-500 equipped with a unit for dowel insertion so that we could compensate for the failure," says Hoffmann.
In all of this, the key element of production—the metaphorical brains of the operation—is the Schuler Consulting ERP and PPS software MCS, which Breitschopf has been working with for years. "MCS was also an important reason why we chose HOMAG — to ensure our interfaces were as smooth as possible. The data is then transferred from the ERP and PPS software to woodWOP, which takes over the WOP programming and the control of the machines as a CAM system. "For example, the V-500 and H-600 drilling programs also run directly on the machines with no problems," says the production manager.
Directly to the customer…
For the components that have been trimmed, sawn, drilled and had dowels inserted, the process finally continues—after a gate—on two rails: either in the direction of assembly, where the cabinets are assembled using tools like case clamps, or to several manual workstations for the work that cannot be executed by machines. "Here, too, everything runs through just like on the roller conveyor and is processed in order," says Hoffmann. Once the kitchens have been completed, they hit the road — going directly to the customer in their own truck. "In the south of Austria, on the other hand, the kitchens are delivered by shipping agents; our regional assembly teams then construct the kitchen at the customer's premises."
… no matter what happens
"We have made significant investments recently," explains the managing director Breitschopf. "We want to use this potential to continuously increase sales over the next few years. We have the reserves for this with our machines." The route to this and the requirements will not change, of course: "The throughfeed must be correct. The daily quota must always be achieved so that we can keep to the six-day throughfeed time," emphasizes Hoffmann once again. In order to ensure this, the kitchen manufacturer has also agreed a service contract with HOMAG. "This also gives us access to a remote maintenance service," adds the production manager. "Ultimately, a machine takes over the tasks of its counterpart immediately should its counterpart fail. This keeps production going, no matter what happens."
Back to List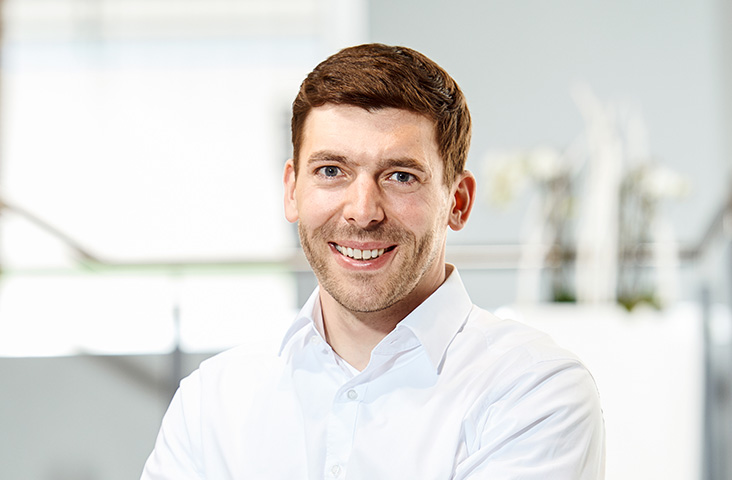 That's how your colleagues produce