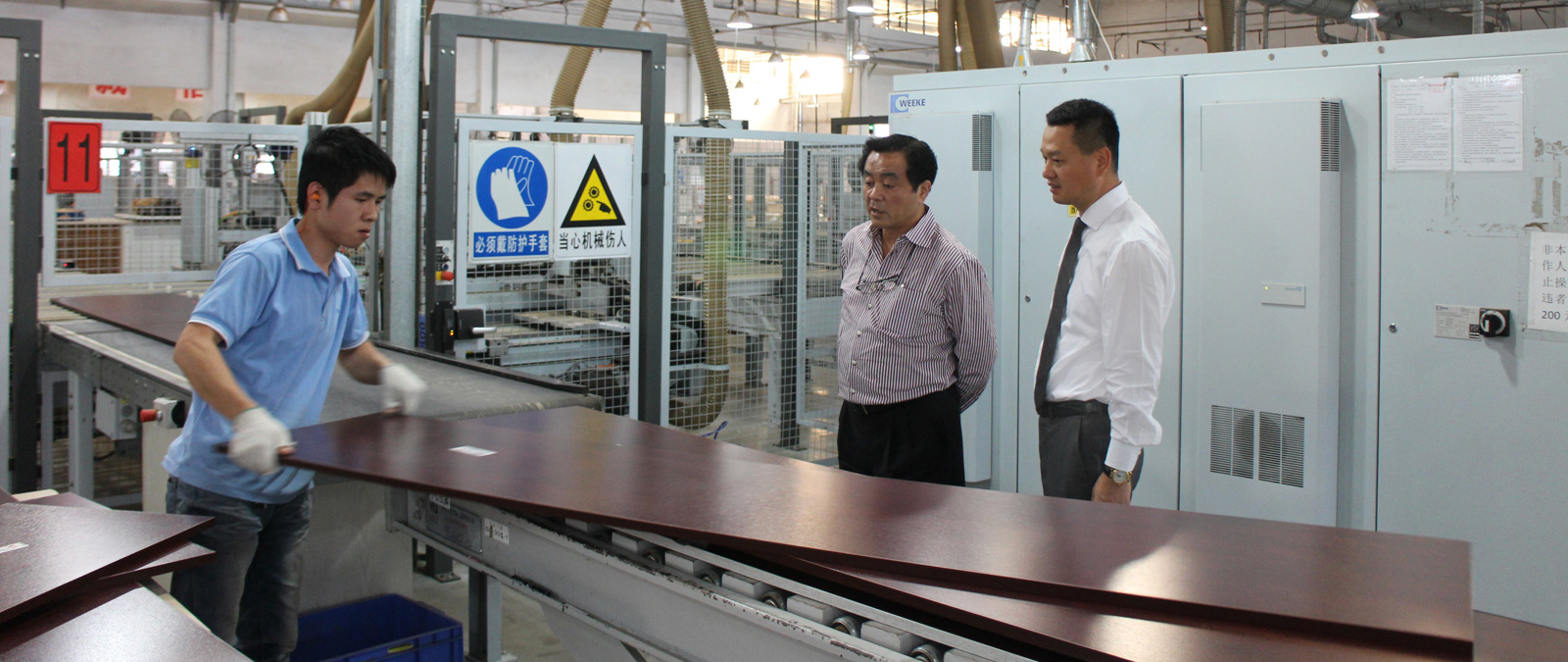 "Over 30,000 parts a day"
Chinese furniture producers back HOMAG Group batch size 1 concepts
SOGAL, RED APPLE, NATURE – these are the names of the first three furniture producers to invest in smart production plants from the HOMAG Group. These manufacturers are able to produce up to 33,000 parts daily including rear panels and narrow components using batch size 1 production.
The Chinese manufacturers are particularly appreciative of the modular system design of the installed plants, which offers scope for future adaptation and upgrading in line with any conceivably required changes.
Productivity efficiency increased considerably
As Ting Zhang (Vice President of Sogal Home Collection Co. Ltd) also emphasized: "To produce individual furniture items and wardrobes, we need to be able to rely on highly efficient flexibility in all complete daily working processes. To achieve this, we opted in favour of an overall solution from the HOMAG Group, which has increased our productivity efficiency considerably. This guarantees our development in a rapid, stable and continuous way in our facilities in Guangzhou, Peking, Chengdu and Shanghai. As the biggest manufacturer of bespoke furniture in the whole of China and Southeast Asia, the HOMAG Group is the ideal partner for us."
Just as important for furniture producers in China are rapid commissioning and a high level of plant availability. At Sogal, it took just two months from the start of installation until successful completion and acceptance. The plant was immediately up and running at 100 % of the promised output, with plant availability well above average. During the course of a two-month production support period, performance was actually increased to a level significantly beyond the promised output.
The service technicians had a highly important role to play in securing this successful outcome. In China alone, there are 120 fully trained service technicians working for the HOMAG group. All the installed plants are now being operated by personnel without prior knowledge of the technology – which speaks volumes about the extreme ease of operation, particularly given the size of these large-scale installations.
Supplying machine engineering to cover the entire furniture manufacture process chain, HOMAG Group Engineering provides the perfect mix of customized plant automation, flexibility and investment. The use of modular systems from a single one-stop supplier makes for future-proof solutions, with the assurance of reliable support all the way from the installation stage through commissioning and staff training and to the start of production.
Machines from von HOMAG Automation, HOLZMA, HOMAG, HOMAG Automation and WEEKE have so far been installed at "Sogal, Red Apple and Nature" – including data processing using HOMAG eSOLUTION.
HOMAG Group Engineering Project Manager Christoph Köhrer envisages enormous potential in the Chinese market: "We already know today that orders for additional plants will be forthcoming. These three plants in China are just the beginning. As the country's economy continues to boom, the shortage of well trained specialists will limit China's capacity. This is why issues such as automation and handling will continue to gain in significance. In addition, there is also increasing interest in our ecoPlus technologies. Asia is now increasingly waking up to the need for the efficient use of resources and sustainable production".
Back to List