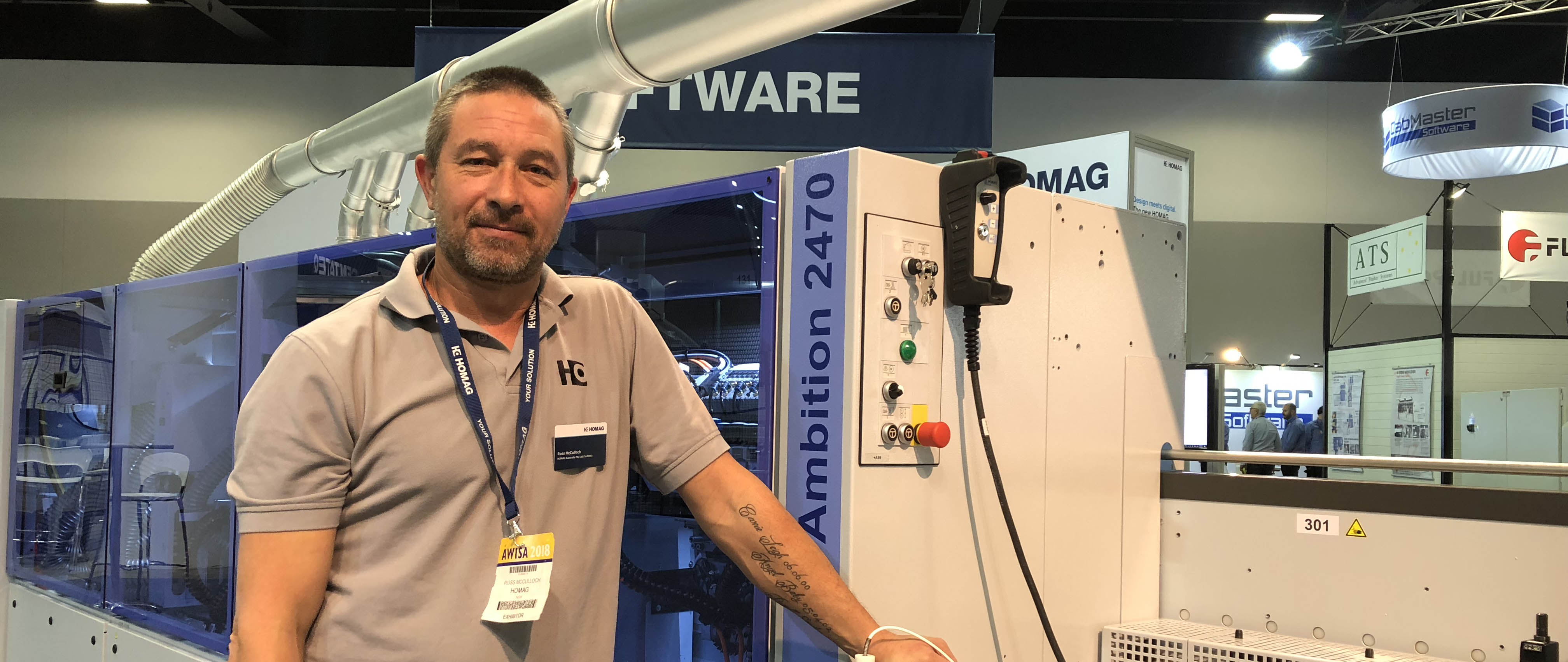 Mr Edgebander's opinion matters
Chances are you have heard of him or met him in your workshops helping customers throughout Australia and New Zealand. Ross McCulloch, HOMAG Field Service Representative
Chances are you have heard of him or met him in your workshops helping customers throughout Australia and New Zealand. Ross McCullouch, Field Service Representative is the epitome of HOMAG service and the embodiment of the HOMAG mantra. And with 28 years' experience working on nearly every brand of machine in the woodworking industry, it is fair to say that his opinion matters.
Ross began his apprenticeship in 1985, learning the trade of a fitter welder in ship yards, meatworks and concluded his education with an engineering company that produced apple processing units. On completion, the freshly minted tradesman now free from the shackles of his apprenticeship sought out new challenges in different places.
After relocating to Auckland to work for a print factory, Ross was hired by then Director of WR Jack Mr Ross Campbell who now, 30 years later, is the Managing director of HOMAG Australia and New Zealand. Recalling his first interview, Ross McCulloch remembers it with much nostalgia.
"I went in for my first interview with a great old guy called Bill Bonnette and my second interview was with Ross and he scared the life out of me." said Ross with a chuckle
"To me he was a scary guy, if you don't know him you could be intimidated by him. But he gave me the job. I was just a scruff with long hair, I drove a valiant, smoked rollies, drank longnecks, and he obviously saw some potential in me despite that"
Mr. Campbell recalls exactly why he hired the young scruffy tradesman in the first place, and definitely held no regrets giving him the opportunity.
"He certainly was a scruffy looking bloke but Bill Bonnette an engineer working with me at the time, who was older and wiser, saw the true potential and told me to hire him, and he was right." said Mr. Campbell
"I count myself lucky as now I have hired him twice, first with Jacks in 1990 and again with HOMAG in 2017. And I will say this, if I could hire him a third time, I would."
An iconic institution within the New Zealand woodworking industry, Jacks has sold big to small woodworking brands and delivered first class service to their customers since 1946. As a maintenance engineer, Ross has been fortunate enough to have worked with every single brand within the industry and is not afraid to give you an honest insight into what's is good and what is not.
"You can definitely see the difference between the German stuff and the other products. Some brands have given me experiences similar to pulling teeth"
"Edgebanders in particular are all different. Some of them are cumbersome, awkward to work on, bastards to set up and don't hold their settings."
"I have worked on nearly every single machine brand as Jacks worked on anything and everything. And because of all of that you certainly get to work out what is the better product, and that is why I stuck with HOMAG gear."
Titled "Mr Edgebander" by colleagues and clients, Ross is the one of the best. Edgebanders are his passion and while some may find his enthusiasm unusual, his reasoning makes complete sense.
"On my first day at Jacks the old guy Bill walked me past edgebanders and said 'stay away from these things, they are the devil!' But the way it worked out it turned into my forte and edgebanders are my passion."
"The reason why I am so passionate about edgebanders is because I have worked them out and I know what makes them tick, they are weird machines and I just love them."
"Once I sat next to a bloke on a plane to Fiji and he did dry cleaning machines and I could not work out why he is so passionate about it. Like he couldn't understand why I am passionate about edgebanders, sometimes you can't explain it to people. But I think that to understand the logic of a machine you need to be passionate about it."
"With edgebanders, you have three different man made products that you are trying to join in harmony to get the perfect finish. And every day there is a new variable thrown at you, ambient temperature, board temperature, the edge tape and glue."
"A nesting machine cuts rectangles and drills holes, a panel saw cuts big squares and rectangles into smaller squares and rectangles. But an edgebander is a finishing machine, and when you can make it do what it's designed to do and get a finished product that looks awesome it is very satisfying."
"My obsession has got me to the point that wherever I go I look at doors and draws to work out what machine was it done on and how could someone let that rubbish out of their workshop."
To Ross HOMAG is more than just the machines, it's the people, both customer and colleagues that make his career so appealing.
"I like HOMAG because out of all the brands I have worked with, their machines are the best to work on, and their support is the best."
"What makes this company appealing is the people and the product. I have made some amazing friends over the years with technicians I have worked with from all over the world."
"I like to go out of my way to help our customers and some places treat me like one of the family. I have built up so many great relationships. Do a good job and people will want you back."
With his passion, experience and skill Ross has established himself as one of the best technicians in the game and his verdict counts. If you want an unbiased opinion on woodworking machines, ask the guy who has seen it all, and if you follow his advice chances are you'll become one of the best also.
Back to List