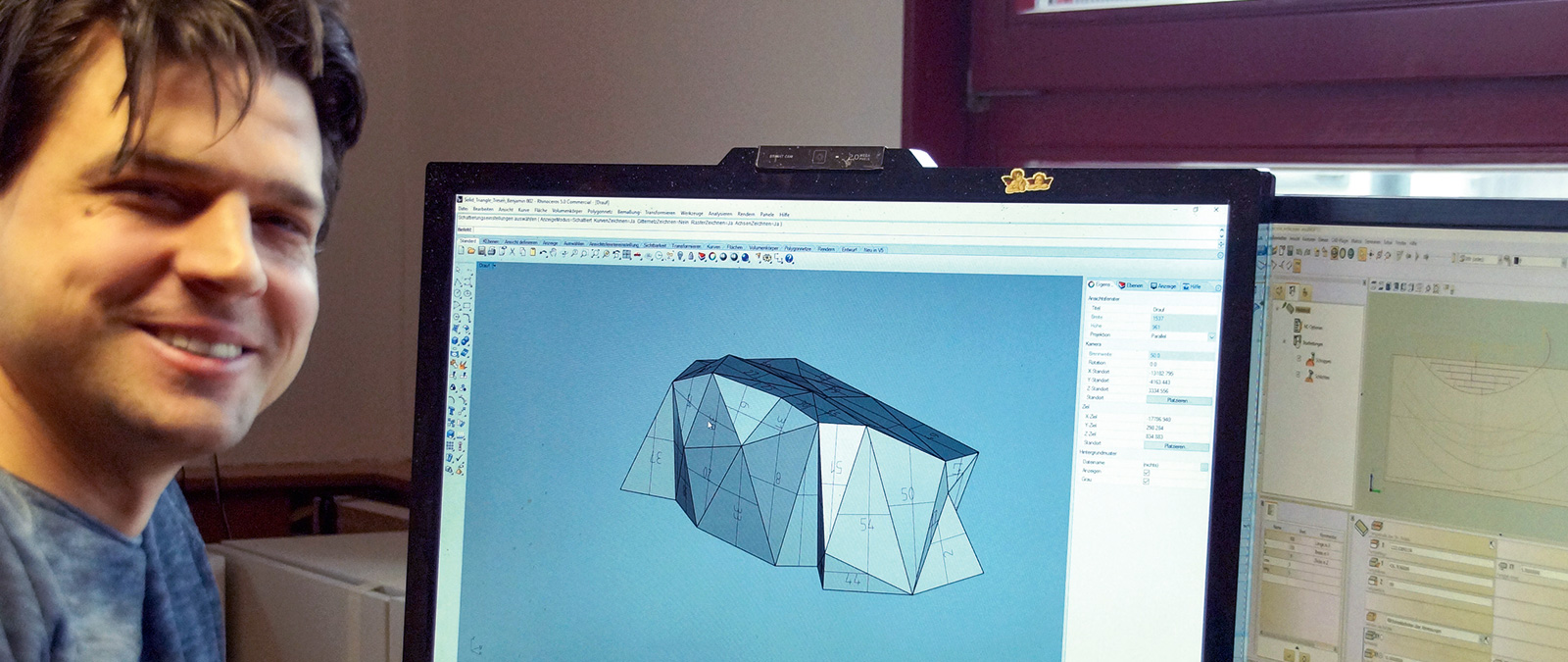 Join the big league with 3D
Carpenter produces 3D parts for his 5 axis CNC without using a CAD-CAM System.
"With woodWOP and Rhino, we can do everything relating to 3D with ease. We have achieved our strategic goal for an attractive price."

Benjamin Löw, owner of the Löw Breidenbach Möbelbau GbR
Many joiners and carpenters cannot manufacture 3D parts with their 5 axis CNC machine because they shy away from investing in expensive CAD-CAM systems. The Löw und Breidenbach carpenters workshop has discovered an affordable method – its ticket to success.
Published in "DDS 3/2017".
Benjamin Löw works with two screens, on the small screen to the right he is running "woodWOP 7", the programming system from HOMAG with 3D CAM module, on the left a 3D-CAD program. The master joiner loads a variety of complex 3D parts one after another on the large screen and shows what he and his partner Thorsten Breidenbach have already managed to do on their 5 axis CNC machine from HOMAG – even without a CAD-CAM system.

The left, slightly larger screen shows the interface of the 3D-CAD program Rhino. This design program from software company McNeel is regarded as high-performance and value for money. Even proven 3D specialists work with it. Benjamin Löw taught himself how to design with Rhino in the evenings and at the weekend. This took almost a year.
However, he now loads a workpiece into woodWOP that he designed with the 3D CAD module of woodWOP. It is a round corner element for a veneered bar which looks like a curved staircase newel (see images on the right-hand page). It connects two side panels of different thicknesses with rising height. The side panels and the corner pieces are to be veneered with stripy oak across all workpieces. The horizontal veneer pattern is to be continuous. At first sight, the workpiece seems relatively uncomplicated. However, it is deceptive. One connecting edge is wider than the other. The upper connection is also not, as initially assumed, an easy-to-saw plane, instead it is spherically curved.
Benjamin Löw says: "With the CAD module from woodWOP 7, such parts can be designed with ease. However, Rhino offers more functions and they are more convenient. We design a lot ourselves. We often receive 3D models from customers or architects which we can import into Rhino and process, no matter what format they come in. We have to make sure that the workpieces have fully closed contours, that a surface contour is virtually one piece and that there are no duplicate lines. Once we have done this, I move the part into woodWOP, where I can create the trimming program with just a few clicks."
Benjamin Löw shows how this is done. For woodWOP, a workpiece consists of plane or curved surfaces. Each surface of the workpiece is selected bit by bit so that machining processes can then be assigned to them. This is what Benjamin Löw is doing now. First, he selects the convex external surface with the mouse. Then he selects from the five macros available in woodWOP 7.0, first roughing and secondly, smoothing. He doesn't need the peripheral trimming, 3D contour trimming and pocket trimming macros for this workpiece. Standard values are stored for all work steps, such as the selection of a tool, the feed depth, speed and feed rate. These values can also be changed to suit the situation, for example if mineral material is to be trimmed instead of wood.
In the macros, the operator can also select whether the machine should work in 3, 4, or 5 axis mode. The standard specifications are all suitable for this workpiece. Now just the two saw cuts on the longitudinal edges and at the bottom are needed. Benjamin Löw is pleased that, as a test candidate, he can use the beta version 7.1, as a drilling and sawing macro has been added to this. It can be applied to selected surfaces, as described above. Alternatively, both macros can also work in automatic mode if the entire workpiece is selected. In this case, the programming system automatically detects what needs to be sawn and what is to be drilled based on the workpiece geometry. Benjamin Löw selects "Automatic" and lets it generate the CNC program.
Automatic mode is also a great help for the current order for a 3D object which is composed of triangular boards with shift cuts (see images above). With the new functions, it takes just two clicks per unit in woodWOP to generate the CNC program.
Benjamin Löw and Thorsten Breidenbach founded their furniture workshop six years ago and after relocating several times, they have now purchased their own workshop. They employ five journeymen and six apprentices. With the BOF 211 processing center, the KAL 230 Ambition edge banding machine from HOMAG and the HOLZMA HPP 400 saw, the workshop is very well equipped. The expansion of the 3D capabilities is part of the company's strategic focus. Nonetheless, around 80 percent of their turnover comes from normal furniture. Design and work preparation take place here via pallet CAD. A 3D-CAD-CAM solution would have stretched the budget too far. The solution with woodWOP 7 on the work preparation screen as well as on the machine and Rhino costs perhaps a third of a standard CAD-CAM system.
Benjamin Löw says: "With woodWOP and Rhino, we can do everything relating to 3D with ease. We have achieved our strategic goal for an attractive price."
Back to List