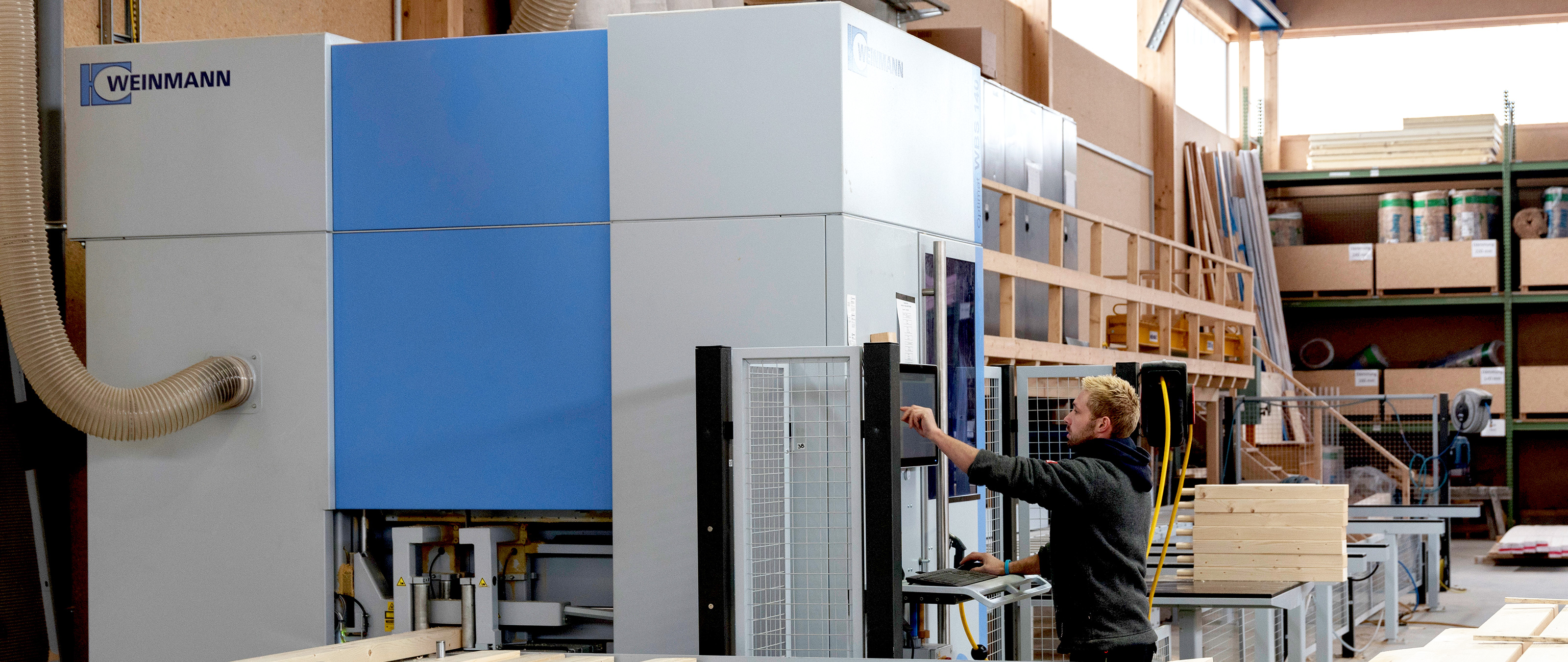 In light of excellent market conditions and a desire to equip his company for the future, a carpenter in Neresheim-Elchingen is entering the world of automated production.
An Article of the Magazine "dach + holzbau", 4- 5.2017.
Here you can read the article on dach + holzbau online.
Editor: Dr. Joachim Mohr
The master carpenter Christian Kienle is all too familiar with the question "where do you build your houses?" He used to hear it a lot from potential customers — in the early days of Kienle Holz- & Ausbau, when carpenter's workshop was still nothing more than a stable and a shed on the family farm. "It worked well for the first five or six years," the carpenter reminisces. "But then demand grew, the road link was terrible, and we experienced problems with receiving supplies and making deliveries. We could have added another building, but then that would have been it. We would have stayed a carpentry and then closed. "Even back then, Christian Kienle saw the future of his company in turnkey timber house construction. Therefore, in 2015, he put his money where his mouth was and moved his company to an industrial area on the outskirts of Neresheim-Elchingen. The new, self-built company building was not the only investment. He installed a Weinmann VarioTec flat-pack table and a WBS 140 beam processing machine in the hall. It undertakes practically all of the beam processing tasks within the company, which currently has a team of 12 employees.
Cost-effective and flexible
Why choose this solution? "We decided on the WBS 140 because it is a beam processing machine for carpentries that is very compact and does not require special foundations or a basement area for removing material. This is beneficial to us because we have grown very quickly and we don't have a picture in mind of what our hall layout will ultimately look like. This isn't an issue with this machine because we can switch its position at any time. On the other hand, we still have storage areas in the hall, so we need space." In addition, the WBS 140 with 5-axis unit and 8-slot tool changer for saw blades, drills and trimmers has been optimized for complex and precise component processing. It is therefore equipped for all tasks in timber frame construction and normal carpentry business. It is rarely faced with a task which it is unable to master, such as wooden ceiling panels that exceed the maximum cross-section (200 x 455 mm). All of this was completed with a manageable total investment, which was a crucial factor for the decision to make the purchase, alongside its processing flexibility.
Stable growth
Nevertheless, the purchase was a brave step for a small carpentry. Yet, in light of the stable growth in recent years, it is understandable. Prospects also look good for 2017: in the first quarter, Kienle already had three part-turnkey wooden houses in his order book. In addition, three renovations of agricultural buildings are in the pipeline, which his company is converting into living spaces as part of a development program. As a result, he has already secured orders matching almost 65% of last year's total. As the regional trade fairs in Heidenheim and Aalen with their rich order potential have not yet been evaluated, he has a good chance of beating the result from the previous year.
Creating expertise
In light of this, Kienle is unperturbed at the investment in the new machine, even more so since he was not thinking of profitability alone. He said, "Without a doubt, the machine we have is not currently profitable, but this also applies to a crane purchased in the same investment framework. For me, it is a question of what you can achieve with this type of investment. A crane ties up the capacities of the fittest people in the company because they are the only ones who can operate it. However, has this potential been put to good use?" Kienle thinks it is more important to incorporate the potential of his employees, so "that we can drive the company forward." For him this means concentrating expertise within the company instead of outsourcing it. "We need this know-how to stay competitive with the biggest providers of prefabricated houses in the region and to achieve our next objective of building 10 to 15 houses a year. This is one of the reasons I have invested in production technology." There has been significant progress in the level of knowledge relating to work preparation at Kienle since making the investment. "We not only work in modules, we also know what our machine can do and what is economical. This way, for example, a pin or a cut may be better alternatives to a dovetail because the machine can manufacture them quicker." Using the machine also requires the latest know-how: if a process step results in drawbacks in production, the operator has to inform their colleagues about this. "In a situation like this, the beam processing system also makes changes to the processing steps," explained Christian Kienle. "However, these might not be in line with our customers. We are able to achieve greater quality and individuality for them if we are in control of and can optimize the complete process."
Craftsmanship dwindling
Another reason for the investment in machine technology was to increase flexibility. Kienle can now respond more quickly to typical carpentry orders such as car ports, porches, or a roof structure. As a result, he receives orders that he would have lost before. The staff situation was also a reason for Christian Kienle to invest. There has been a shortage of suitable employees in his region for years, plus he sees waning interest in traditional craftsmanship among the next generation. He said, "We have to compensate for the lack of traditional craftsmen in the long term and we can only do this with automation."
Added benefits
Alongside "unbeatable speed and precision," the carpentry also receives additional benefits such as optimized cutting with up to a 98% degree of utilization. The risk of errors occurring in the combination of work preparation and machine processing has decreased sharply "because we can better control components on the computer in accordance with the four-eyes principle, plus the person operating the machine still has a control function." The new technology at Kienle Holz- & Ausbau has also made it easier to increase the degree of prefabrication of its timber buildings. Nowadays, they can supply and install closed elements and roller shutters at the customer's request, and the company is currently contemplating adding window fitting to the tasks undertaken in the beam processing hall — an important step to keep up with its manufacturing rivals. It also helps the carpentry that its image has been significantly enhanced by the new production technology. Kienle says, "People no longer ask where we build our houses. On the contrary, we immediately enter into talks with our customers, who often work in large companies in the region, when they see how professional our production set-up is. This professionalism encourages trust, which is a crucial benefit to us as a small company, compared to industry giants. This is an important aspect, as word of mouth from a relatively small number of customers does not bring in enough orders, and Kienle currently sees customer generation as a crucial need for his company. "We must act on this now to increase our utilization and profitability, as we are currently not far from achieving the goal of 10 to 15 houses."
Back to List
Kienle Holz- & Ausbau GmbH
Kienle is your contact for all aspects of house construction, expansion, conversion, restoration and carpentry of all kinds. More space for realizing your living spaces!
Website Kienle Holz- & Ausbau GmbH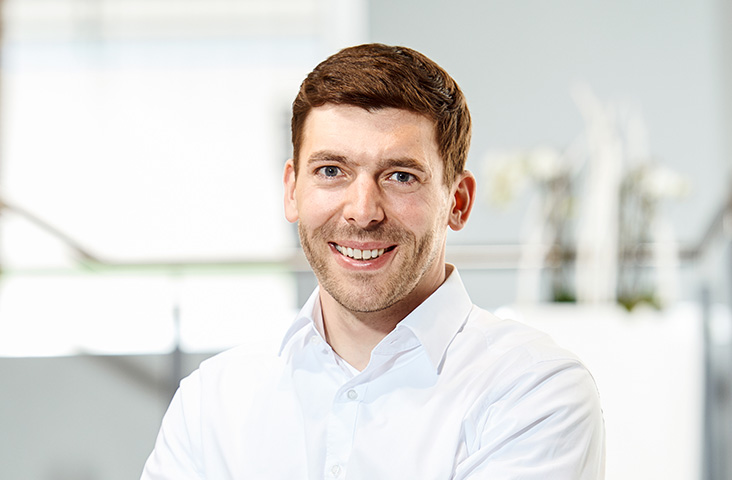 That's how your colleagues produce