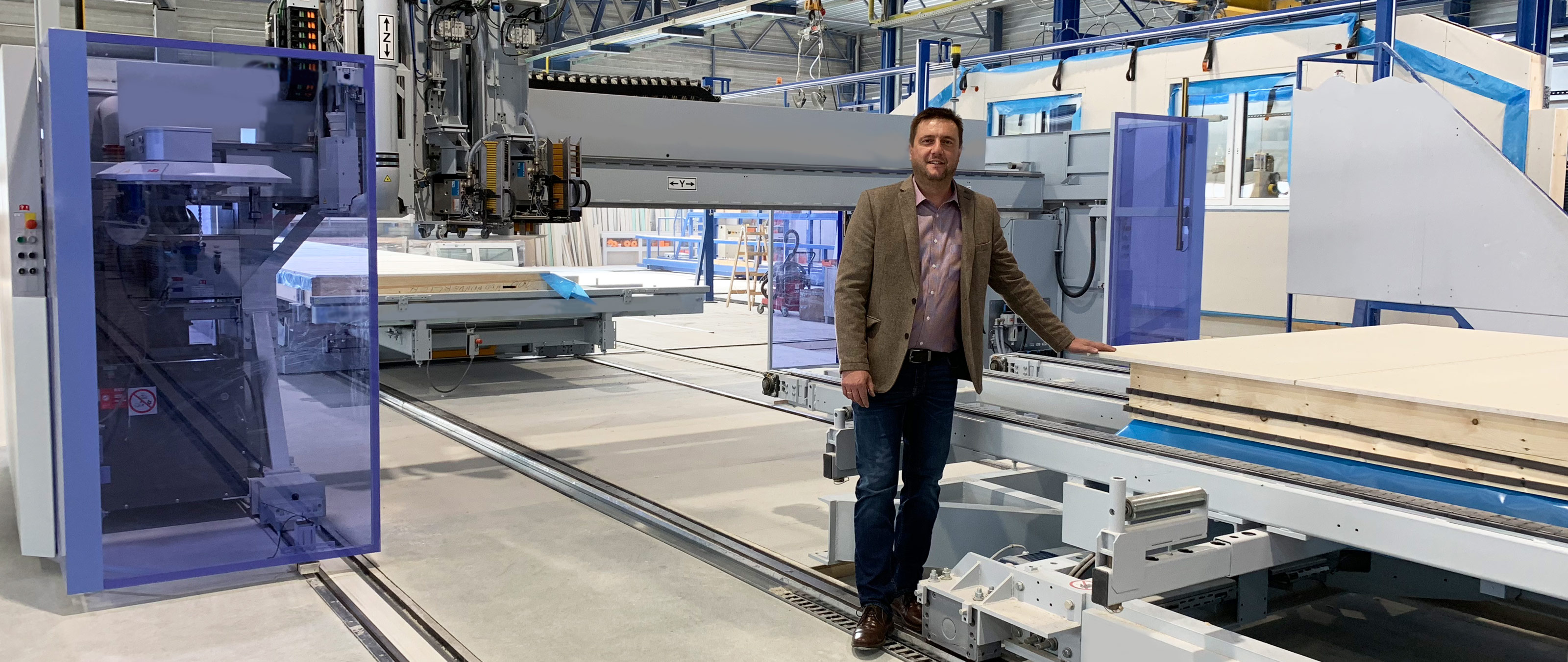 Houses from the production line
Elk Fertighaus GmbH invests in two beam processing systems and a compact system to be used for the production of special elements.
"With the compact system, we have modernized our production of special components, which was expensive and very time-consuming. There was a great savings potential here."

Markus Schandl, Production Manager
An article from bauen mit Holz, 2018/12. Here you can read the article.
Since the Austrian company Elk Fertighaus GmbH was taken over by Gampen lndustrial Holding in 2016, it has been extensively reorganized. The restructuring has included an extensive modernization of the entire production process for prefabricated houses, starting with investment in two beam processing systems and one compact system, which will be used primarily for the production of special elements.
While the majority of German timber house companies are fully occupied with domestic orders for months at a time, a lot of competitors in neighboring European countries are considering expanding into exports. This is partly because their markets are only just developing, such as in Hungary or Estonia. There is also a desire to look beyond national borders, which can be intensified in a country that traditionally has a high level of timber construction. This is because the domestic market cannot offer the desired potential for expansion, due to restricted growth, the competition situation and the clear distribution of market shares. This is the situation that Elk Fertighaus GmbH in Austria finds itself in. Although the economy and in particular construction growth in Austria increased strongly again for the first time in 2018, the Austrian Institute of Economic Research forecasts a weakening of growth rates for residential construction. The construction of detached houses has already been stagnating for some years. However, Elk sees excellent potential in Germany. In light of this, it makes sense that the company is looking at expanding across the border.
In Austria, the prefabricated house manufacturer is the undisputed market leader with 850 detached houses, catering to the requirements of various target groups, under the brands Elk, Hanlo and Zenker. Beyond all desire for growth, the main initial focus of the company is to secure this position for the years to come.
The group wants to expand the business areas of the subsidiary Elk Bau, which, as a property developer, markets detached houses and apartment buildings, including the plot. In this segment, the company builds multi-story buildings of up to three stories, including hotels and motels. In Great Britain, Elk built buildings of up to eight stories before concentrating its business in Austria again during the financial crisis.
Big changes are coming
As part of the reorientation, there will be extensive changes at both locations. "The first step is to bundle our skills at one location, which is why, from January 2019, the production of houses will be concentrated entirely in Austria," explains engineer Markus Schandl, production manager at the site in Schrems. From the new year, production at the second site, Plana in the Czech Republic, will consist only of window and door elements, which Elk supplies under various brand names, including to other timber construction companies in Germany and Austria. Sixty percent of the volume will be sold, forty percent will be installed in houses built by Elk. The product range includes wood, wood/aluminum, plastic and plastic/aluminum windows, as well as a wide range of high-quality doors, from standard to passive house models.
One reason for the restructuring was the high demand in this segment. Markus Schandl: "Even with a three-shift operation, with an annual growth of 15 to 20 percent in recent years, we could see that we were going to reach our capacity limit, which is why the restructuring will almost double capacity. Besides quality and price, it's delivery reliability that counts above all else in this field." The intention is to increase the number of personnel in Plana as part of the restructuring, which will not be easy, as there is currently full employment in this specialist segment in the region south of Prague, and the wage structure in the Czech Republic is fast approaching that of its Western European neighbors.
System for special components
Elk also wants to increase the number of employees in Schrems: There are currently around 780 employees at this site and the company wants to increase this to around 850 in 2019. The intention is to increase the production capacity in Austria to 1500 timber houses per year. "We're not going to jump three steps at once - the plan is to pave the way to our future bit by bit," explains Markus Schandl. One key step is the investment in new, automated production technology - initially, two BEAMTEQ beam processing systems and one compact system with a tilt table, both supplied by WEINMANN Holzbausystemtechnik in Lonsingen. The flexible compact system, consisting of a turning table and a WALLTEQ M-340 multifunction bridge is ideal as a universal solution for small timber construction companies and-in large companies like Elk- as a production system for special elements.
The third table is used to position elements vertically and transport them into the wall track. There, finishing work takes place, such as the installation of windows and the application of plaster, before the elements are sorted into the wall storage system via a distribution trolley. The new purchase makes sense because it has modernized a precarious working area, while the rest of the production systems are not causing the Austrian employees any problems at present: "With the compact system, we have modernized our production of special components, which was expensive and very time-consuming," explains Markus Schandl. "There was a great savings potential here." Gable walls, dormer components and angled wall elements are now produced in an automated procedure - these "cycle time killers" had already been separated from the production of standard elements but production was still completely manual.
Hemp as an alternative insulating material
The compact system also fits into the company's strategy for development in other ways. For example, it enables the company to produce elements up to 305 cm high - even elements up to 405 cm high are possible. But at 305 cm, Elk can meet the wishes of demanding developers for large room heights - an additional benefit for a target group that companies in Germany have their eye on too. The flexibility of the system also offers two further advantages: "On the one hand, the flexible units mean that we can also process walls with hemp, which for some years now, we have been installing as cavity insulation and EIFS under our Zenker brand." Thanks to the tool changer, the Austrian employees also have access to a wide variety of tools to choose from appropriately for each material, using the tools interchangeably with no setup time necessary. The WALLTEQ M-340 can also be equipped with sawing units with a cutting depth of up to 200 mm. In Schrems, the company is currently using a standard unit with a cutting depth of 80 mm. By using the hemp insulation, Elk hopes "to be able to respond to the changing requirements in Germany quickly, where the heated debate about polystyrene has currently stopped. As an ecological, sustainable and recyclable insulating material, hemp could become an attractive alternative that opens a door to the German timber house market for us." The compact system, which additionally processes normal elements, is also a valuable reserve that can be used to help cover production peaks in element production.
Focus on the main production
The company has invested in WEINMANN technology in Schrems "because we didn't want to take any risks with the first step." In the production manager's opinion, the commissioning of the new technology was seamless and in ongoing operation, the compact system and the two BEAMTEQ beam processing systems are really proving their worth. WEINMANN will therefore also be invited to the table shortly when the company looks at the main production operation in Schrems. The company will probably move away from well-tried paths: "The introduction of industrial robots in the production of prefabricated houses has shown what the next evolutionary step in prefabricated construction could look like. In the long term, development will probably encompass a combination of human/machine/robot technology, even if prefabricated construction is currently lagging behind in that field somewhat. This change will surely take a number of years: in 30 years, we won't just be driving cars differently, we will also be producing prefabricated houses differently. In the time this takes, the new technologies will become increasingly stable, will provide even better performance and will therefore become ever more attractive. They will give us the opportunity to pit ourselves against cheap competition from abroad and, despite a lack of specialists, allow us to generate added value where the products are sold. This will also be an issue in the Czech Republic where a workforce is hard to come by at the moment." Will the Czech Republic still be of interest as a market as wealth there increases with the wage structure? "We will have to see. After all, the growth rates for timber house construction are twice as high there as they are in Austria or Germany. Up until now, our philosophy in the Czech Republic has meant that we have only been competitive to a limited extent. In this market, the right approach at the moment is to enter the market with a cheap product and that doesn't sit well with our quality claims."
Back to List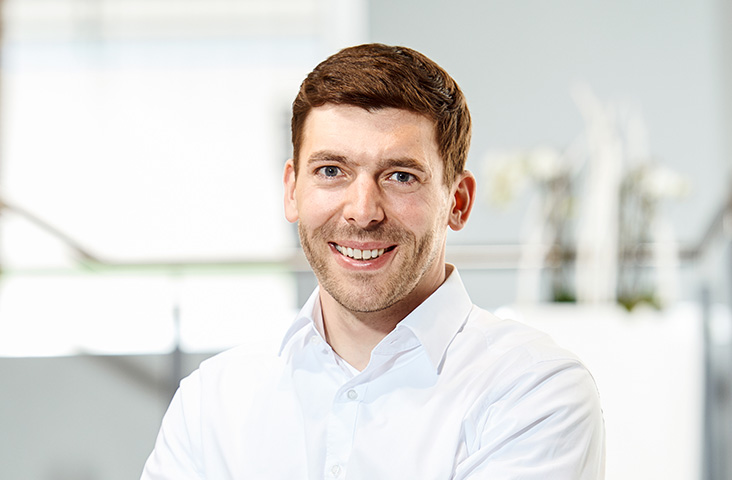 That's how your colleagues produce