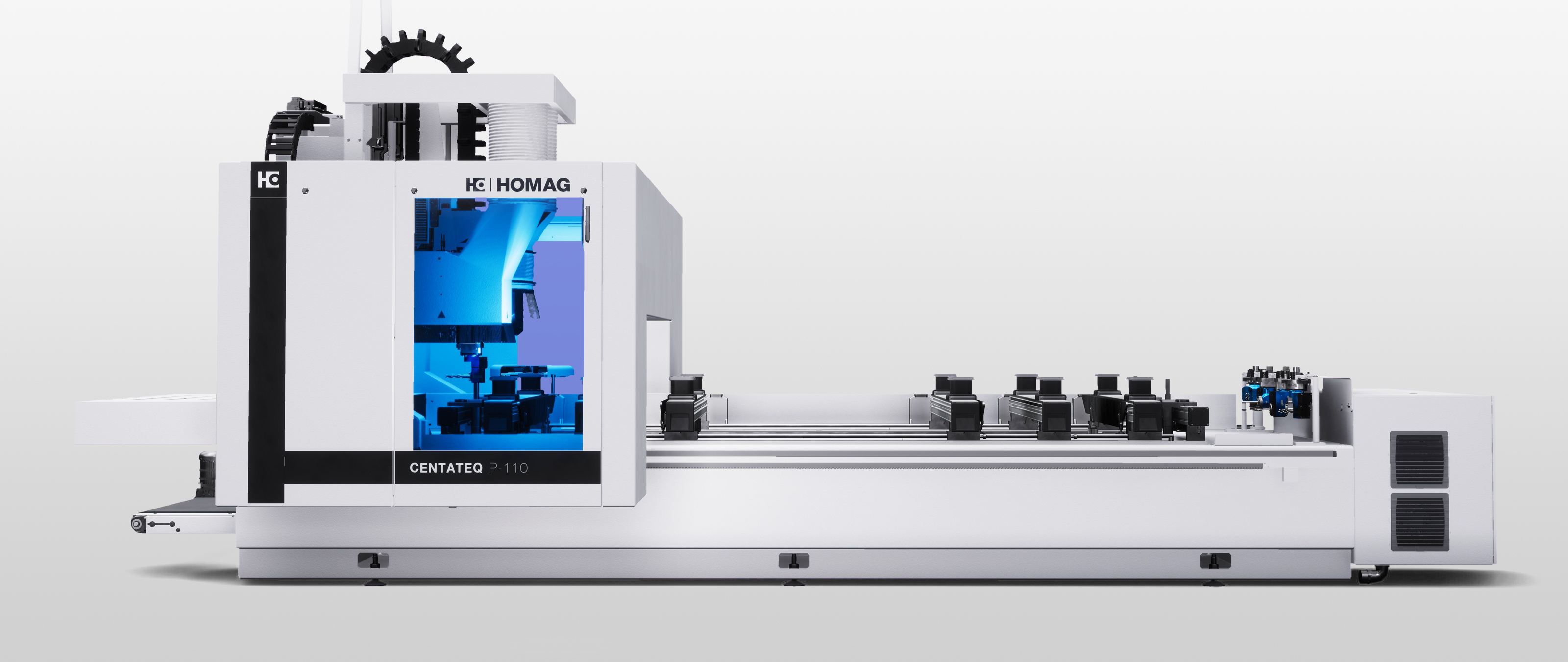 HOMAG improves reliability and throughput speed for Mobili Office
To keep up with market demands of small bespoke workpieces, Mobili Office invested in two CENTATEQ P-110 CNC machines allowing them to not only remain versatile but flexible.
We enjoy dealing with HOMAG mainly because we always find they meet or exceed our expectations

Steve Holyer, Production Manager of Mobili Office Ltd
Established in 1996, Mobili Office Ltd designs and manufactures a range of innovative office furniture. With a group turnover in excess of £15 million, Mobili produces a range of seating, desks and storage for the complete office package.
As aging machinery started to fail, Mobili Office invested in two HOMAG CENTATEQ P-110 CNC machines. Steve Holyer, production manager, explains: "Our existing CNC machine was very old, it was a 1999 model and it was simply at the end of its life. This caused us manufacturing issues as it had started to become unreliable.
"In addition to this, our CNC drill no longer fitted our production requirements. When we bought it, we were handling a lot of mass production work but the market demand has changed and we are producing more bespoke pieces at smaller quantities. We needed to invest in technology that would allow us to remain versatile and flexible within a competitive market."
Finding a suitable replacement
"When looking for a solution to replace our CNC and drilling machines, we considered the three machinery manufacturers who we had previously purchased equipment from, including HOMAG.
"Our production facility is now mainly HOMAG machinery and all our equipment is covered with HOMAG service packages. Therefore, it was important to us that our new equipment would also be covered by a service plan. We've never had an issue with HOMAG servicing and they always get us up and running again if we encounter problems. This was another key factor which led us to contacting HOMAG's area sales manager, Matt Long, to discuss a solution.
"After productive discussions with Matt, we worked out a deal to purchase two HOMAG CENTATEQ P-110 CNCs. Both machines have an identical specification and tool set-up so that everything is fully interchangeable. The CNC machines use 3-axis technology and we included the future package for larger drill heads. Our tools selection also included the router heads and sniping saw, which can move through 90 degrees, as we do a lot of grooving, rebating and trimming."
Faster processing of large panels
"One of the key features of the CNC machines for us is the size of chipboard panel they can handle. As our work is so varied, the machines need to be able to handle everything from drawer fronts right up to desktops - which at their largest can be up to 3 x 1.5 metres.
"Our old machines weren't capable of handling such large panels and this was limiting as our need to handle bigger panel sizes is increasing. One of our products, a seating pod, uses panels so large that it used to take five passes to complete but now it's reduced to just one pass. This is obviously saving us a lot of time and allows for faster processing. We would have bought the machines regardless, however the larger bed sizes is definitely an added bonus for us."
Ease of use with HOMAG software
"One of the other reasons we turned to HOMAG was because the machine software is so simple and easy to use. We have several HOMAG machines in our facility and so our operators are already familiar with it. They find woodWOP incredibly simple to use and that was a big bonus of purchasing the two HOMAG CENTATEQs.
"Our designated CNC operators attended a three day HOMAG training course at its headquarters in Castle Donington. One of our members of staff is trained to handle our HOMAG BAZ system and so already had a great knowledge of the software. Our other colleague, however, had only used our previous CNC which wasn't a HOMAG machine. Despite this, he still found it extremely easy and quick to pick up."
A smooth installation with high-class aftercare support
"We enjoy dealing with HOMAG mainly because we always find they meet or exceed our expectations. The installation process went extremely smoothly. We removed the old machines before the HOMAGs arrived, so it was a relatively straightforward installation. The bonus was that the installation was actually completed ahead of schedule, taking less time than anticipated. From our point of view, that was fantastic as it meant we could start production quicker.
"We've not had any issues with the CNC machines since they've been installed - they are so easy and simple to operate. If we ever do have any queries about servicing and parts, it's always easy to speak to someone at HOMAG. With our other HOMAG machinery, if we've ever needed a part, we've always used the superb HOMAG eParts system.
"It's a very useful system, you can print off drawings and stand in front of the machine with them to identify which part you are looking for. On the odd occasion we haven't been able to find what we need, the HOMAG spare parts team is always quick to help and easy to reach on the phone," concludes Holyer.
If you'd like a demonstration or more information about HOMAG machinery and software, please contact HOMAG UK on 01332 856424.
Back to List