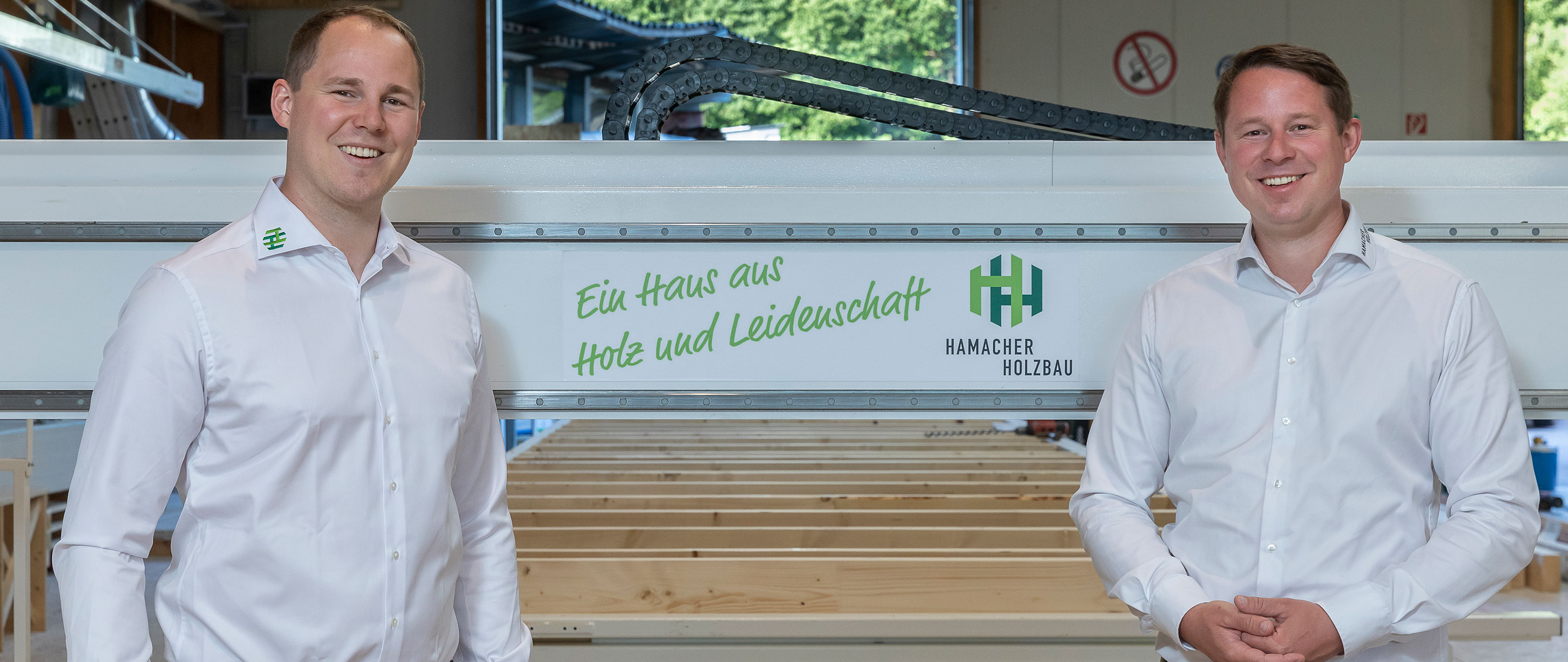 Faster, better, more ergonomic
In 2021, Hamacher GmbH decided to invest in a cost-effective first step into the world of automation.
"We have seen a significant increase in production capacity."

Florian Hamacher, Managing Director of Hamacher GmbH
An article from the "Zimmerer-Treffpunkt" magazine, issue 2023. More information is available here.
Since then, the company has been able to produce more houses at a higher quality. Employees are also impressed by the fact that their workstations have been made to be ergonomic. The lack of qualified personnel is currently a key incentive for many timber construction companies to automate their production. This had little impact on Hamacher GmbH, based in Overath, North-Rhine Westphalia: "We are active on various social media channels and have no problems finding qualified employees," explains Florian Hamacher.
Desire for increased efficiency
Florian manages the company together with his father Ulrich and brother Fabian—the third generation of the family—and the restructuring of the company has led to a greater focus on efficiency. Founded around 65 years ago, the company now has 40 employees. The company began wood frame construction in 1985, which has been operating successfully since then. The company primarily produces detached houses, extensions and additional stories, and the order books are full. "We continue to expect strong demand for extensions and additional stories," says Florian Hamacher. The situation regarding detached houses is a bit more critical, but "as far as we are concerned, the growing proportion of timber construction currently compensates for the general decline in orders here. In addition, commercial construction is becoming more important for us, and we are building increasing numbers of residential buildings, schools and daycare centers, 90 percent of them for private clients." In view of the continuously growing demand, the limitations of manual production in Overath could already be predicted three to four years ago: "We found that we had to produce significantly more wall surface in a shorter timeframe, without impacting the quality." Therefore, an initial discussion was held with Tobias Klein from Weinmann Holzbausystemtechnik. "We were afraid of the investment and were hesitant. Looking back, we should have entered the world of automation back then."
Cost-effective first step
At the beginning of 2021, the company approached Tobias Klein again. The company had a long lead time for orders, and demand was rising sharply: "We were still able to get new employees without any problems, but it was clear that we needed to increase our efficiency. So we got together with Tobias Klein and planned a production line with a WALLTEQ M-120." In Overath, the semi-automatic multifunction bridge works on two BUILDTEQ A-530 tilt tables, and wall elements are transported between the tables using the overhead crane. This cost-effective entry-level solution was tailored to the existing space following discussions with Weinmann, and at Hamacher they can already envision further updates. The experience with the new technology has been very positive: "We have seen a significant increase in production capacity," explains Florian Hamacher. "The number of elements produced per employee has increased greatly, and our component quality has also definitely improved as a result of automated production. This is noticeable on the construction site, for example, where the elements arrive with a higher degree of prefabrication and precision." This saves some time during assembly, but for Florian Hamacher, the biggest time saving lies in production itself: "Here, we're talking about time savings of between 35 and 65 percent. The bottom line is that we can now build significantly more houses, and even with large orders—where we have to produce large quantities in a small timeframe—automation pays off." It also pays off financially: the payback period for the entire restructuring—including accompanying measures such as a new electrical connection, two column slewing cranes with vacuum lifts, a new compressor and a new suction system—is just two to four years. There was also support from the German federal government: the Federal Ministry of Food and Agriculture approved a 20 percent grant for the modernization.
Without a doubt
Looking back, it is understandable that Hamacher GmbH would definitely opt to automate again. This also applies to the employees, who were very happy with the modification: When the ground floor of a three-story building was converted to machine data for testing during the start-up phase in September 2021, the production department wanted to do this with the other floors as well. "After the first test run, no one wanted to produce according to the old procedure, and thanks to the improved ergonomic working conditions, we were able to keep two experienced employees with joint problems in the company." There are positive memories of the commissioning in Overath: "At the very beginning, there were deviations in the hall layout, but these were corrected quickly and easily thanks to the fitters on site." After that, everything ran smoothly: "Several Weinmann employees came to us to provide training, first in theory, then on the machine. We were then able to get started and produce the first elements ourselves. The Weinmann employees managed this perfectly. Since we had already sent work preparation data to Lonsingen in advance, this transition also went smoothly. As a result, our quantities fell only slightly during the hall conversion — we felt very well looked after." The new technology is now being used as a confidence-building measure in the company's own customer service. During a factory tour or an open day, it becomes a symbol of professional work and high construction quality. "It gives us a competitive advantage through its allure alone." In light of this, Florian Hamacher assumes that his family-owned company will continue to grow in the future. "With the increase in capacity and positive demand situation, there is still room to expand in all our business areas."

Back to List
HAMACHER GmbH
HAMACHER Holzbau is a traditional family-run company with over 60 years of experience — firmly rooted in carpentry with a strong focus on innovative, modern timber house construction with its own architects.
More information is available here.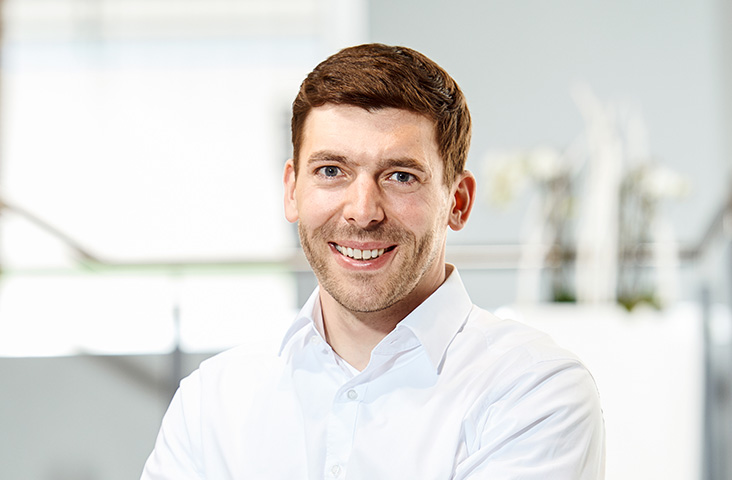 That's how your colleagues produce