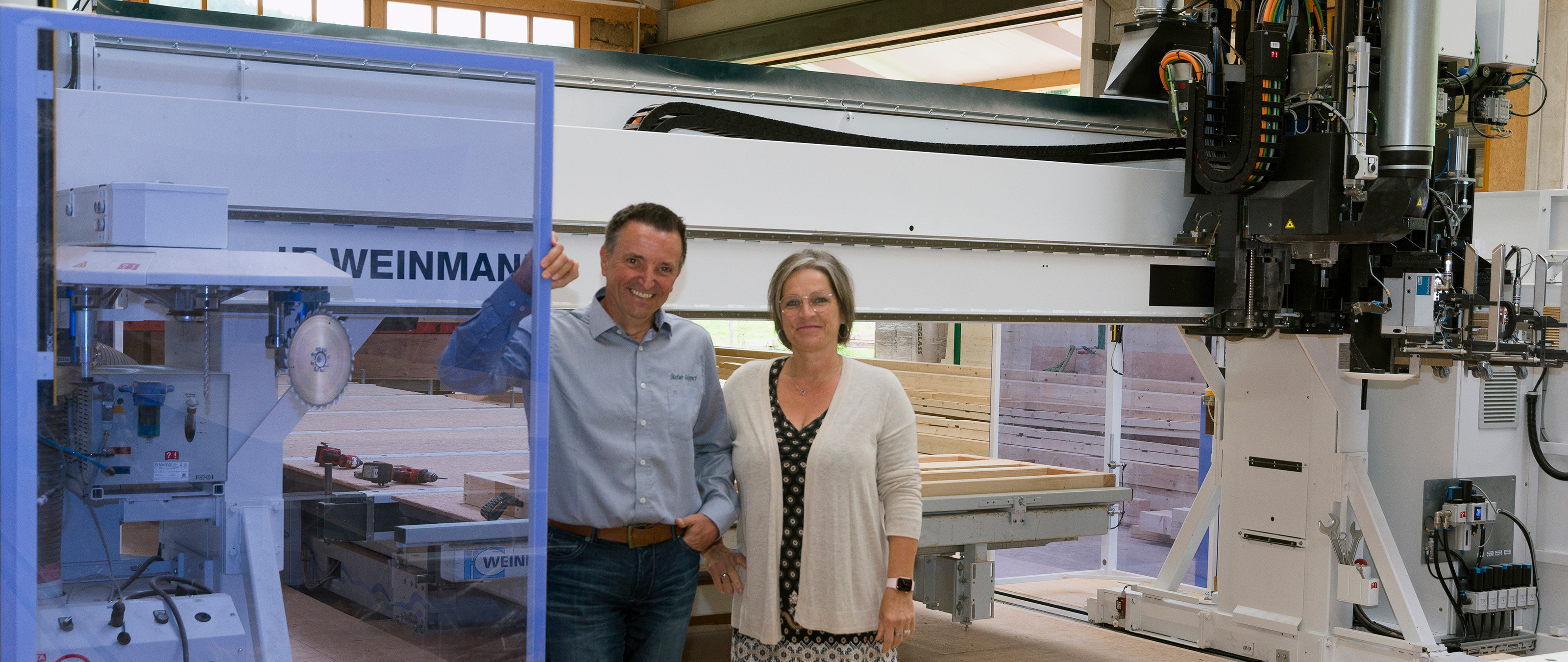 Bottlenecks in element production
Elztal Holzhaus GmbH invested in a tailor-made production solution for its compact production hall.
"Firstly, the production line is significantly improving precision—a crucial reason why we invested in automation—and secondly, it's easier to compile documentation for external quality control because we automatically have all the important data in the machine."

Stefan Göppert, Managing Director of Elztal Holzhaus GmbH
An article from the trade magazine "Holzbau — die neue quadriga," October 2021 issue More information is available here
There is currently a lot of interest in automated production technology among timber construction companies, and small carpentry shops are no exception. This can pose a challenge for designers if space in the existing hall is limited and expansion is not possible. It's not just a case of integrating the relevant machines into the hall layout; deciding which area of production should even be automated in the first place can prove even more challenging.
Expansion in two phases
Stefan Göppert was faced with precisely this decision at the beginning of last year. He had previously expanded his company, extending his hall to 15 x 35 m during the first phase of construction and constructing a new office building during the second phase. This came after a sustained upswing that led to solid growth for Elztal Holzhaus GmbH, which was founded 20 years ago: "We've practically doubled our production and sales volumes over the past ten years, meaning we now have 50 or so employees and build around 15 detached houses each year." The company's main focus is on detached and semi-detached houses, which account for around 70 percent of sales. The company is also active in local and commercial timber construction (approx. 20 percent of sales), as well as carrying out energy-efficient building renovations as a general contractor (approx. 10 percent of sales). The delivery radius extends from the Swiss border to the Karlsruhe/Stuttgart area. Collaborating with various architects allows plans to be specially adapted to each client, which is why the company builds mostly unique houses. The company employs green building methods, using elements made from MHM (Massiv-Holz-Mauer) or CLT (cross-laminated timber), as well as wood frame elements that it produces itself, which account for the majority of materials (80 percent). To maintain control over the design of the details, all components are designed in the work preparation area, which is equipped with four workstations.
Bottleneck at the production table
The company's growth would certainly have allowed Elztal Holzhaus GmbH to expand further, but it had already exhausted its premises with the construction phases described above. This made it clear that only one area of production could be automated. Essentially, Stefan Göppert had already made the key decision — the new hall was fitted out with a system for beam processing, which had previously been outsourced. This probably would have continued if Stefan had not taken the time to critically review his production processes at the beginning of 2020.
"It quickly occurred to me that stoppages only ever occurred when elements were produced manually. This was the cause of the bottleneck, so a new beam processing system wouldn't have improved our effectiveness. Instead, it would have caused even greater blockages upstream of the production table." During the summer break of 2020, Stefan Göppert therefore started researching automated element production, contacting various manufacturers and assessing colleagues' systems. In November—after making a decision at record-breaking speed at WEINMANN Holzbausystemtechnik GmbH in Lonsingen—he ordered another carpentry table and a WALLTEQ M-340. The WEINMANN assembly table had already been installed in 2015 and was easily integrated into the new line.
Tilt table and overhead crane
"I chose this multifunction bridge because of the tool changer. The tool changer allows you to change saw blades, causing fewer chips when cutting fiberboards."
The order in which to arrange the carpentry tables was worked out during the in-depth consultation phase with WEINMANN. To make optimum use of the available space, the two assembly tables were equipped with a mirror-inverted stop in addition to the tilt function. The overhead crane is used for intermediate transport. "This allows us to turn on a narrow axis, meaning we've been able to increase our capacity and improve our production quality despite the limited space."
More ergonomic working
Stefan Göppert also invested in two panel lifters to make work easier for his employees: "We often work with building class 4, where we create a fire-protection layer on the outside using Fermacell panels that are 15-mm thick. Putting these panels up is a really tough job that I didn't want to make my employees do. The new technology has consequently been well received, especially since the carpentry shop benefits from it too: "Now when we position and glue the Fermacell panels, the workflow is much smoother than it used to be." Stefan Göppert deliberately positioned two older workers from the construction site assembly unit at the production tables, "so that these experienced employees have a new, interesting task and an ergonomic working environment until they retire."
Around 30 percent faster
Both of them undertook training in Lonsingen to prepare for their new tasks: "This enabled them to continue production on the fly after the production line was delivered in June 2021." This was part of a support process in which Stefan was continually given expert guidance and good ideas, "such as advice on how to position the crane, panel lifter and new suction device so that they didn't collide with each other in the rather small hall." His conclusion after commissioning is positive too: It has already become apparent that "we've reduced our production times by about 30 percent, and there's still room for improvement. With more personnel, we could significantly increase our production volumes, and with optimized logistics, we could use the line to manufacture roof and ceiling elements too." These plans will be implemented at some point in the future — currently there is no time due to high utilization. Simplified quality management is taking some of the stress out of the situation: "Firstly, the production line is significantly improving precision—a crucial reason why we invested in automation—and secondly, it's easier to compile documentation for external quality control because we automatically have all the important data in the machine." The bottom line is an increase in quality, which all the company's clients view as important too. "We're currently in the process of applying for a larger property in Karlsruhe and a delegation has already been to assess the operation. The fact that we have invested in the quality and value of our products builds confidence." The future is equally bright in Schuttertal, where Stefan Göppert expects the number of orders to rise in the future, despite difficulties in procuring timber.
Text: Dr. Joachim Mohr
Back to List
Elztal Holzhaus GmbH
Elztal Holzhaus GmbH is a family-run company founded in 2001 that has always been synonymous with high-quality, bespoke wooden houses made using eco-friendly timber construction. The carpentry shop is based in Schuttertal, Schweighausen, and specializes in turnkey house construction, building commercial and public buildings as well as houses. With around 50 employees, the company builds approximately 15 houses every year.
More information is available here.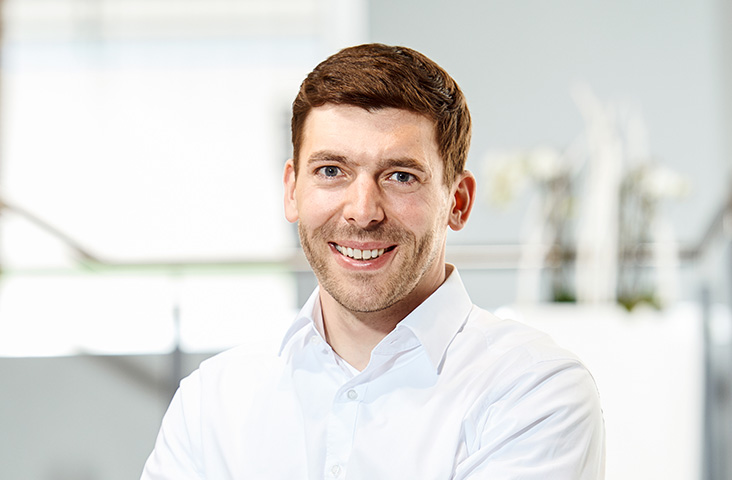 That's how your colleagues produce