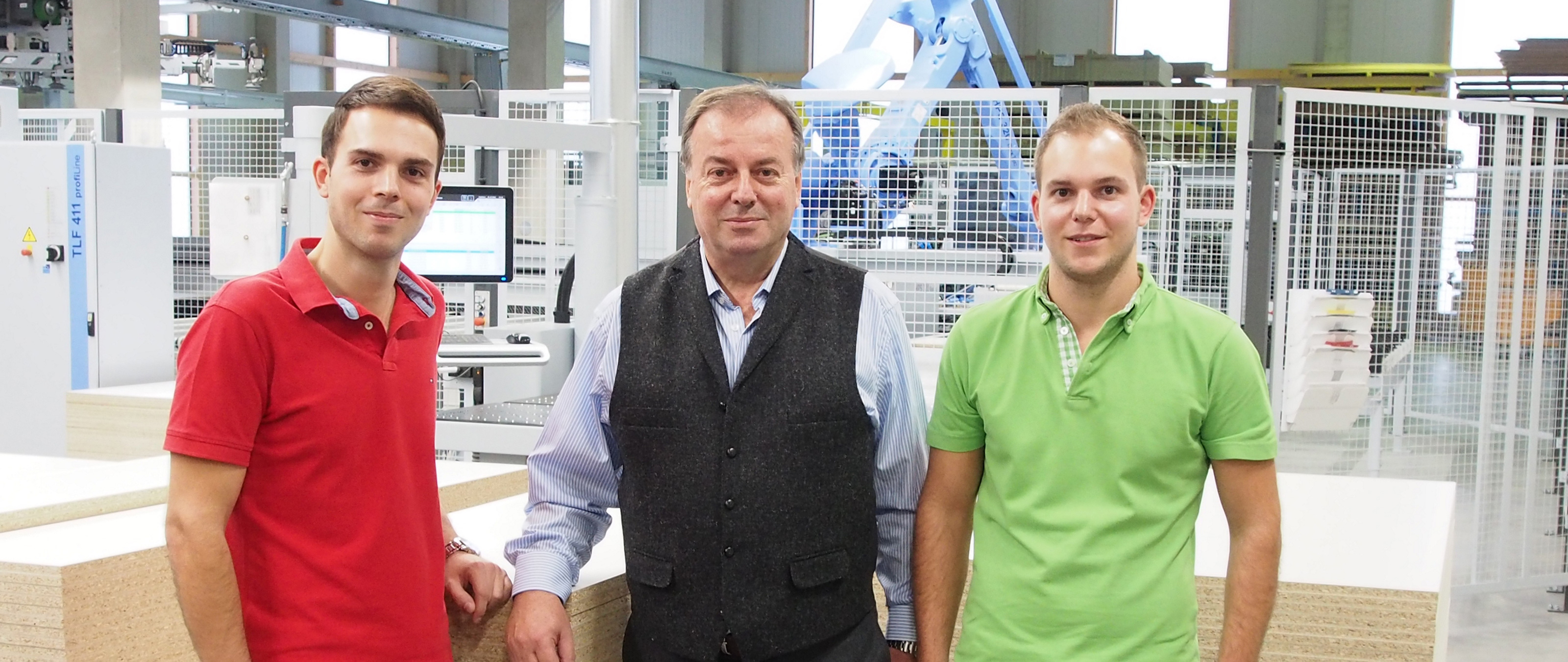 Batch size 1 in series production
Joinery business Voit takes a new approach to panel cutting. The specialist company combines the revolutionary production cell HPS 320 FlexTec with an intelligent horizontal storage system.
"Depending on the cutting pattern, we can manage up to 1500 parts per shift."

Stefan Voit, owner of the Voit joinery
An article from the specialist magazine BM, 12 / 2016, www.bm-online.de
Joinery business Voit takes a new approach to panel cutting: quality plus quantity
Panel cutting has been completely overhauled at production specialist Voit. The joinery has made a technological quantum leap and combined two apparent opposites: flexible batch size 1 production and high throughput. The key factor is the integrated combination of a HPS 320 FlexTec from Holzma with intelligent panel storage from Homag Automation.
More than three years have passed since my last visit to the Voit joinery in Au in der Hallertau, when they added a brand-new edge banding machine with laser technology and integrated robot management (can be read in BM 6/2013). Even then, I noticed that master joiner Stefan Voit (60) is a real techie. He is open to new things and, particularly important, he can recognize the potential of modern technology and how to harness its benefits for his company. I assumed that that would still prove to be true during this visit.
Specialist and first port of call for automotive manufacturers
Around 11 years ago, the Voit joinery specialized exclusively in showroom concepts and furniture for the automotive industry. The company currently employs 65 people and customers include BMW, Mercedes, VW, Audi and Renault. As well as fitting out their car dealerships, Voit also designs and produces backdrops and furniture for events for its discerning clientèle; for example, launches of new models or series, such as the BMW i3 or i8. In 1985, the master joiner took over his parents' company with its five employees at the time. Today, that number has grown to 65. A production area of around 8500 m² boasts the latest production and packaging technology. Voit is a classic family business: In addition to Stefan Voit, both his wife Barbara and his two sons Stefan (31, master joiner and wood technician) and Alexander (26, joiner) are on board. The core expertise is processing plastic-coated boards (around 90 %). Furthermore, Voit processes and paints through-dyed MDF panels and uses membrane presses to produce shaped parts for the latest shop concepts of the automotive manufacturers. Their motto is that nothing is impossible. But even Stefan Voit knows all too well that standing still means going backwards. And the cutting concept he had been using was no longer a perfect fit if he wanted to keep using the extreme flexibility of his company to stand out in the market in the future. You could argue that was really "complaining at a very high level." After all, he had been using a Holzma HPP 530 plus automatic panel storage unit from Homag Automation; a high-performance saw-storage combination with a high throughput. Book cutting was the name of the game. On the one hand, however, the existing storage unit no longer offered the required capacity (space) for the significant growth in panel and decor options. And on the other hand, Stefan Voit was looking for a concept that ensured maximum cost efficiency in batch size 1 for panel dividing, as the batch sizes in his production were becoming smaller and smaller. Nonetheless, Voit now processes around 1500 m² of panel material daily – and, believe it or not, 50 semitrailers full of assembled furniture leave the production halls every week.
"Tailor-made technology"
While he was searching for a suitable strategy for the future, Voit took a very close look at the issues of panel cutting and of nesting. In particular, he used Ligna 2015 to carefully examine what was on offer on the market and to inform himself comprehensively about the concepts from the large machine manufacturers. And then came his Eureka moment: Voit "discovered" the brand new HPS 320 FlexTec in Homag-City. Holzma had used this concept to open a new chapter in panel dividing and given trade visitors from all over the world an impressive demonstration of what Cutting 4.0 means to the company from Holzbronn. Voit: "I was impressed and I realized immediately that what I saw there seemed to be tailor-made for us."
Potential identified and underway
I immediately ask Stefan Voit what exactly he means by this. Somehow, it seemed to me to be almost too good to be true. But the concept really resonated with the experienced master joiner: "The concept meets our high demand for flexibility. Being able to produce even the smallest batch sizes quickly and without any detours was exactly what we wanted." The HPS 320 FlexTec has several special features that are setting new overall benchmarks precisely for this point. Let's have a look at the key data. Only individual panels are cut. Voit's system can handle panel lengths of up to 3200 mm. The machine is not suitable for very thin (<8 mm) or thick parts (>42 mm), but then that is all when it comes to restrictions. After an individual panel has been delivered fully automatically from the panel storage to the saw, complex cutting patterns from the Cut Rite optimization software can also be carried out fully automatically – without expensive storage systems and returns. This is handled by the robot at the center of the action. It moves all the panels and strips to the right place, turns them to the required position, takes them to different places within the cutting cell or buffers the parts at short notice above the pressure beam. This in-depth robot integration is made possible by the completely new control system. It ensures the optimized transportation of the panels to and then from the saw, controls all cutting processes and the recuts, which are now possible in unlimited numbers, and all the material returns necessary for this. Stefan Voit emphasizes that the capacity has proved successful: "Depending on the cutting pattern, we can manage up to 1500 parts per shift."
One storage unit, two saws, unlimited options
Together with the HPP 530, which Voit continues to use in the book cutting area and which also achieves up to 1500 parts per shift, the cutting capacity has ultimately been doubled. And because Stefan Voit has built a 1000 m² hall specifically for cutting, the machines and the storage unit can be optimally arranged and connected. The future-oriented master joiner continues: "And yet again, we were able to rely on comprehensive support from our technology partner Homag Bayern, as we have with numerous investments in previous years. Together with the branch manager Karl-Heinz Brauneisen, we have successfully developed and handled many a project over the years, which was also always a step ahead of its time. But everything has always worked out — and also always brought us a considerable step forward in the end."
What I have noticed
"This is just the tip of the iceberg"
Stefan Voit and his two sons have handled a large project with the cutting cell. The desire for further optimization and to continue shaping the future of the company so dynamically can be clearly felt. In this context, they are currently thinking very specifically about moving ahead with networking: "We would really like a superordinate production control system that we can use to organize the entire production to make it even more flexible and transparent and less reliant on people." As a result, the next appointments have already been made with Karl-Heinz Brauneisen from Homag and clever minds have been put to work. And, as always, the Voits are again sure that "This is just the tip of the iceberg!"
Images: specialist magazine BM / Christian Närdemann
Back to List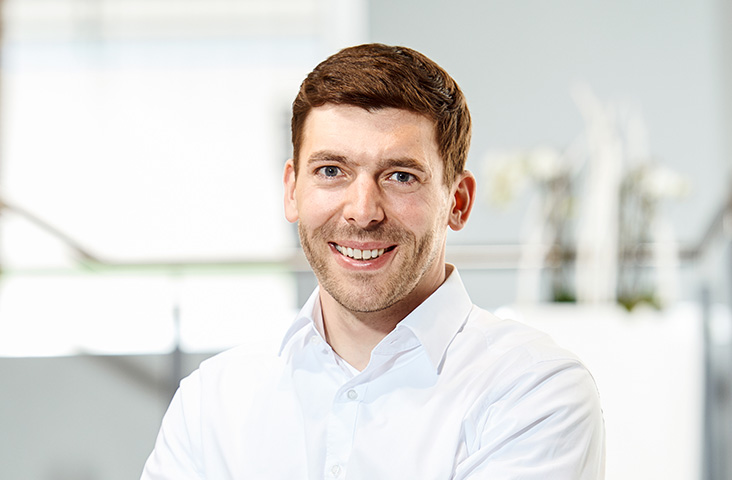 That's how your colleagues produce