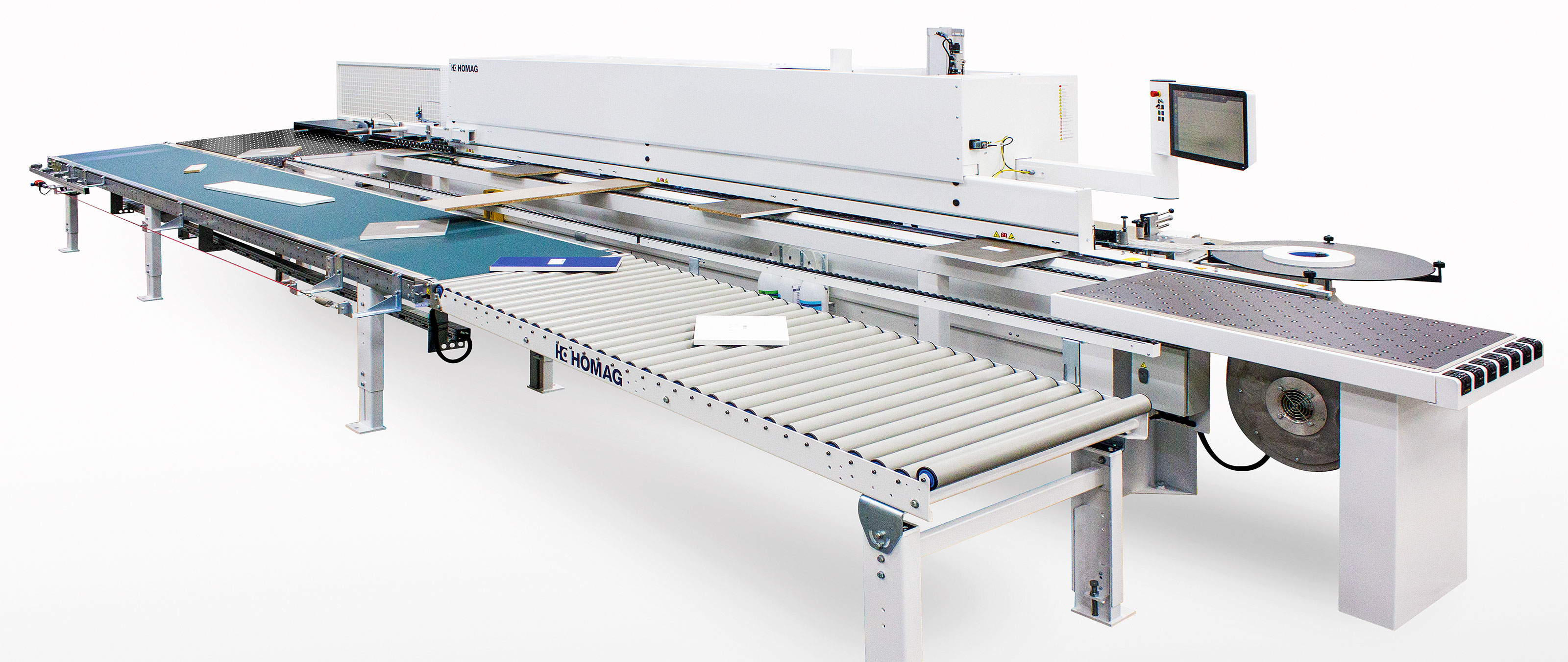 Advanced Furniture gains competitive edge with HOMAG
Celebrating it's 40th anniversary this year, Advanced Furniture's ambitious growth plans excel into the future with key investments of an EDGETEQ S-300 and a LOOPTEQ O-300
At the end of the day, however, it's all about people. The team at HOMAG are always straight-talking; they don't sugar-coat things or try to sell you something you don't need. You can trust them to sit down with you and work out the best machine specification for your long-term goals.

Geraint Griffiths, Advanced Furniture's operations director
Gwent based Advanced Furniture is celebrating its 40th anniversary this year. As part of its ambitious growth plans the company has recently invested in an EDGETEQ S-300 edge bander with a LOOPTEQ O-300 return system from HOMAG UK.
"Our heritage as a business is rooted predominantly in the educational furniture sector, making tables, plastic polypropylene steel posted and wooden upholstered chairs" explains operations director, Geraint Griffiths. He continues, "Until ten years ago that market represented almost 80 per cent of our somewhat static £2.8m turnover business. And, whilst there was no doubt that the company's strength in that market was hugely beneficial, it did bring its own challenges.
"By its very nature, the educational market has a clearly defined peak in the summer months. During this time schools and colleges want new chairs, tables and other furniture delivered so they are prepared for the new academic year which usually starts in September. We realised, therefore, that to grow the business we had to look for new markets that would give us a more even work flow throughout the year.
"Given that the skills, machinery and expertise we possess in educational furniture manufacturing are very similar to those required in the office furniture market, we made the strategic decision to enter that sector."
New manufacturing facility to meet ambitious growth plans
"Although the types of furniture required for the office market are different to the educational sector, our general furniture manufacturing knowledge and experience enabled us to quickly make inroads into this new market.
"Consequently, it wasn't long before our turnover began to increase significantly. In 2017, this led to our investment in a new 100,000 sq. ft. factory to future proof business expansion. Twice the size of our old unit, this new facility has enabled us to maintain a 16 per cent year on year rise in sales, with our turnover this year predicted to hit £8.5m.
"Once the new larger factory was operational, the next stage in our expansion plan was to source a new edge banding machine that would enable us to increase our capacity. During my 35 years or so in the office furniture manufacturing business, I have dealt with all the major machinery brands in the industry. This knowledge was invaluable when it came to sourcing this new edge bander.
"In my experience, I have always found HOMAG offers the most reliable, technically advanced and best value for money machinery on the market. That's not to say they're the cheapest; the initial price can be higher than other brands. The quality, reliability and service back up they provide, however, is second to none. As a consequence, the premium price is definitely worth paying because the lifetime value of a HOMAG machine is exceptional, you definitely get more for your pound notes.
"The other massive benefit of dealing with HOMAG is that you are partnering with a global company that has an absolutely solid financial foundation. This base not only gives you long-term peace of mind, but also ensures that the solutions HOMAG provides are at the cutting edge of technology."
A partnership that works
"At the end of the day, however, it's all about people. The team at HOMAG are always straight-talking; they don't sugar-coat things or try to sell you something you don't need. You can trust them to sit down with you and work out the best machine specification for your long-term goals.
"Before ordering the EDGETEQ S-300 with the LOOPTEQ O-300 return system we supplied HOMAG with data, drawings, specifications, current sales levels and five year sales forecasts across our product groups. Furnished with this information they came back with a few alternative solutions that would give us the capacity we were looking for over the next five years.
"The solution we chose was the HOMAG EDGETEQ S-300. This gives us not only the perfect performance levels we want, but it will also handle our capacity as the business continues to grow at 10 to 15 per cent over the next five years.
"Adding the LOOPTEQ O-300 return system means, of course, that we can run the edge bander with one operator. It also improves health and safety aspects for our workforce, as colleagues do not have to lift and manoeuvre heavy panels. This in turn eliminates the potential of work piece damage that can occur with manual handling."
Carefully planned and efficient installation
"HOMAG worked closely with us to prepare for the arrival of the new equipment. We were able to ensure all the preparation work was done correctly so that the actual installation process itself ran smoothly to plan.
"Once the machines were in place and commissioned HOMAG's engineers trained our people on set-up, operation and maintenance of the equipment. And, because three weeks before delivery we sent our operators to HOMAG for software training, they soon got to grips with the new equipment.
"The machines are so well designed and the software so user friendly, it makes life much easier for our operators. They were able to maximise the potential of the edge bander almost immediately."
Delivering significant benefits
"The new machines have improved output levels and quality whilst significantly increasing our capacity and ability to deal with summer production peaks. All this has ultimately improved our customer service which was one of our key goals for the expansion plans.
"The finance option HOMAG offered made the purchasing process very easy for us and looking ahead, we are confident that the return on investment will be under two years.
"All in all, we are delighted with the new machinery from HOMAG and with the ongoing relationship we have established with the team at Castle Donington," concludes Geraint Griffiths.
If you'd like a demonstration or more information about HOMAG edge banders and return systems, please contact HOMAG on 01332 856424.
Back to List