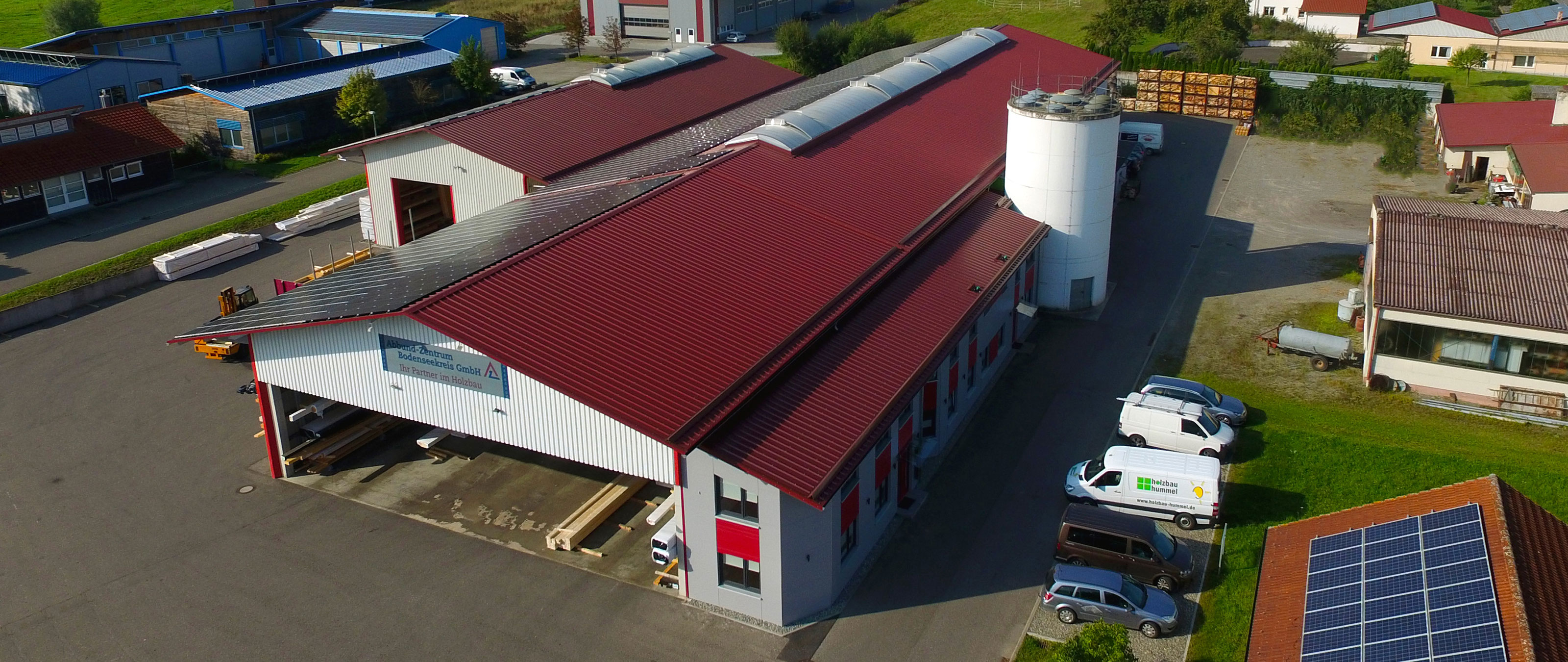 A flexible service provider for timber construction
Since the end of the 90s, Abbundzentrum Bodenseekreis has not only been providing beam processing, but also timber frame elements for carpentry firms.
"At the commissioning of the new plant we were excellently looked after, the switch from manual to automated manufacturing was carried out seamlessly and with no interruption to production."

Manfred Fritz, Managing Director Abbundzentrum Bodenseekreis
An article from the magazine mikado issue september/october 2021 Find more information here.
It's an area of business that has developed so positively in recent years that the company has come to invest in automated element production — particularly in light of the strained situation with regard to finding personnel. Persistent high demand in the timber construction industry has brought about structural transformation in many joinery centers: Due to the impact of the steadily increasing demand for pre-assembled timber construction elements, the majority of suppliers who traditionally manufacture at a high technical level have come to offer wall, roof and floor elements in addition to beam processing. For the customers – who are often small carpentry firms without any production capacity of their own – this additional service provides a comparatively risk-free entry to the field of timber construction: Without needing to invest in buildings, manpower or machines, they have the assurance that the elements commissioned by them will arrive on the construction site just in time and manufactured to professional quality standards. At the beginning of this structural transformation, it was already expected that a stable level of demand would lead to joinery centers ultimately automating element production in the long term. This automation process is now in full swing and has already been so for a few years – to the benefit of all those involved.
Element production since the end of the 1990s
A supply model functions particularly well in rural areas, where there are many small timber construction businesses on the market, yet there is also low density in automated production lines. Abbundzentrum Bodenseekreis ("the Lake Constance district joinery center") in the German municipality of Heiligenberg is an example of a business operating in such circumstances. Founded in 1992, the company has developed healthily ever since: It commissioned a second carpentry machine over the course of the years and began manufacturing its first timber frame elements for customers from the end of the 1990s. It's an area of business that has gradually developed and given the joinery center a much more solid base for its operations. Managing Director Manfred Fritz, a qualified carpenter and business administrator, explains: "With beam processing alone, it becomes difficult to stay afloat. On the one hand, you have expensive machinery with the associated running costs, and on the other, you have income by the running meter, which is time and again subject to strong price competition. With the inclusion of wall production, greater added value remained within the business, particularly since the initial costs were low."
New halls and personnel on loan
In the early days of the Heiligenberg-based business, wall elements were manufactured on the floor of the existing hall, with a self-built frame serving as the stop. The main items that were produced were jamb walls and gable walls for the extensions of carefully selected clients. Owing to the sharply increasing demand, however, the business already reached its first capacity limitations in 2006. Abbundzentrum Bodenseekreis subsequently constructed its first production hall with a manufacturing table, and as a result, the quantity of wall elements produced rose to cover approximately 20 buildings per year by 2010. The development of the business continued to follow a strong upward trend, particularly in light of rising steel prices, which also resulted in increased demand for commercial properties that used timber construction. Since the lack of space repeatedly led to production bottlenecks whenever deliveries had to be placed on hold due to weather conditions, the creation of a second, significantly larger production hall followed in 2012. The smaller hall has served as a storage space for elements ever since. Nevertheless, the next constraint on capacity soon became apparent: "We've been struggling with a lack of staff for around two years now," explains Manfred Fritz. "Initially we were able to borrow manpower on loan from customers – for example, we'd have two external people coming in for four weeks to help out. As a result, we additionally purchased external services for the manufacturing which came to a value of around EUR 100000 per year." This was an agreeable and efficient arrangement, since only the work that was needed was paid for. But ultimately, it wasn't feasible as a long-term solution: "At some point, our customers themselves became so stretched that they didn't have the capacity to send us personnel anymore."
Customized for a broad range of requirements
Since there was also a lack of qualified personnel to be found on the precarious labor market, the Heiligenberg-based company contemplated investing in automated production. "We initially carried out research on the Internet and examined various alternatives. In doing so, WEINMANN somewhat quickly emerged as a favorite, since we preferred to have a spare parts supply chain that was relatively local and since this company was able to offer us a solution that completely suited our requirements. We were able to learn this through in-depth discussions at WEINMANN Treff, at the trade fair stand and through customer visits."
One of the reference customers worked with a WALLTEQ M-340 multifunction bridge, which offered them extreme flexibility in the form of a 12-slot tool changer and a separate pick-up station for a saw blade – an exact match for the requirements profile of Abbundzentrum Bodenseekreis. The company's profile covers a wide range of wall constructions and materials: "Here, we're positioned very individually, since every cus-tomer is different: For example, one will only want to have closed walls, while another will request open walls with one-sided OSB paneling. This was precisely the case for this customer as well, and indeed they only regretted that they had initially invested in a smaller line." In order to increase the level of flexibility further, in addition to the WALLTEQ M-340, the Heiligenberg-based business ordered two master carpenter's tables that are fitted with roof and floor clamps. The intention was to manufacture roof and floor elements alongside walls. "For WEINMANN, this was no problem: it's an everyday part of their work at their site in Lonsingen."
The scope of services on the part of the machine manufacturer also included an optimization of the hall workflow, in the course of which a consultant from WEINMANN carried out an in-depth consultation with employees from production over the course of two days. "This discussion concerned the way that we work here, how we optimally organize the feed-in for the tables and the removal of the elements or which work step could be performed best at which table." Through this, a flexible solution gradually took shape – one that incorporated materials storage upstream and downstream of the tables, which allowed access to all materials at every table. The tables can be used for positioning, but not for turning. This offers the joinery center more flexibility – for example, if elements paneled on one side are manufactured on two tables simul-taneously. If turning is required, the transport from table to table takes place with the aid of the hall crane. Looking back on the experience of the consultation provided by WEINMANN, Manfred Fritz rates it as "excellent." "For example, we were explicitly discouraged from incorporating a turning table, even though they could have made more money through advising the opposite." Even when it came to the commissioning of the new plant, the manufacturing director felt that they were "excellently looked after": "The switch from manual to automated manufacturing was carried out seamlessly and with no interruption to production. The consultant comes from the timber construction industry and still gives us tips today on work preparation that we consider to be invaluable."
A modern service provider for timber construction companies
Since the restructuring, Abbundzentrum Bodenseekreis has become a modern service provider that primarily supplies its products over a radius of 60–100 km to renovation sites and commercial construction sites of carpentry firms. Occasionally, there'll be a wooden house to attend to, and there's also a regular customer in Switzerland that the company has been providing with beam processing for many years now: since 2020, they've supplied the same customer with roof elements as well. The maximum element length currently amounts to 13 m. It is admittedly possible to create longer elements on the production line, however, "this would make transport and assembly unnecessarily complicated." Timber frames are clamped on the Weinmann system from a thickness of 75 cm, but it's no problem for the plant to accommodate even a 360-mm-thick wooden rib construction – such as the one currently being produced for an "Effizienzhaus 40," i.e. a residential building with a primary energy requirement equivalent to 40% of the reference standard stipulated by German energy saving regulations (EnEV). They are manufactured to a level of precision that has "noticeably improved" as a result of the automation – an important quality criterion for the service provider. "Through this, we have been able to minimize sources of error and the need for follow-up work on the construction site. The difference is already evident even during the loading: Everything fits together perfectly and stays in place, and that also leaves a positive impression on our customers." The increase in quality can also be attributed to the fact that employees are now clearly more motivated. "The quality of the workplace has noticeably improved: There's no longer any need to scoot around on your knees for the elements, everyone enjoys their work more." The company has only limited themselves with regard to cavity insulation, foregoing the incorporation of an injection system: "Due to the added value, our customers generally take responsibility for this work process themselves, meaning that it wouldn't be worth it for us to invest in this," explains Manfred Fritz. "We therefore simply bore the holes for the injection and insulate the cavities with fiberboard upon request."
Preprogrammed for further growth
At present, two employees work on the production in Heiligenberg, while five others process the beams as part of a two-shift operation. Three employees are responsible for work preparation, using drawn-up plans or CAD files of varying quality as a basis for element design and the preparation of the machine data. With this level of staffing, the company is able to produce wall elements for approximately 40 buildings per year. In comparison to the previous year, the quantity has risen slightly as a result of this, with costs for external services saved as well. In contrast, the costs for increasing production planning as well as the new production line need to be financed. Because of this, the investment still remains a zero-sum game in the eyes of Manfred Fritz. Nevertheless, it's one with room for improvement: "By having a third person that alternates between the tables, we could reduce the downtimes of the multifunction bridge and practically double our capacity. From that point on, the new line would certainly pay off." It is likely that this will soon be the case – not just because the continually increasing demand is yet again resulting in a new stage of growth for Abbundzentrum Bodenseekreis. Not long ago, a building distributor also inquired as to whether the company could supply the elements for its construction projects. Should this business arrangement come to pass, the company's yearly production quantity would dramatically increase by an additional 20 houses per year.

Author: Dr. Joachim Mohr

Back to List
Abbundzentrum Bodenseekreis GmbH
The Abbundzentrum Bodenseekreis is located in Heiligenberg and was founded in 1992. The company has developed healthily ever since, it commissioned a second carpentry machine over the course of the years and began manufacturing its first timber frame elements for customers from the end of the 1990s. It´s an area of business that has gradually developed and given the joinery center a much more solid base for its operations.
Website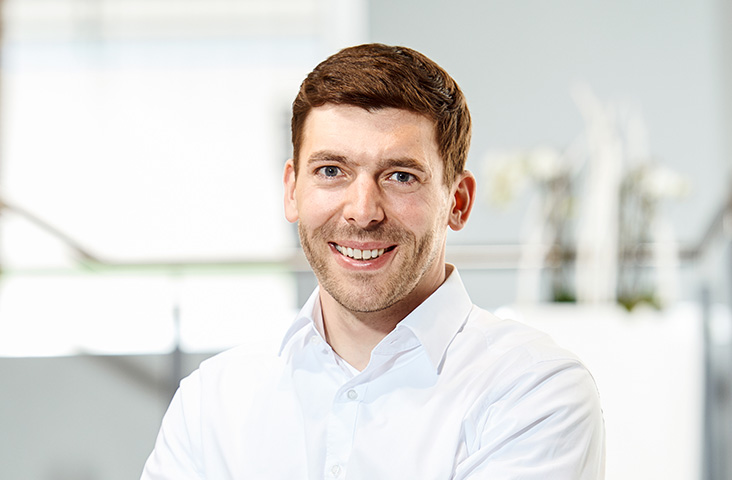 That's how your colleagues produce