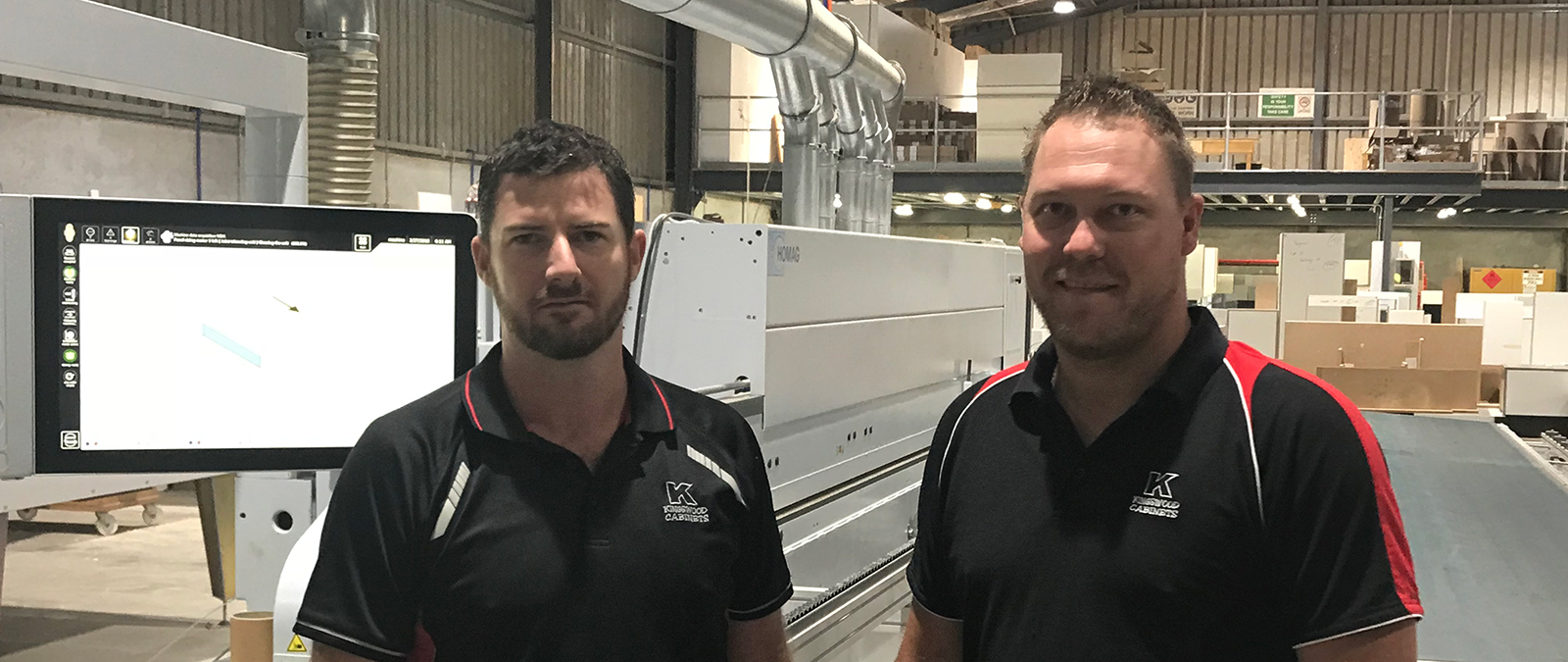 Your solution could be written right here.
Do articles in woodworking magazines resonate or influence your business decisions?
"The edgebander has contributed to that success as it has increased our output; we are able to produce more cabinetry, at a higher quality as well."

Shane Wilson, Kingswood Cabinets
Tom Raleigh and Shane Wilson of Kingswood Cabinets read a compelling article which inspired them to invest in a EDGETEQ S-500 ( formerly KAL370 Ambition) edgebanding machine from HOMAG.
"One of the stories out of the AWISA magazines actually sold us on buying one of the edgebanders; I reckon I still have the exact magazine still sitting on my desk" said Shane.

"The article featured a business's high end edgebander and how it changed their output. That article changed me and Tom's point of view and we ended up spending the coin and we love it."
Located on the sunny Sunshine Coast in Queensland, Kingswood Cabinets began life as a bare block of dirt purchased by Tom and his ambitious partners over 13 years ago.
"It all started off with two blokes I had known for a long time, we decided to make our own cabinet making business, so we bought a bare paddock, built the shed and got stuck into it" recalls Tom.
His now business partner Shane came on board to work with Tom after hearing of his plans to start Kingswood Cabinets.
"I was employed by Tom when he was just started building the factory, I helped the builders and ran the airlines. I have worn many hats in this business I have been the foreman, check measure guy, installer, purchasing manager and currently the factory manager. Now I am learning how to start taking over the whole business, I have pretty much done everything."
The business employs up to 50 staff and targets low rise unit developments under eight stories and project builders who produce around 300 homes a year; and has seen significant continuous growth since it opened its doors.
With this growth there was a requirement to invest in machinery that could support the increasing demands to the business's manufacturing output and product quality.
Kingswood Cabinet has operated a broad range of machine brands, and it took more than a few years for Tom to invest in what he refers to as a 'Ferrari' and buy a HOMAG.
"I was very conscience of spending the dollars when we first started up. The machines we ran were within our means, but some other brands we used were a complete disaster and we were let down big time. It's like starting with a bombed out Toyota and working your way towards owning a Ferrari"
In 2014 the first HOMAG machines were installed in the factory, a HPP 300/43/43 panel diving saw and a BHX050 CNC. This investment was also instigated by his long time school friend and HOMAG sales representative for Queensland, Mark Vowles.
"I first met mark in 1984 in high school; I have trouble remembering back that far these days, but we have been close mates ever since."
"For one thing he was bloody persistent; he called on us for nine years before we decided to go HOMAG. It was a bit of a joke between the pair of us" recalls Tom with a laugh.
"Shane read about the KAL370 in the magazine and we saw it first in AWISA. Mark took us to one of his HOMAG customers and seeing it in action pretty much had us sold" said Tom.
With the housing market booming in Queensland the duo's KAL370 Ambition 2470 was fast to prove its worth.
"Business is great, we were going through some figures and we had the best December on record. In November we had the best month on record EVER for the business."
"And the edgebander has contributed to that success as it has increased our output; we are able to produce more cabinetry, at a higher quality as well."
The new machine has not only made a big difference to the factory's productivity and product quality but to the whole business, including the employee's work ethic.
"We target around 60 -70 kitchens a week but we were spending 1-2 hours cleaning doors and carcasses on an edge job….that's dead time. With this new machine the cabinet makers are knocking out kitchens instead of doing these medial tasks… it has made a massive difference" said Shane.
"For us it's also about the reliability, I haven't really had a break down on these machines that have really halted my business. And I can't say that HOMAG has ever had a problem that they couldn't fix, these HOMAG machines are just unbreakable mate."
"From my point of view I will look at the dollars more than anything, but the guys on the floor can see that the investment is paying the dividends by producing a better product" said Tom.
"It has given them a real lift in what they put out as a product, so what they work on is of a higher standard"
With the business booming Tom and Shane are very happy with the new machine and plan on further investing in HOMAG's products and services.
"The end goal is full automation, we can't fully rely on staff anymore but you can rely on a machine and HOMAG is a brand we can definitely rely on." said Shane
"But at the end of the day, we aren't money hungry and we are not into overextending ourselves by taking on every job out there. I want to deliver really good service to our customers and build better relationships with them to see how we can make things for them more efficiently and economically."
"Owning the machine isn't going to give you the business edge, it's all about how you do the business" agrees Tom.
It is this approach to business that has clearly attributed to some of the success of Kingswood Cabinets. Through reading articles they discovered a solution which clearly has set them up for further successes, and HOMAG is always on hand to support their continued growth.
Back to List