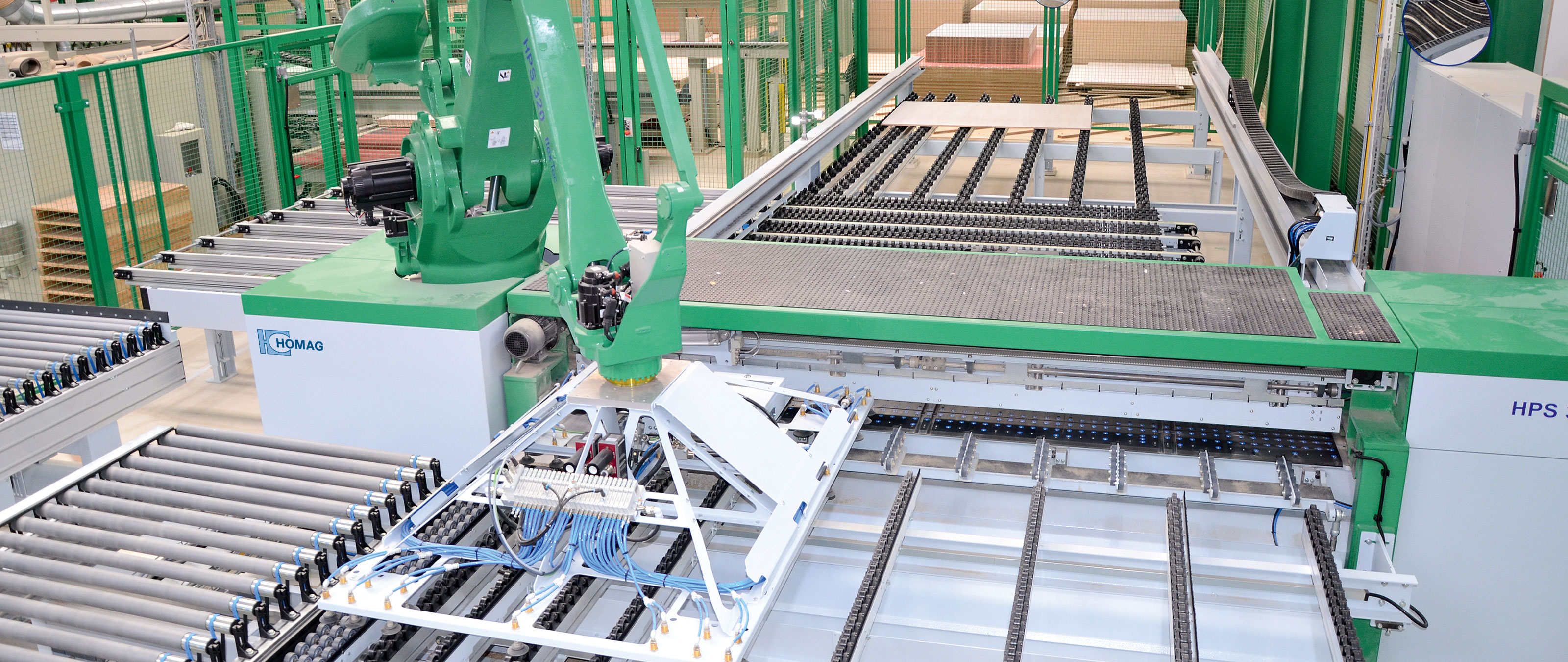 Flexible production while simultaneously meeting the customer's individual requirements — that is the order of the day for kitchen furniture manufacturer Sachsenküchen.
"Our employees in the cutting department are thrilled with their 'new colleague'. The robot doesn't make any mistakes, because the cell control system gives it all the details of the optimized cutting patterns."

Elko Beeg, Managing Director Sachsenküchen
"When we approached the topic of batch size 1 production, there was no talk of 'Production 4.0'. First we focused on flexibility in our production of structural parts while expanding our production capacity." That's how Elko Beeg, Managing Director of Sachsenküchen, describes the company's first step towards to flexible carcase production. "In recent years, it has become increasingly difficult to manage our interim storage. The constantly growing number of designs and part dimensions means that it is almost impossible to hold stocks economically."
As a result, the company's production managers began focusing on "alternative production processes" three years ago. At LIGNA 2015, the managers saw the first robotic panel saw manufactured by Homag. They never imagined, however, that this very machine would one day form the core of their new prefabrication process. The same could be said of numerous other interested visitors to the trade fair, who were initially unable to grasp the robot's true capabilities. Sachsenküchen has achieved remarkable results with a cutting cell combined with the HPS 320 flexTec panel dividing saw used for cutting in batch size 1. Visitors can see these results for themselves at Sachsenküchen's Plant 2.
After the company spent two years intensively planning an overall prefabrication concept, the first step was the installation of a cutting cell in December 2016. The cutting cell was fitted directly onto the existing Homag automatic storage system and is loaded with panels via a suction cross rail. Since then, the cell has been working completely autonomously. The HPS 320 flexTec is designed strictly for single panels and automatically positions the half-format panels on the cutting line of the saw using robust clamps. The robot is responsible for all of the part handling within the saw. The parts are rotated and fed to the saw in accordance with the cutting pattern. After the last cut, each part is labeled with a barcode that is used to identify the part throughout the entire production process.
"Our employees in the cutting department are thrilled with their 'new colleague'," says Elko Beeg. "The robot doesn't make any mistakes, because the cell control system gives it all the details of the optimized cutting patterns." As you might expect, the robot can also return offcuts of various sizes to the panel store. The cutting cell also features a parts buffer installed above the pressure beam. This is where the robot temporarily deposits parts so that they can be fed to the saw for recuts. A relatively large suction cross rail serves as the robot's "hand". This features vacuum suction units that can be controlled individually and are adapted to the range of parts being processed. As the robot's "wrist" can rotate through 360 degrees, the suction device is also able to pick up parts of all sizes without issue and then set them down again in an optimal position.
Once the installation of the parts production system at Sachsenküchen is complete, all parts will be fed directly to the edge banding system in a continuous production flow. Elko Beeg revealed that the company will be using state-of-the-art technology rather than the old machines currently in use. Visitors were able to view the new, full-length edge processing system developed for Sachsenküchen at the Homag stand at LIGNA 2017.
Until the new edge processing system is installed, Ringo Menzer, operator of the HPS 320 flexTec cutting cell, will be destacking the individually cut front parts by hand. What's more, Elko Beeg also wants to manufacture in batch size 1 those carcase parts that are currently still being produced for stock. "We have 26 carcase designs and aren't able to stock all components," reveals Beeg, offering a glimpse of the overall parts structure. "Our aim is to be able to handle all carcase parts in the same manner as fronts and to clear our existing stock almost completely." That is why the next development stage—in which the new edge processing system will be introduced—will feature a second, identical HPS 320 flexTec cutting cell equipped with a robot. Sachsenküchen will then decommission the HCL 11 panel dividing saw that is currently used for processing carcase material.
Both cutting cells will manufacture the necessary carcase parts in line with customer requirements and feed them through the production flow directly to the edge processing system—comprised of two KAL 610 profiLine machines from Homag——without any interim storage. Sachsenküchen uses a whole host of machines manufactured by Homag. "And with good reason," says Elko Beeg, explaining his company's decision. "We required powerful cutting performance with minimal space requirements as well as a universal data concept from a single source. Homag was able to supply this." The project for automated batch size 1 production was launched at LIGNA 2015 and will be completed in December 2018. By then, Sachsenküchen will have invested around EUR 7 million in its future. Will it have been worth it? "With a project such as this, it's difficult to say how long it will be until the expenditure has been amortized," emphasizes Elko Beeg. "This is because the level of success we achieve will be the result of a host of individual, interlinked factors."
Beeg expects to see an impressive 30% increase in production capacity as well as a reduction in capital commitment as the company will no longer have need for a parts warehouse. The crucial factor for Beeg, however, is that the company gains a greater degree of flexibility. Furthermore, Beeg believes that the company will gain a competitive advantage, since it will be producing only what is needed — and what's more, it will be able to produce high quality goods in a very short period of time.
Questions to Elko Beeg, Managing Director at Sachsenküchen
Mr. Beeg, your company has set itself the ambitious target of creating a production process in line with the guidelines of Industry 4.0. Do you think that this will improve your company's market opportunities?
When we approached the topic of batch size 1 production, there was very little talk of 'Production 4.0' at first. We focused on flexibility in our production and the expansion of our production capacity. Our aim was to be able to produce each part to order as far as possible and at the same cost as industrially manufactured parts. It's true that we predict improved market opportunities if we're able to increase our level of automation while also becoming more flexible. Because in future, we also want to be able to satisfy our customers' every wish when it comes to creating their own dream kitchen.
Does automation mean that you want to generate more growth using fewer employees?
This is a popular misconception. After the reunification of Germany in 1990, we began with around 70 employees. Today, we have 210 employees. This means that our workforce has grown alongside our revenue. It's true that our fields of activity have been increasingly changing in recent years. For example, we now employ more staff in the area of service and maintenance. We require more highly qualified experts within production, and the same in order processing. These experts ensure that orders are scheduled correctly and that all of the information required for production is provided. In future, however, we will also be supplementing our automated systems with joinery machines and bench workspaces to allow us to meet all of our customers' special requests. That's why we're not simply looking to automate absolutely everything, but rather only those areas where we consider it beneficial. For this reason, we are continuing to train our employees as joiners, as we will only be able to sustain our high quality standards with the help of committed and qualified experts.
And can the robot used in the cutting process take the place of a human?
Of course not, but it does make our work a lot easier! The robot in the HPS 320 flexTec cutting cell can do things at a much faster pace than would be possible for an individual employee. When combined with automatic panel storage, this production cell is able to manage the entire handling of materials right up to the finished labeled component — including the return of offcut panels. All of this with a minimum space requirement.
All questions were asked by Norbert Schmidt
All pictures were made by Norbert Schmidt
Back to List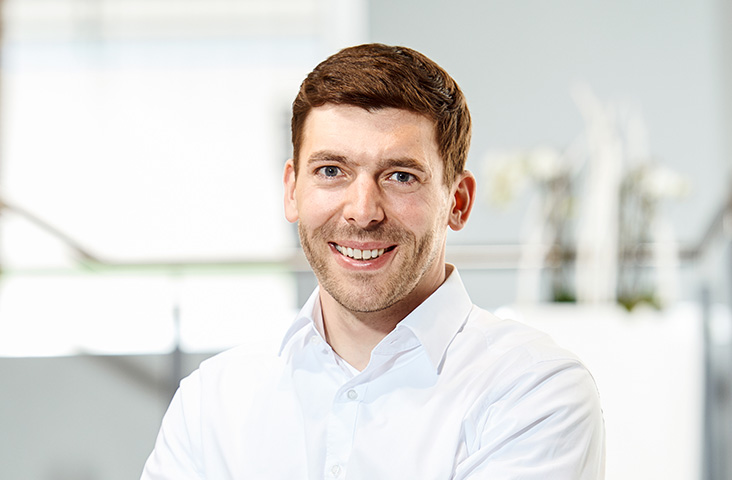 That's how your colleagues produce