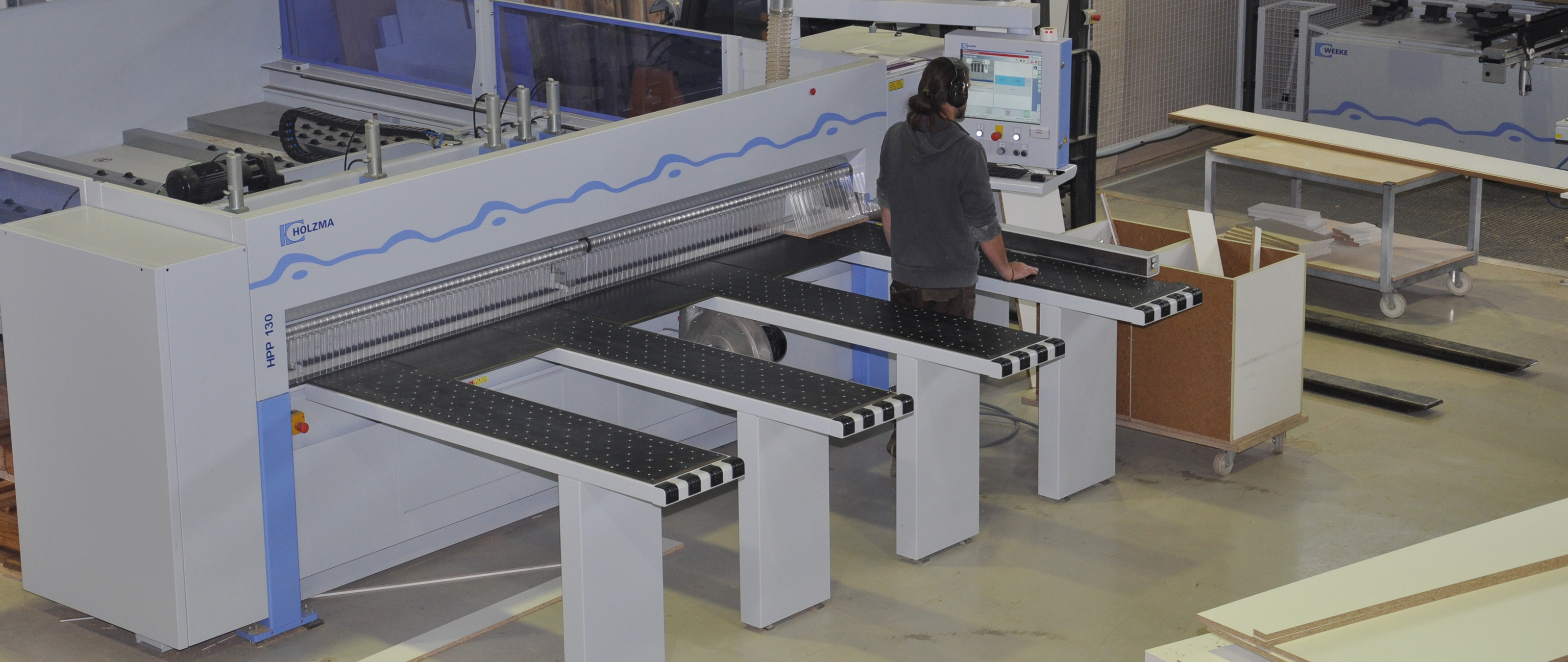 The joiners of Regensburg
The HPP 130 from HOLZMA premieres in Germany: the joinery business of Pangerl & Voith is the first to put this new development into operation.
"Everyone is really happy with the saw. It's simply a pleasure to use. It belongs here."

Stefan Pangerl, Managing Director Schreinerei Pangerl & Voith GmbH
The price is right
"Much too expensive" will no longer be a knock-out criterion in the future when it comes to purchasing a saw. The HPP 130 costs little more than a modern table circular saw. It was this that led to Pangerl and Voith finally deciding to take the step to a high-precision saw. The Regensburg interior fittings company, which specializes in kitchens and furniture, had long been toying with the idea of a saw from the Black Forest. And as they had always been happy with machines from the HOMAG family, competitors were simply not in the running. When offered the chance of testing a prototype, the two joiners did not hesitate. "From the beginning, we were always in closer contact with the specialists in Holzbronn than a normal company would be. This made it very unlikely that anything would go wrong." Nothing did, and the saw continues to bare its teeth to every stack of panels to this day.
The saw has been in the capital city of the Upper Palatinate region of Germany for a couple of months now. Here, as a prototype in day-to-day operation, it faces all the adversities encountered in real life. First experience has already been gained, and therefore the practical assessment given is absolutely credible: "Work that used to take two men one hour to do on the table circular saw can now be done by one man in just ten minutes," Stefan Pangerl calculates coolly. "And it is done far more precisely and cleanly too." No wonder that the initial outlay is quickly recouped just by savings in labor costs. And this is not at all a question of quantity. "We process some 40 panels a month. But the saw would already pay off if it were only 30 panels." Waste is also substantially reduced, according to the 37-year-old. "Usually at least one panel is left over from larger orders. That saves hard cash." And, he adds mischievously, it is almost more effective than a machining center.
Space in even the smallest of workshops
The small HOLZMA saw is loaded from a vertical panel store or, if stacks are to be cut, by forklift truck. "This makes the work much easier on our backs," comments master joiner Stefan Pangerl , who is, among other things, also responsible for Marketing in his company.
The second important point for or against a horizontal beam saw is space. But the Bavarians quickly dismissed this point too: "The HOLZMA saw seems only at first sight to take up a lot of space. Actually, it requires hardly more space than our table circular saw, as this needs plenty of free space around the machine. Pangerl and Voith have shrewdly positioned their new saw between CNC and edge bander. The three HOMAG machines form a triangle and the individual parts are on a stacking trolley in the middle where they can quickly be accessed for further processing. The machines are not ("yet") interlinked, but the WEEKE and BRANDT machines could easily have an electronic chat about the jobs to be done, which would further increase their efficiency.
Happy workers
However, even as a stand-alone machine the HPP 130 clearly makes for very happy faces. This smallest of HOLZMA saws is designed to deal with single panels or small series."Just right for us, because we mainly use the panels for carcass furniture." The 60 mm saw blade projection is easily enough for that. The saw in Regensburg has been equipped with a fourth air cushion table, in addition to the three standard ones. No change has been made with respect to the saw controller, which remains "CADmatic". "Plug and saw" will be one of the slogans that HOLZMA will use for its small saw: simply plug in and start sawing.
Thanks to the central side pressure device and high-precision saw carriage, the interior fitters are able to forward parts of significantly improved quality to the CNC and edge bander. The electronically controlled program fence with its characteristic HOLZMA clamps also plays a part in this, making even minimal trim and dust cuts possible. The result of the "prototype venture" in the Regensburg joinery business: "Everyone is really happy with the saw. It's simply a pleasure to use. It belongs here."
Article published in GENAU, April 2015. HOLZMA thanks the responsible editor Lutz Odewald.
We thank our customer Schreinerei Pangerl & Voith GmbH, too.
Image rights held by GENAU/Lutz Odewald and HOLZMA
Back to List