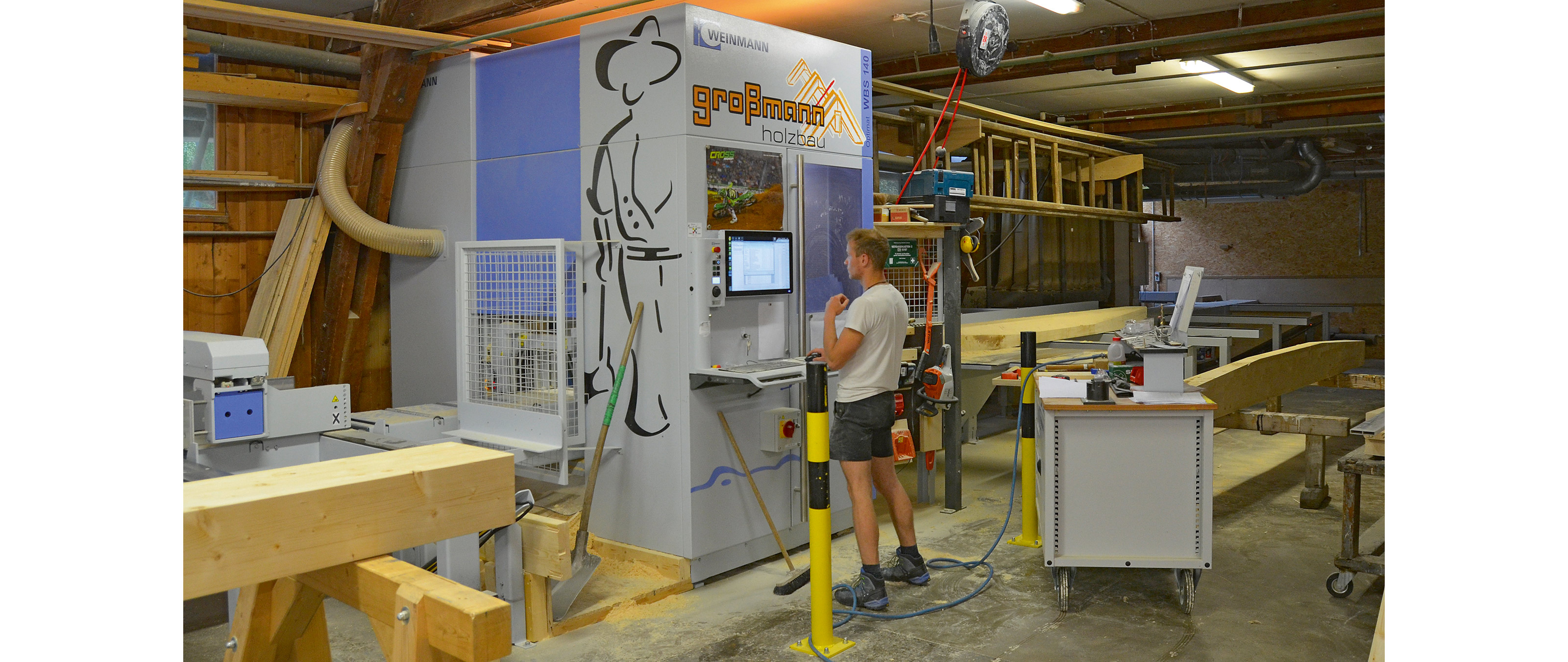 Tailored to the carpenter - Compact, versatile beam processing
Großmann wanted a machine that would complete all beam processing work without any problems and that would fit in the limited space available: WEINMANN had the solution.
"Thanks to the compact design, the BEAMTEQ fits in the existing facilities without any additional foundations or pit."

Timo Großmann, master carpenter
An article from the magazine Holzkurier, 2018/05/30 Here you can read the article.
"Technology that's not just impressive - it's fun!" It sounds like a slogan from a marketing department. But actually, this statement came from Timo Großmann, a master carpenter. He was talking about the WEINMANN BEAMTEQ B-540 beam processing system.
Investing in a CNC beam processing system is not usually a decision taken lightly by a medium-sized timber work company. The organization will spend a long time weighing up the pros and cons, testing many different products before making the final decision. And this is exactly what happened at Holzbau Großmann, based near the Black Forest in Germany. In 2016, the medium-sized carpentry business finally decided to purchase a WEINMANN beam processing system - a step that managing director Timo Großmann has not thought twice about since. After completing his master's studies, Großmann took over the business from his father in 2010, becoming the fifth generation of his family to run the company. Even at that early stage, the master carpenter was already thinking about CNC-controlled beam processing. "Using CAD programs for planning is the norm today. But with semi-automated beam processing, we then had to transfer the dimensions to the wood, and that was very time-consuming," remembers the master carpenter.
Compact and versatile
In his search for the right beam processing system, there were two crucial points for Großmann. He wanted a machine that would complete all beam processing work without any problems, and that would also fit in the limited space available. At WEINMANN, he found what he was looking for. The businessman opted for a BEAMTEQ B-540, better known under the old designation as WBS 140. "No other manufacturer was able to offer us such a compact system that could still cover our wide range of tasks," says Großmann in justifying the decision. Thanks to the five-axis technology and an eight-slot tool changer, plus one saw blade pick-up station, the system completes all trimming, drilling, and sawing work. The saw blade achieves angles of rotation from 0 to 360°, with a swivel angle of 0 to 90° to allow the manufacture of angled cuts, curved cuts, rafter assembly cuts, and rip cuts. In addition to classic roof trusses and timber frame constructions, the company also undertakes extensions, multi-story cross-laminated timber projects, and renovations of old buildings. "In renovation work in particular, where every beam is different, the work is much more enjoyable now," reports Großmann. And the master carpenter is always looking for new challenges, with a round-trimmed groove being a good example. "It would be too much effort to do by hand, but it's no problem for the machine."
Enthusiastic employees
Another important factor for Großmann to consider is how he can enhance the workplace. "Skilled craftspeople are hard to come by. BEAMTEQ makes beam processing significantly easier for us, and, thanks to the precise preliminary work, installation on site is also much easier," says Großmann. Wolfgang Horn, Head of Sales of Standard Machines at WEINMANN, adds that a beam processing system also improves work safety: "Manual beam processing involves a lot of accidents."
Premises first or machine first?
Companies generally build premises first and then equip them with machines and systems. At Großmann they do the opposite: due to the limited floor space and the difficulty in getting a building permit, the construction of new facilities was delayed, but the company did not want the same experience when purchasing the beam processing system. "Thanks to the compact design, the BEAMTEQ fits in the existing facilities without any additional foundations or pit. It also means that we can cut the wood for our beam processing facility ourselves with CNC precision," explains Großmann.
Source images: Günther Jauk (2), Timo Großmann
Back to List
Großmann carpentry in Höfen an der Enz
The Großmann carpentry is a traditional carpentry business in its fifth generation in Höfen an der Enz. The business places just as much importance on traditional carpentry as it does on modern timber work. It delivers the best quality thanks to good old craftsmanship in conjunction with modern Technology.
Click here to find out more!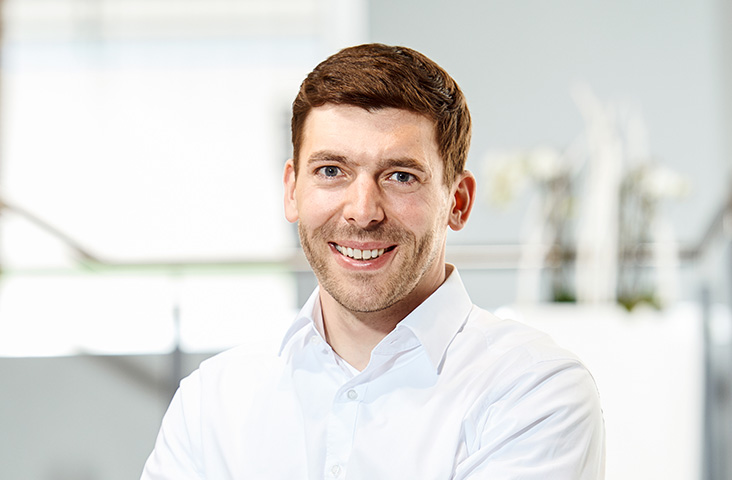 That's how your colleagues produce