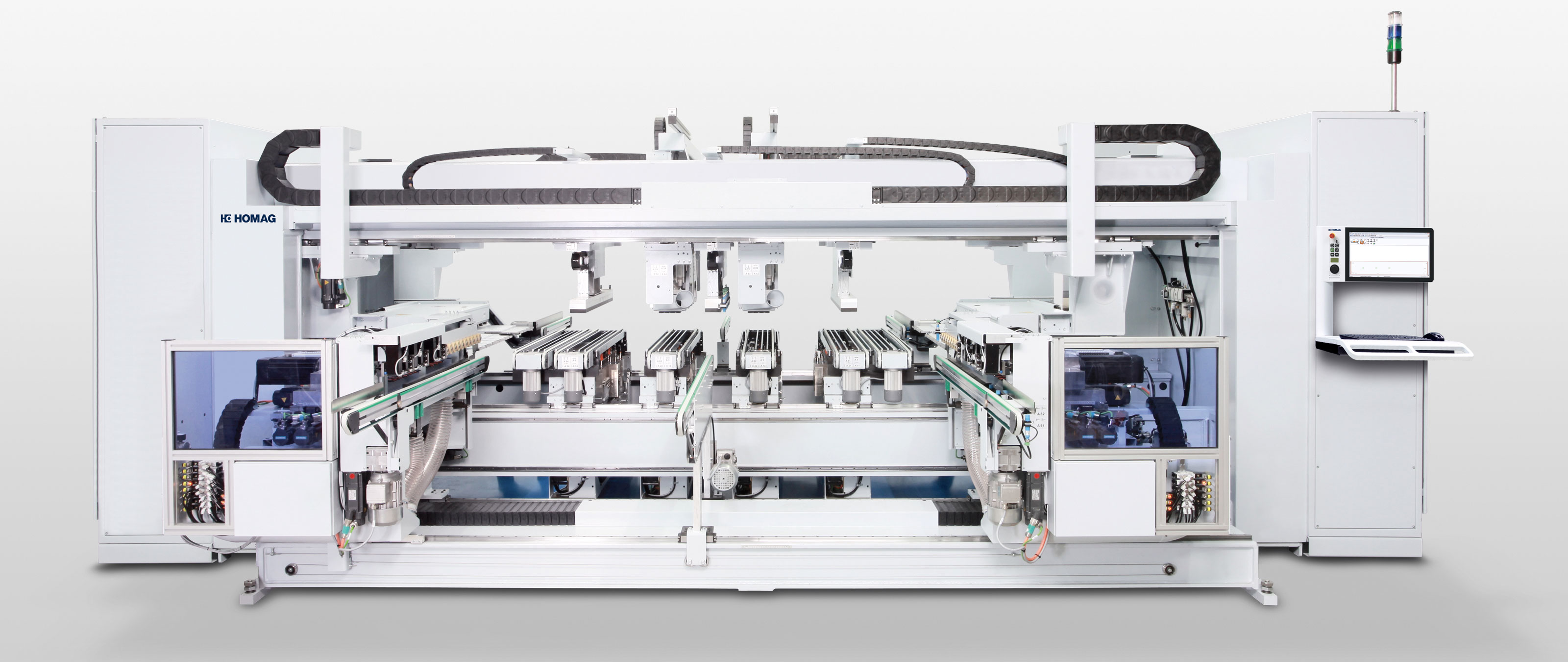 Success through vision and innovative spirit
DOC Elementi per Mobili trusts in the flexibility and reliability of the DRILLTEQ C-800
"For us, HOMAG is the No. 1 in the industry in terms of quality, service and flexibility."

Aldo Piva, DOC Elementi per Mobili
Aldo Piva, Managing Director of DOC ELEMENTI PER MOBILI, places great emphasis on quality, flexibility and reliability. For DOC, it is important to not only work for their customers but also to work with them to develop the best possible solutions for individual requirements. The company has successfully achieved these goals to the full satisfaction of their customers thanks to many years of experience, innovative spirit and by investing in high-tech machinery.
Furniture doors, furniture components and furniture kits for the world market
Since 2001 the company, which is located northeast of Venice, has been producing furniture doors and furniture components as well as furniture kits. The materials used are, among others, melamine, PET, PVC and also high-gloss materials. 85 employees produce 40,000 parts per day in 3 shifts. That's 10 truckloads per day on 25 days a month.
DOC exclusively does business with the B2B sector. Customers include furniture manufacturers and suppliers of furniture components. 80% of the products are sold in Italy, the rest exported worldwide. However, the indirect export share is much higher since a large part of the products sold on the domestic market is supplied to end customers abroad. Among others, through Friul Intagli Industries, one of the largest manufacturers of furniture and furniture components worldwide.
With tradition and sustainability into the future - to the full satisfaction of the customers
DOC attributes its success primarily to the continuous development of the company. Customer satisfaction always comes first, both in terms of products and services. This concept has proven successful for more than 30 years . The company's philosophy is to preserve values and traditions, while at the same time investing in the future. For this reason, environmental awareness and sustainability are also important matters of concern to the company. It holds PEFC and FSC certificates, among others, and in addition, all process steps are certified according to ISO 9001.
State-of-the-art machine technology reliably ensures maximum flexibility and excellent product quality
In order to keep its machinery at the cutting edge of technology, DOC has invested in another machine from HOMAG. "For us, HOMAG is the No. 1 in the industry in terms of quality, service and flexibility." The excellent service by HOMAG Italia has also been a deciding factor says Piva. The DRILLTEQ C-800 throughfeed drilling machine convinced him with its high flexibility, fast set-up times and the range of possible batch sizes. Featuring more than 500 individually activated high-speed drilling spindles, this high-performance drilling system is capable of accomplishing the manifold and complex drilling patterns demanded by customers. Top quality in the very shortest time, and with reliability.
The production area of 20,000 m², distributed over 4 production units, meets the highest technological standards: from warehouse management to panel dividing and edge banding to drilling technology - the production facilities are clearly structured, thus allowing the complete production process to run smoothly. Continuous quality control ensures that the self-imposed high requirements are always met, from the delivery of raw materials to the dispatch of finished products.
Back to List
DOC Elementi per Mobili
Located northeast of Venice, the company specializes in the production and distribution of kitchen fronts, furniture components and furniture kits.
Website