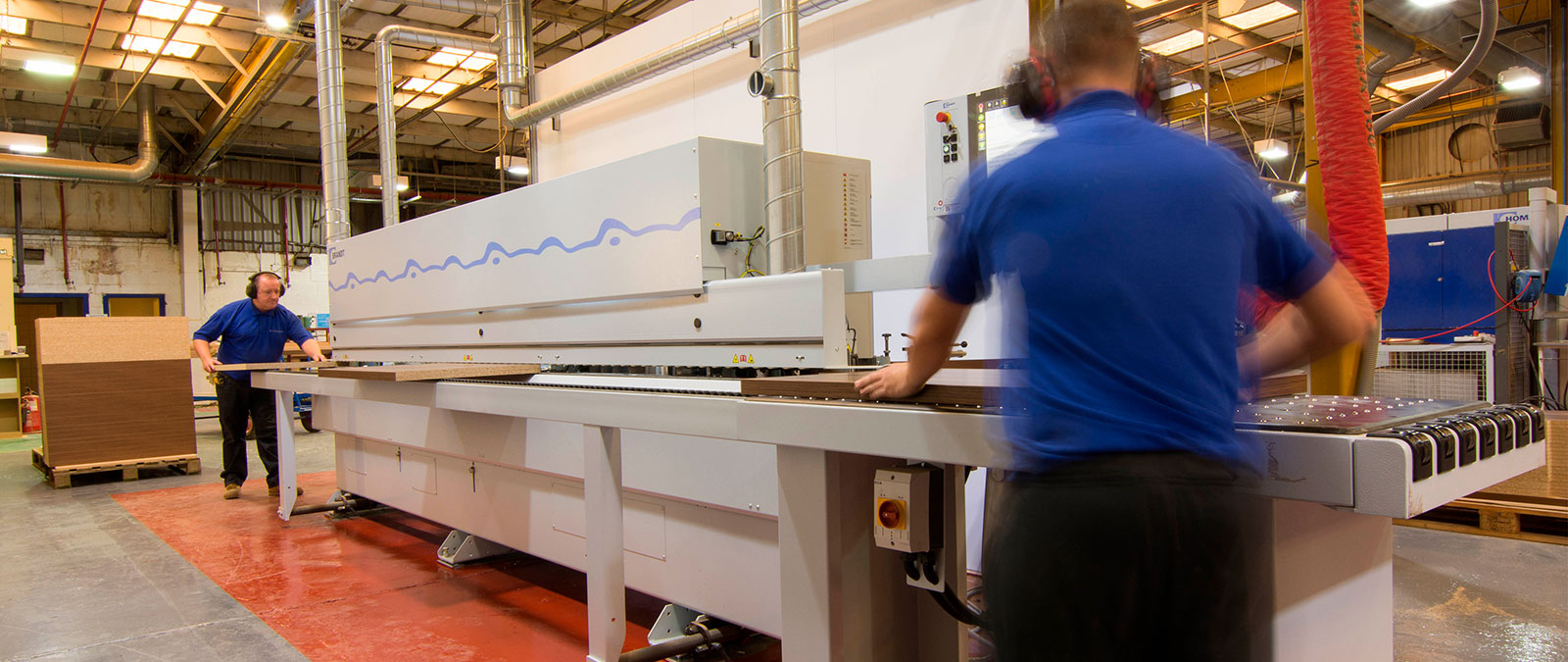 Quality, reliability and service win the day for Thomas Johnstone
After recognising that the company needed a modernisation in technology, they made an investment which ultimately transformed their production facility for the future.
The specifying of the machines was done in conjunction with HOMAG who were able to recommend various options that suited our production process. What was impressive is that they never tried to push any features or extras on us that we didn't need or want. We never felt we were being forced into a corner; they understood our business and that really stood out.

Michael Hillman - Thomas Johnstone's manufacturing manager
Thomas Johnstone Ltd is a renowned specialist fit-out contractor with an annual turnover in 2017 of £47 million. Established in 1868, the company has earned a reputation for delivering high quality, cost-efficient projects on both a tendered and negotiated basis.
It moved into its current head office in Inchinnan Business Park near Glasgow Airport in 1994. The 30,000 sq. ft. manufacturing facility is part of the head office complex and it has recently been modernised with new HOMAG machinery to bring it into the 21st century.
Thomas Johnstone's manufacturing manager, Michael Hillman, explains how the changes came about: "We realised that the business was starting to lag behind the UK market with regards to technology – we were doing a lot of work by hand which was time consuming and inconsistent.
"Initially, we were only looking for a new beam saw as the one we had was 35 years old. When it broke down, we were struggling to get parts for it so we knew it was ready for replacement. At the same time, however, we were experiencing increasing levels of unreliability with our edge bander, so we decided to bite the bullet and replace that too.
"Later in the evaluation process, HOMAG suggested we consider a BHX 050 drilling machine as it could make a significant impact to automating our production process. So we added the BHX to our wish list too."
An unusual machine evaluation process
"Rather than the board of directors specifying a budget for the acquisition of new equipment, our Manufacturing Director, Billy Hynes, tasked an estimator of ours, who used to be a machine operator, and the machine shop supervisor to go and find the right machinery that would enhance our business and bring it into the 21st century.
"These two employees went to the LIGNA show in Germany to look at the different brands who could supply the machines we were looking for. They also visited various companies in Scotland and the north of England who were operating similar machines.
"Once they had also visited different suppliers including HOMAG, I became involved in the buying process. It was my job to pull together all the information and costs and present them in a written proposal for our board of directors.
"HOMAG was our preferred choice, because we felt they offered the best overall solution, but they weren't the cheapest, so I have to say we were very nervous about making the recommendation to the board.
"After careful consideration, the board concurred with our evaluation and approved the HOMAG proposal. They saw the lifetime value of opting for HOMAG and they liked the complete package that HOMAG offered which included the warranty, training and commissioning so they knew there were no hidden extras.
"The key factors that led us to choose HOMAG were driven by the initial evaluation team. They felt that the HOMAG build quality was second to none; some of the alternative brands were a bit 'plastic'. They just didn't look or perform like industrial machines, whereas HOMAG's are solid cast metal machines that are robust and extremely reliable.
"Secondly, the service from HOMAG was excellent - they always came back to questions we asked with considered answers that clearly demonstrated they understood our business. Our previous experience of HOMAG gave us added confidence too. We have had a HOMAG BOF CNC which is over ten years old now and has never really let us down."
A close working partnership with HOMAG
"John McKay, HOMAG's man on the ground in Scotland has always been extremely helpful and knowledgeable. He guided us through the process and arranged for us to see similar machines in action at various companies.
"He also encouraged us to talk to HOMAG customers who had already invested in these machines. Interestingly, whilst doing this we were getting poor feedback regarding other brands, so this added to the belief that HOMAG was the company to trust.
"The specifying of the machines was done in conjunction with HOMAG who were able to recommend various options that suited our production process. What was impressive is that they never tried to push any features or extras on us that we didn't need or want. We never felt we were being forced into a corner; they understood our business and that really stood out.
"The final package we agreed with HOMAG included an HPP 300 beam saw, and KDF 650 edge bander and the BHX 050 CNC drilling machine. We also decided to go down the barcode route and purchased the woodCAD|CAM software once we had the machines installed and running."
Transforming our production facility
"The HPP 300 beam saw is a great machine. We're cutting a lot faster and more accurately with it. We've got a better optimiser, a grooving package which we didn't have previously and the saw blade projection is higher at 80 mm, so we can cut up to four or five boards at a time.
"The difference with the new HOMAG KDF 650 edge bander is night and day. It actually runs slower than our previous edge bander, but it saves us time which sounds contradictory, but the difference is in the finish quality.
"With the old machine when the parts emerged from the edge bander we had to do a huge amount of hand finishing which was time consuming and costly. When the workpieces come off the HOMAG machine they are perfectly finished. The machine has corner rounding and surface scraping which means the parts are all ready for the next stage of production without any hand finishing.
"With our old edge bander machine set-up was slow. You had to get into the back of the machine with a spanner and a hammer to reset elements, moving the heights up and down or moving the glue gauge. With the HOMAG KDF 650, however, it's all automatic; you use the touch screen to tell the machine what you want and it does it all for you so you're good to go at the touch of a button.
"The HOMAG BHX 050 is an extremely clever machine at a very attractive price point. Not only does it enable us to process so much more than we could by hand, but also it can do it a lot quicker and more reliably.
"These three machines link with the existing HOMAG BOF CNC to give us an extremely flexible manufacturing facility. The new machines use the same touch screen operating system which makes it very easy for the operators. Also, because everything is pre-programmed, we can use less skilled machine operators. There is very little programming done on the machine itself, it's all automated which speeds up the process and eliminates human error.
"The addition of the woodCAD|CAM software has helped our drawing department become more efficient. Previously, we would spend a day doing an Autocad drawing, a day creating a cutting list and then a day using Alphacam to programme the CNCs. With the new software this is condensed into one day. Whilst you are doing the drawing, woodCAD|CAM works in the background preparing the cutting list and creating the programmes for the CNCs; there's no human programming, it's all done automatically.
"The software also enables us to optimise and cut panels on the saw, then print off a barcode label for every workpiece. Each label holds all the information for that individual panel in terms of which machine it is to go to next and what has to be done to on a machine by machine basis. Then, when it arrives in the assembly area, the joiners know which panels are required to construct each piece of furniture. Not only does this barcode system reduce material waste, but it also eliminates human error."
A bright future
"These days whilst bespoke products remain very important to our business model, it is also necessary to have a cost-effective mass production capability. The market is looking for more commercial solutions, and with the new machinery and software we can still create the bespoke hotel reception area, but we can also manufacture all the identical furniture for 190 rooms, for example. Also, with the mass production work we can now send furniture out flat-pack which is a huge advantage, saving space, time and money in both production and transport costs.
"We're delighted with the HOMAG equipment; it has performed better than we expected. With the beam saw things like blade changes are a lot quicker and the quality of the cuts is outstanding. The performance of the edge bander has eliminated the need for manual finishing and the BHX has removed the need to drill holes on a bench or by hand," concludes Michael Hillman.
If you'd like a demonstration or more information about HOMAG machinery and software, please contact HOMAG UK on 01332 856424
Back to List