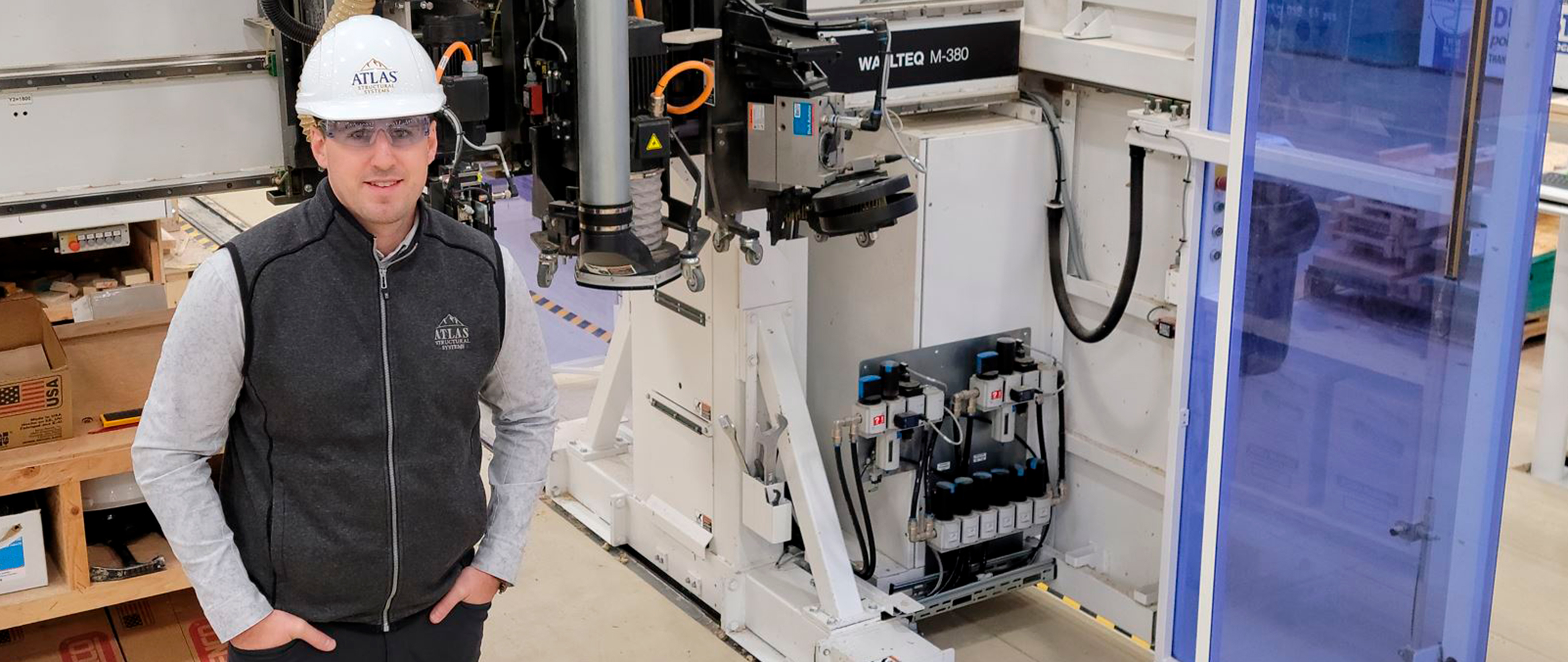 Orientating a path to advanced prefabrication with WEINMANN
Canadian prefabrication manufacturer Atlas Structural Systems embraces WEINMANN advanced timber processing equipment to grow business.
"Investing in WEINMANN advanced timber processing machinery is what made most sense to us."

Marc Richard, Manager Atlas Structural Systems
An article from "Built Offsite" in Australia, online-edition. More information you can find here.
Since their inception in 1987, Atlas Structural System's path to prefabrication didn't start with a road map or a careful sketch of what technology may deliver in the future; it started in a barn building roof trusses supplying the local trade. From that barn the company serviced local builders, and the business incrementally grew to the point where it relocated in the early 2000's to its present location in Richibucto, New Brunswick. It was there the company's path to prefabrication began. In 2010 Marc Richard, Atlas's current general manager, joined the company, and said: "The need for prefab panels was not yet evident in our market, so we really looked at other markets where prefab was popular such as Quebec to learn and understand the potential. Our team was tasked in developing the design and manufacturing standards and processes to eventually introduce prefabricated panels into our market". "We had built some simple table jigs with hydraulics to build wall panels, and the production line consisted of a component station, framing station and sheathing station. As for floor panels, we built them on a floor pad on the ground. They were simple walls with lumber, sheeting and house wrap, and the floor panels were joists, rim boards and sheeting." Promoting and educating existing customers on the benefits of using prefab wall and floor panels was a turning point in the growth of their nascent prefab business. "Framers were accustomed to traditional methods of framing in our market, this made it very difficult for us to be competitive in the early years." "The target projects were single-family homes. We wanted to start small and learn through trial and error. We adjusted accordingly as we gained experience."
A key part of their early success was their hands-on approach.
"We were just a small team at the beginning, we would all work together through the entire process; sales, design and production. We would then all go to the project site to assist the customer with the installation of the panels. This experience really helped us understand the customers 'pain points' and how can we make the product better," said Marc. Over the following years, market acceptance for prefabrication grew and the business started to gain traction in the highly contested multi-residential and mid-rise apartment buildings. It became their 'bread and butter' business and panel production became more efficient with 'bigger and longer' panels, and cost savings to their client base also became more apparent. "It was the time they saved. A multi-unit four storey building would take three months to stick frame, when using prefab panels, you could do it in less than a month. We educated our customers about, for example, improved cash flow, the implications that will have on closing the building much sooner and being able to collect rent earlier as well. The quality of prefab and waste reduction were also important considerations; however, the biggest benefit was speed."
Investing in WEINMANN advanced processing machinery
The company's growing market acceptance for their prefabricated panels didn't remain unnoticed, and in 2013 it was sold to J.D. Irving, a large diversified Canadian company established in 1882. "To me that was a really positive thing in that we joined a bigger group, and that organisation had the capital to speed up the growth of the category," said Marc. The demand for their panelised walls and floors was increasing exponentially, and their existing prefabrication equipment was unable to satisfy demand. The decision was made in 2019 to invest in a complete WEINMANN advanced timber prefabrication processing line to address increased demand; it was installed in their Moncton facility which is also situated in New Brunswick. Atlas's WEINMANN complete processing line includes carpentry machines primarily used for beam processing timber frames and cutting panels; a complete wall panel processing line that includes framing stations, assembly and machining tables, handling systems and a multi-function bridge station; and, a floor panel processing line that includes an auto-framing table, a vacuum handling system and a further multi-function bridge station."From our Moncton facility we've extended our market to the other Atlantic provinces."
Phase 2 for their advanced path to prefabrication is already well underway, with the objective to add insulation and windows to their wall panels. "We visited facilities in Germany and in other parts of Canada where they do this, and that's where we want to go. This is part of our plan for the upcoming years, however, since COVID, we have been strictly focused on keeping up with the increase in demand."On reflection on investing in WEINMANN, Marc said: "We were at a pivotal point in the business, and were getting some interest for prefab panels from other markets where we have truss plants. The decision was made to build a high-volume plant to supply the other locations, and we now offer the complete package; the roof, the wall and the floor. This is what differentiates us in the market"."Investing in WEINMANN advanced timber processing machinery is what made most sense to us," Marc concluded.
Back to List
Atlas Structural Systems
Atlas Structural Systems is a Canadian element manufacturer, that was founded in 1987 and has it´s headquarter in Richibucto, New Brunswick in Canada. Since 2013 it belongs to J.D. Irving a large diversified Canadien company.
More information you can find here.