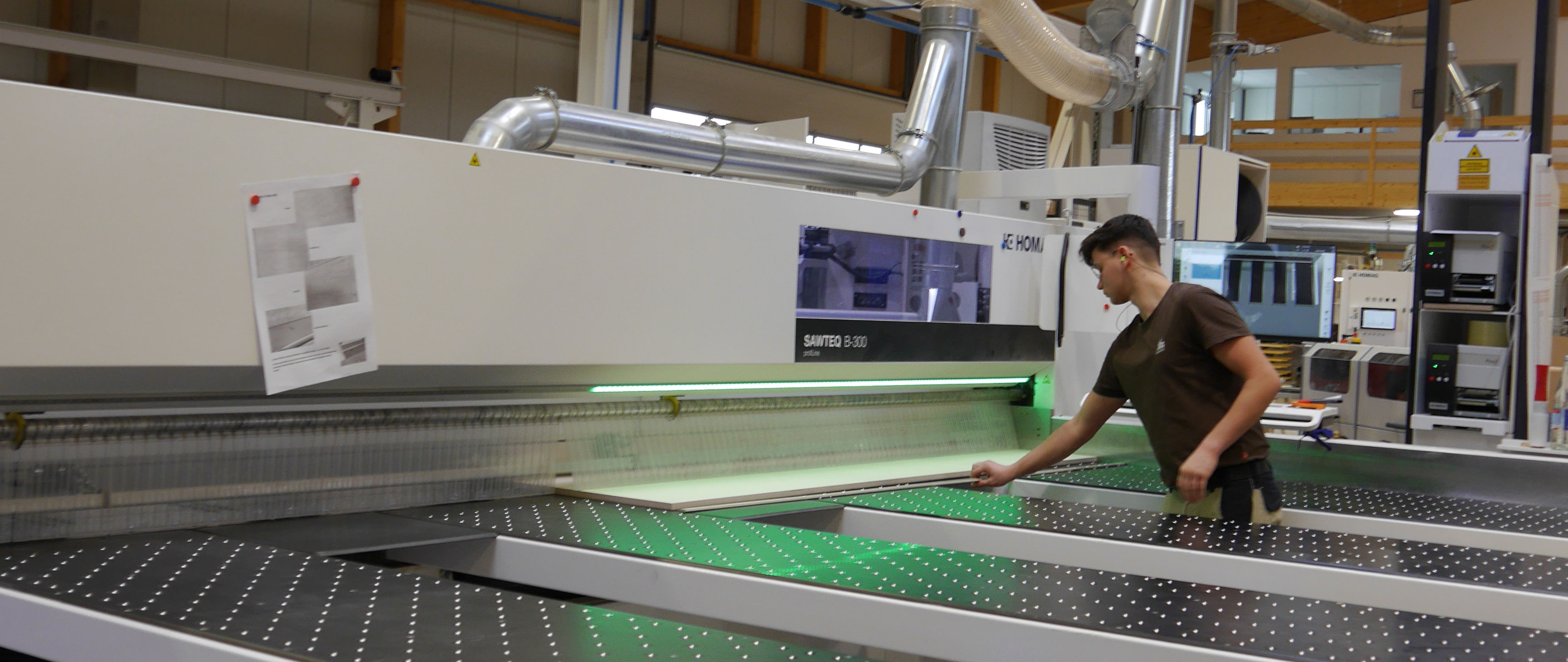 Intelligent networked machine concept at Ries Akustik
High in-house production capabilities and maximum efficiency thanks to networked production and optimally coordinated processes
"However, it is much more important that we achieve a much greater depth of production with our new machine concept and that we can now also offer products developed in-house in reliably high quality."

Harald Weng, production manager Ries Akustik Innenausbau GmbH
A ball hits the wall at 100 km/h. The audience yells, cheers and applauds. To prevent indoor sports events from causing hearing damage for fans and athletes, sports halls have to absorb sound well. This is where Ries Akustik comes into play. With a newly installed machine combination from HOMAG—consisting of a panel dividing saw, storage system and CNC drilling center—the company is not only stronger than ever, but has also recently become a top team in the field of acoustic panel suppliers.
Ries Akustik Innenausbau GmbH was founded in 1997 in the Bavarian town of Alerheim near Nördlingen. The company specializes in the processing, finishing and installation of panels made from wood materials. These panels are used for interior fittings in various types of buildings, for example in sports halls, indoor swimming pools and school halls. The focus is on sound-absorbing components such as acoustic panels for walls and ceilings, backing walls as well as doors, gates and other fixtures and fittings for sports halls. The components must meet the highest requirements in terms of their acoustic properties as well as in terms of fire protection, safety and fitting accuracy.
Ries Akustik has licensed system solutions in its portfolio to meet these requirements. The solutions are installed nationwide in cooperation with assembly partners. Clients come primarily from the public and municipal sectors. "We operate a typical individual project business in special interior design," explains André Wild, who, together with his wife Annemarie, as well as co-managing director Jürgen Rothgang and production manager Harald Wenig, has been managing the company since 2017 — the second generation of his family to do so.
Ries Akustik Innenaufbau GmbH had developed well and has grown steadily.
"In order to expand the profitability and range of our production options, more than five years ago we invested in a five-axis CNC processing center from HOMAG," reports André Wild. This was followed a little later by a new HOMAG wide-belt sanding machine. The aim was to increase the proportion of value added in-house.
This was because in the past, most of the acoustic panels processed by Ries were not produced in-house, but by highly specialized suppliers. In order to produce acoustically effective panels from panel material, bore holes must be created in the material surfaces. "This work cannot be done profitably with conventional technology. Even with our BMG from HOMAG, it was only economically viable for us to produce acoustic components for special requirements," explains Annemarie Wild. Therefore, and in view of the increasingly limited space available at the old location in the center of Alerheim, the idea for a new building arose.
Looking at the challenges of the future and further growth, those responsible immediately aimed for the big solution and planned to implement a completely new machine concept at the new location as well. "We are operating in a niche market with high price pressure," says production manager Harald Wenig, explaining: "Sometimes, a difference of 500 euro in the bidding amount decides whether or not we are awarded the contract for a municipal sports hall project. A high in-house production depth and maximum efficiency thanks to consistently networked production and optimally coordinated processes are therefore crucial for us — now and even more so with a view to the future."
Faced with this challenge, the management then approached HOMAG with a rough concept. For cutting, it included the SAWTEQ B-300 panel dividing saw in combination with an automatic storage system. After cutting, a large proportion of the parts were to go directly to the DRILLTEQ H-600 drilling center from HOMAG with little manual effort. The drilling center was also on the wish list.
"At least as important for us as the new machines was the goal of creating an integrated flow of data, material and information: from planning and work preparation through all processing stations to assembly on the construction site," reports Wenig. In addition to a suitable IT and software architecture, a well-thought-out labeling strategy is particularly important: all parts must be marked with machine-readable information for further processing steps immediately after cutting.
The HOMAG storage system is like the central material hub in the production operation of Ries Akustik.
It feeds both the SAWTEQ B-300 saw and the DRILLTEQ H-600 drilling center alternately with unprocessed panels or parts. The rough process: in order to offer a large variety of panels and always have enough material at hand, the company keeps unprocessed panels in stock in sufficient quantity. Many of these panels are located in an outside warehouse. When supplies are required, a team member will pick them up by forklift truck and place the panels in the storage position of the STORETEQ S-200 pallet by pallet. The storage itself takes place fully automatically. For this purpose, the storage system is equipped with a powerful suction cross rail.
"Here, the storage system moves all panel materials from half a square meter of floor space to ten square meters. No one has to get stuck in and do heavy lifting anymore," emphasizes André Wild. After cutting, the course is set for further mechanical processing: parts that are to immediately continue to the CNC, assembly area or surface processing with a sanding and painting system are removed directly by the saw operator and, guided by the CADmatic destacking module Classic, are destacked onto a pallet truck. In contrast, all parts that are to be further processed by the drilling center—and there are plenty at Ries Akustik—go back to the storage system via the saw. They are stored there temporarily or placed directly on an automatic roller conveyor and transported to the drilling center. For the viewer, the constant depositing, lifting and relocating of panels and parts looks like a rehearsed dance. The suction cross rail seems to follow a complex choreography, and the storage control system acts like the vigilant conductor of a complex symphony.
And that's what it's like. The only difference is that the choreography is not rehearsed; it is constantly being rewritten by the concentrated intelligence of the networked HOMAG solutions, based on the order, processing job and the production process.
A machine concept as perfectly matched to the processing operations as that of Ries Akustik can only develop within the framework of a functioning development partnership. This is also how Annemarie Wild sees it, saying: "At the beginning of our joint planning with HOMAG, we had only one basic idea. The solution that we are working with now and going into the future has been developed very specifically and gradually in close cooperation with the HOMAG experts. This cooperation was and is very important for us."
The focus of the planning was always on the demand for maximum efficiency and quality in production.
That started with the new hall. "We didn't just buy a plot of land and start building on it. More important was the question of what conditions the hall had to meet for an optimum machine concept. Priority was given to the layout of the production line, and we then built the hall around it," said Annemarie Wild.
Ries Akustik also hasn't scrimped on technology and assistance systems. Take an example from cutting: the installed panel saw has numerous optional features. One highlight is intelliGuide Premium. This assistance system guides the saw operator step by step through the cutting process using optical signals and laser projection — directly on the workpiece.
Avoiding errors, producing at a faster rate and having less manual work is one thing. "However, it is much more important that we achieve a much greater depth of production with our new machine concept and that we can now also offer products developed in-house in reliably high quality," says Weng. The drilling center, for example, ensures enormously accelerated processes: "With our BMG 311 CNC processing center, we were also able to create bore holes simultaneously in the past. However, the new DRILLTEQ H-600 drilling center creates more than four times the number of bore holes per work step."
To make this clear: the number of bore holes is a key factor in the sound-absorbing effect of acoustic panels. They must also meet strict fire protection and emission standards requirements. For both of these aspects, a large surface with many openings is more of a hindrance. The key is to find exactly the right balance.
With the HOMAG machine combination, consisting of a saw, storage system and drilling center, Ries Akustik is better positioned than ever. As a specialist in interior acoustic design, the company now operates more quickly, accurately and economically than ever before. The new machines improve quality and reduce the work effort involved at the same time.
After the commissioning of the new production hall at the end of 2021, the Ries Akustik team has only just begun to explore new possibilities. "After everything went well and the complex communication processes between the many machines and software solutions were essentially established, we initially wanted to stabilize our new processes in production," says Wenig, looking back on the past few weeks. This phase has now been completed. It is now a question of exploiting the potential of the new solution, establishing new products and producing them in top quality with increasingly less effort. This is the path that Ries Akustik wants to continue along together with Homag.
Back to List
Ries Akustik Innenausbau GmbH
Founded in 1997 in the Bavarian town of Alerheim near Nördlingen. The company specializes in the processing, finishing and installation of panels made from wood materials. These panels are used for interior fittings in various types of buildings, for example in sports halls, indoor swimming pools and school halls.
More information is available here.