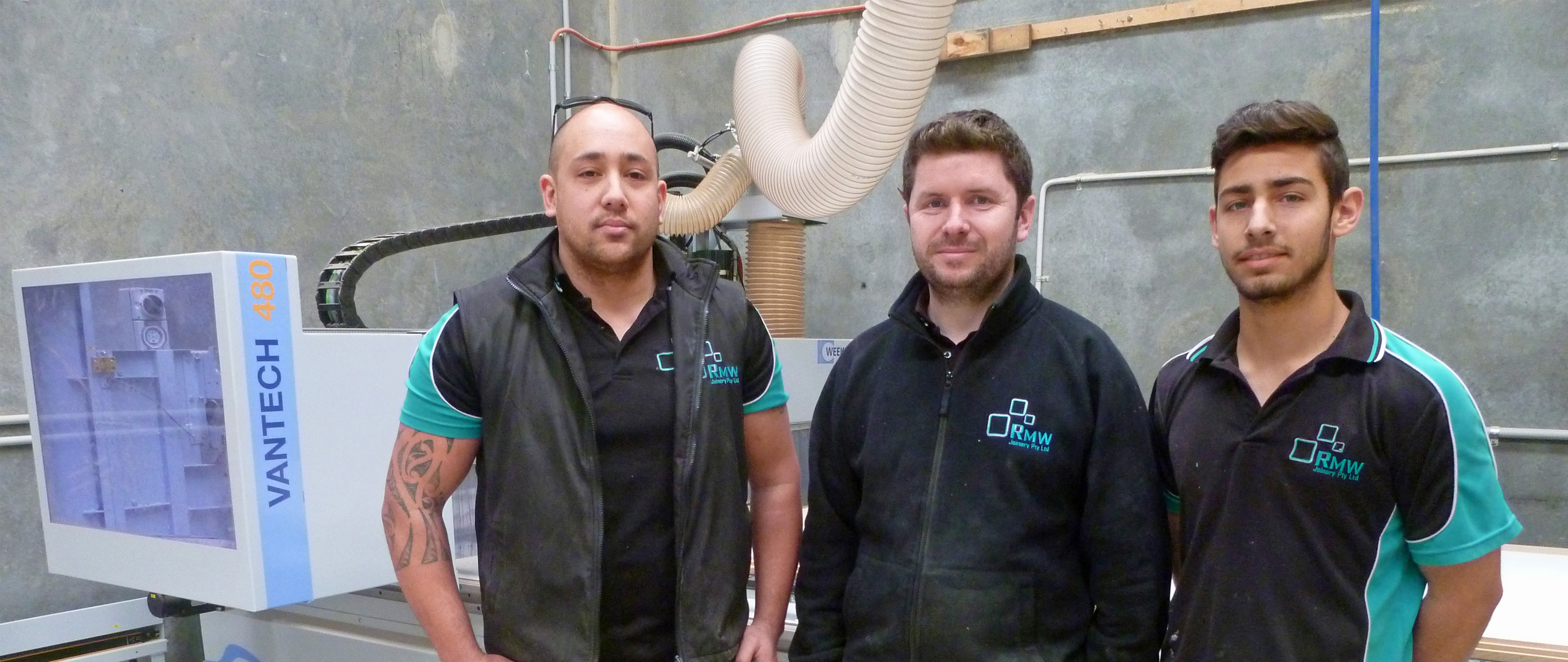 Increased production flow with the Weeke Vantech 480 B 
RMW Joinery aspire to become well known for their attention to detail and punctuality when completing jobs. The Sydney-based company caters for specific niche joinery requirements that are more difficult to achieve for standard joiners.
"Any good joinery I know owns a HOMAG machine. That speaks for itself. I don't mock around."

Raymond Wiki, owner, RMW Joinery
"Our work is of the highest quality and there is no job which is unachievable," says owner Raymond Wiki. To meet his expectations he saw the need investing in new machinery.
With the Vantech 480 B from HOMAG Australia, RMW Joinery purchased a state of art CNC nesting machine which is perfectly suitable as an entry level CNC machine and ideal for small workshops such as RMW. Cutting down assembly times and therefore, labour costs are essential to increase productivity. "It's hard to find good workers these days and we got too busy so we had to compensate the workload by getting new machinery in," says Raymond.
Vantech 480 B: reliable performance
Having chosen the HOMAG CNC was a no-brainer decision as Raymond says: "Any good joinery I know owns a HOMAG machine. That speaks for itself. I don't muck around."
Installed just a few months ago, the Vantech has already brought real value to the business. "It's a reliable machine, easy to operate and simply delivers," Raymond says. "Also the training we've received on the machine was very informative."
The basic machine of the Vantech edition comes in heavy steel gantry for high precision of cut quality which can't be matched with lightweight aluminium gantries. Fast and accurate drilling is guaranteed by a patented drilling spindle clamping, and all sensitive electronics are housed in a separate control tower with filtered air conditioning to ensure long life.
Additionally, a full start up tooling kit is included, which comes with drills and diamond tooling. To ensure the best possible extraction, focused extraction and additional air jets under the hood are crucial highlights of the Vantech series.
The Vantech is also available in different sizes; it can be ordered as a stand-alone centre or with additional auto loading/unloading and automatic label printing.
Quality joinery from Sydney's Inner West
The entry-level nester is just the right fit for RMW Joinery who moved into new premises in Peakhurst just two years ago. They now manufacture on a 300 square metres factory located in Sydney's Inner West and service all surrounding suburbs including the CBD, Inner West, Eastern Suburbs and North Sydney. They work on architectural projects, commercial and retail installs as well as high end house fit-outs.
Raymond has set himself a clear goal: "I want to grow the business and belong to the top end of medium sized companies in Sydney." Together with the new Vantech and the one year old Brandt Ambition 1220C edgebander, these targets seem to be realistic. RMW Joinery has increased productivity and production flow. "The two machines are both great. The more research I did, the more I was sure that there's only one machine supplier you should go with if you are looking for quality and reliability."
Back to List