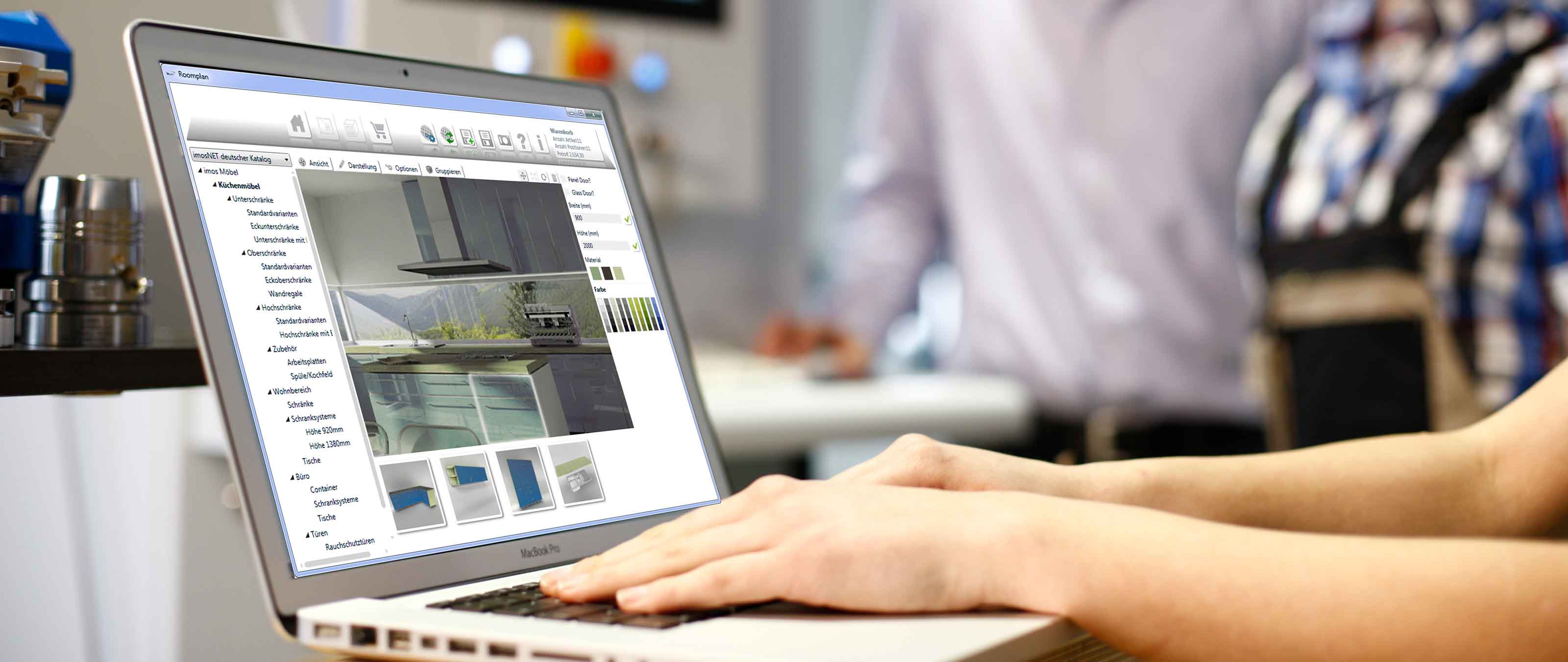 HOMAG's woodCAD|CAM software revolutionises Aquapac Furniture
Aquapac Furniture's latest innovative software addition - woodCAD|CAM - revolutionises production processes for the future.
HOMAG machinery is, in our opinion, the best in the market place; it provides the very best quality results. They invest heavily in technology and when you buy HOMAG technology you know it is going to be at the forefront of the market for the next five or six year at least.

Stephen Connachan, Managing director of Aquapac Furniture
Aquapac Furniture, founded in 1996, is one of the biggest manufacturers of flat pack aquarium cabinets and vivariums in the UK. In addition, it produces other wood based products such as POS display stands and offers a simple cut and edge panel service for local tradesmen.
The company, led by managing director, Stephen Connachan, is currently going through a major expansion programme and has partnered with HOMAG for woodworking machinery and software.
Aquapac has recently moved from four leased units in Maryhill in Glasgow (which amounted to 22,000 sq. ft.) to a new single 50,000 sq. ft. facility in Cumbernauld that the company has bought outright. This has enabled it to expand and offer products to a new marketplace, bespoke kitchens. Stephen Connachan takes up the story:
"The move was the first stage in a long-term plan to grow the business. We first invested in HOMAG equipment in 2007 and recently we've bought the woodCAD|CAM software and are using it with several HOMAG machines including the BHX 500.
"The machines we had prior to HOMAG coming on board just weren't up to the demands our increased business was putting on them, they simply couldn't keep up. We were experiencing more down time than anything else and that's why we decided to move to HOMAG who offer the bigger, more powerful and reliable industrial machines. These models have had a significant impact on our business and now enable us to process millions of panels a year."
Modernising and automating our processes
"Before we moved into our new facility the system to cost and quote jobs for customers was about a ten step process. This often started with the customers giving us a verbal brief or a 'back of a fag packet' sketch of what they wanted.
"From this rough sketch we would have to draw up plans and turn them into a CAD model. If they liked the model we would then have to cost it out and, if the price was right, we would need to generate technical drawings for each of the panels before having to physically go down and programme the machines for each panel. As you can imagine, this involved a lot of human intervention resulting in not only a high work load, but also a great deal of time.
"Now, the software allows us to quickly create the CAD model concept to present to the customer; then, once the customer is happy with it, the software automatically programmes our machines for us. It performs the cutting list, and also allows us to print off barcode labels for each panel with information such as batch numbers. This enables us to process smaller batches through our factory.
"The main reason for us buying the BHX 500 and the software was to allow us to quote on more contract furniture work, but we also wanted to enter the batch size 1 market for bespoke kitchens.
"Previously our business model was large batch production; we were making anywhere from 50 to 500 cabinets of the same type. Today we can produce maybe 30-40 bespoke kitchens a week which was unthinkable before.
"With the software we're able to put a barcode label on every panel we produce which enables us to follow each panel through the manufacturing process before collating them into kitchen carcasses further down the line. In the new facility we've set up three assembly stations where everything is flat packed and ready to assemble."
Deciding on the best solution
"Selecting the right partner for the software was a big, big decision for us, so we were mindful to carry out thorough due diligence before making the investment.
"We looked into most of the parametric based systems in the market place and profiled a variety of companies' software to find out which would work best for our needs. After some serious soul searching, the solution that stood out was woodCAD|CAM. Coming from HOMAG we knew it would be good (after all, we'd had years of experience with them to back up our belief), and the fact that 99 per cent of our machinery is also HOMAG, it made sense for us to invest in its bespoke software solution.
"Before making the final decision we visited HOMAG UK and the HOMAG Treff in Germany to see the software in action. Despite the fact that it was perhaps a larger investment than some other solutions, we bought the full package (bar one module) to give us the maximum benefits and flexibility for our production.
"The HOMAG woodCAD|CAM has enabled us to go from a ten step process down to a CAD model drawing which takes us minutes compared with hours previously. It then automatically programmes the machines, does all the barcode labelling, helps schedule the cutting lists and has reduced our quoting from days to hours.
"Looking ahead, our plan is to add more and more automation in the plant and this software is the enabler for us automating our production line. Over the next three years we're looking to spend a considerable sum with HOMAG on more new machinery to help us achieve this goal.
"Naturally, we were tempted by cheaper options from their competition; however, we felt that keeping loyalty with the HOMAG brand would pay dividends in the long run. We were very confident that HOMAG would look after us better than if we bought the machinery from one company and the software from another. That would have given us a real headache trying to add more machines and tie it all together to make it work successfully. So the long-term strategy of sticking with HOMAG made sense to us."
A reliable system delivering quality products
"With HOMAG you have certainty in the quality of the panels you produce. Previously, with the level of human intervention, there were always high risks of mistakes. Once you'd completed all your technical sheets, you'd have to go and programme the machines and if an operator enters in a measurement of 1225 instead of 1125, the programme wouldn't work.
"With the woodCAD|CAM, you're creating an article (a cabinet) and it automatically takes care of all the details, lining up all the holes etcetera, so the software's actually doing all the programming of the machines for you. The result means we get the production right, first time, every time, and that is so beneficial to our business.
"As a consequence, the company is more efficient; it enables us to do more quotations whilst at the same time changing the aesthetics of our quotes, which not only look better, but they are also more informative for our customers.
"Of course, there's a lot to learn with such a sophisticated piece of software, but as we understand it more we're finding little nuggets that empower our processes. We've been able to develop new markets for our business since we invested in the software. Previously we weren't able to economically produce bespoke kitchens, now we're doing 30 or 40 kitchens a week thanks to woodCAD|CAM."
A solid recommendation
"HOMAG machinery is, in our opinion, the best in the market place; it provides the very best quality results. The German parent company invest heavily in technology and when you buy HOMAG technology you know it is going to be at the forefront of the market for the next five or six year at least. With competitors' technologies they seem to be maybe two or three years behind.
"The other massive benefit with HOMAG is the machines' reliability; they operate consistently with very little downtime compared to other brands we've had in the past. They really are almost bullet-proof," concludes Stephen Connachan.
If you'd like a demonstration or more information about HOMAG software and machinery, please contact HOMAG UK on 01332 856424.
Back to List