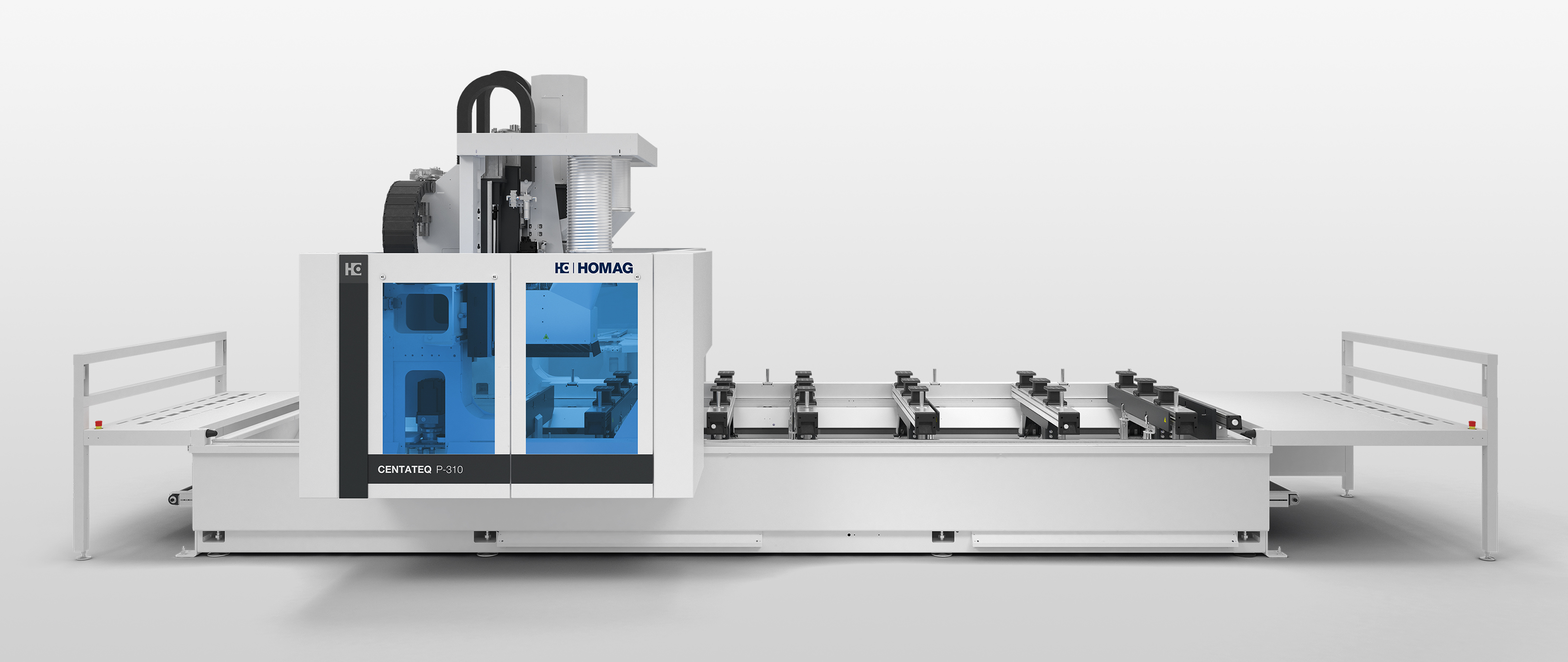 HOMAG CNC revolutionises production at James Burleigh
HOMAG 5 axis CNC technology brings a complete revolution for production
The CNC has completely amazed us. It is so incredible to see what it can do; it has entirely fulfilled our expectations.

James Burleigh, Owner of James Burleigh Ltd
James Burleigh has been making furniture for over 30 years. In 2002 he set up his eponymous limited company to design and produce a signature collection of tables, benches and stools that are visually appealing, strong and durable. Based in north London, James Burleigh and his 17 employees have created a business with a turnover of around £2m from their 7,500 sq. ft. facility.
"Our business really took-off about five years ago," explains Burleigh. He continues, "The profound change in the way offices are set-up has created a demand for more versatile furniture. Companies are looking for more flexible, adaptable solutions that reflect the culture and ethos of each specific setting."
Labour intensive hand routing
"As our business grew, we were doing more and more hand routing which was not only time consuming, but also was demanding ever-increasing floor space. Because of this, I'd been thinking about investing in a CNC machine for at least a couple of years; the problem was that we just didn't have the space to fit one in.
"The opportunity came when the unit next door became available. It was always going to be a tight squeeze, but by knocking down a wall we could realise our goal of adding a CNC to our machine portfolio and I knew it was the right decision for the future development of the business.
"Having had the need for a CNC in the back of my mind for some time, I had already done quite a bit of research on suitable brands in the market. Before drawing up a short list, however, we visited the UK's major woodworking show W16, where we were able to see all the main manufacturers under one roof. Prior to the show we'd been scanning the woodworking trade press to gather as much information as possible to aid us in the decision-making process."
Seeing is believing
"In the end it came down to two companies, one German and the other Italian, both of which produced quality machinery. What swung it HOMAG's way was the professional pre-sales service and the product demonstrations they arranged for us.
"Roger Wilks, HOMAG's area sales manager at the time, had been answering all our questions over the previous two years, yet never once did he try to pressurise us into making a purchase. As our interest piqued, he arranged for us to visit a couple of manufacturing facilities in the UK which were already using a similar CNC.
"The clincher for us, however, was when we were invited out to HOMAG's manufacturing plant in Germany. They asked us to bring some of our component parts to be machined on the BMG 311 (now known as CENTATEQ P-310) so we could judge for ourselves the performance of the machine.
"The results were amazing. I was staggered at not only how quickly the machine could process the parts, but also the superb quality of the finished items."
Price – important, but not the governing factor
"Whilst price is always a significant question when investing in such advanced machinery, for us it wasn't the governing factor. Far more important was the durable build quality of the HOMAG BMG 311 (now known as CENTATEQ P-310) and the fact that it could reliably produce high quality, precision parts time after time.
"Once the order had been placed, HOMAG met every deadline that was promised and the machine was installed smoothly within two days. The HOMAG engineers trained our staff on site and we also sent three of them up to Castle Donington for more comprehensive training on the woodWOP software."
A production revolution
"The BMG 311 (now known as CENTATEQ P-310) has completely amazed us. It is so incredible to see what it can do; it has entirely fulfilled our expectations. I would estimate that we are benefitting from a 30 to 40 per cent increase in capacity and although the footprint of the machine is significant, it still occupies far less space than that taken up by the old manual routers.
"The CNC has reduced the number of hours we have to work, significantly decreasing the need for overtime. As a consequence, our workforce is far less stressed and we have been able to move workers to more productive areas of the shop floor."
Bringing benefits across the board
"As a commercial concern, we're extremely committed to the protection of the world's resources and environment. To this end, the HOMAG BMG 311 (now known as CENTATEQ P-310) is doing its bit to help. Not only does having one CNC machine instead of ten hand routers give us more efficient dust extraction and therefore cleaner air, but also it has enabled us to introduce a new product made from all our laminate and wood off-cuts. This latest addition to our range, a small side table, will be launched in February at the Stockholm Furniture Fair.
"We are delighted with our investment in this HOMAG BMG 311 CNC (now known as CENTATEQ P-310). It has amazed us in every way and will likely pay for itself within 12 - 18 months which is impressive indeed. The people at HOMAG are all very professional, the machine demonstration we had in Germany convinced us to purchase the CNC and the installation was beautifully executed. From day one, the machine has transformed our manufacturing processes and delivers first class results time after time. We couldn't be more delighted," concludes James Burleigh.
If you would like more information or a demonstration of the latest HOMAG CNCs or other machinery and software please contact HOMAG UK on 01332 856424.
Back to List