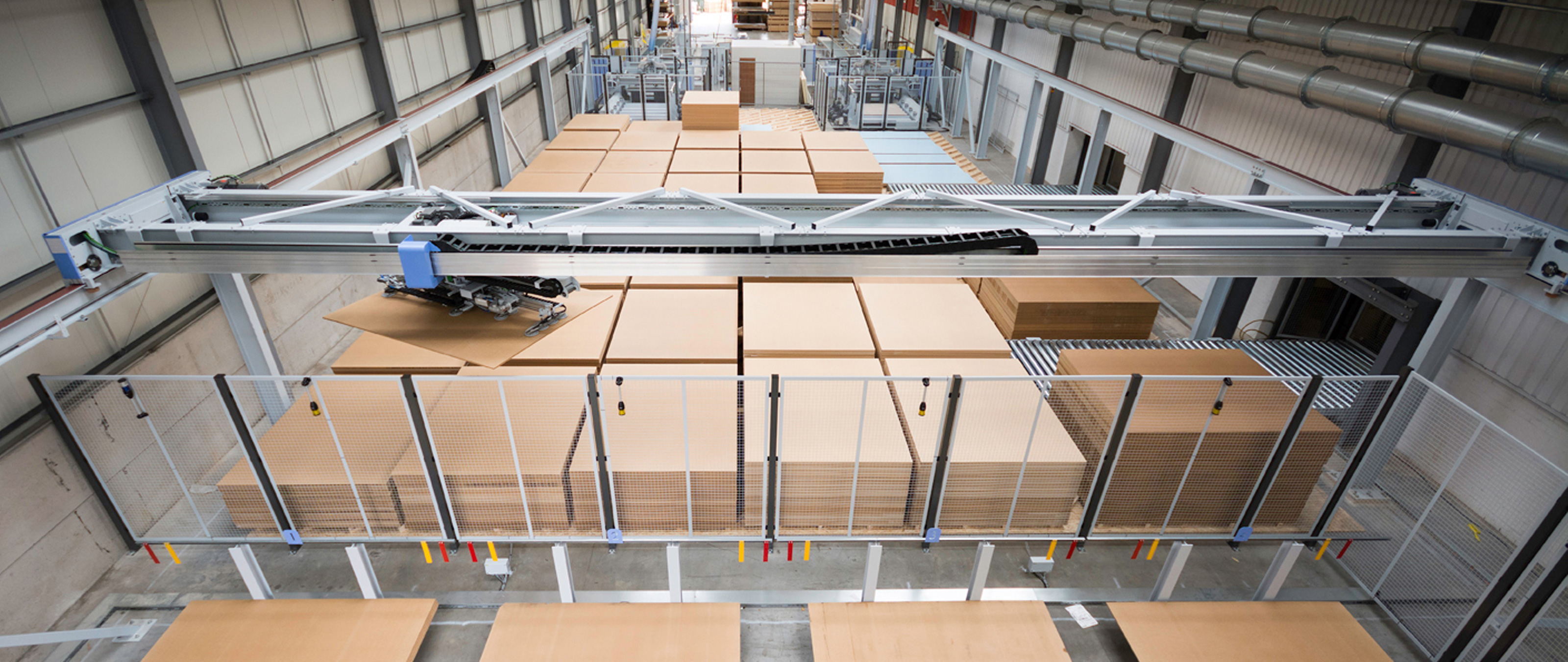 Hill's Panel Products invests in game changing production solution
Recognising that their existing processes were both time-consuming and laborious, Hill's Panel Products began the search for the ideal revolutionary solution.
"The new system has given us around 50 percent more capacity to provide cut, edged and drilled components"

Martin Hill, Operations director at Hill's Panel Products
Hill's Panel Products (HPP) was formed in 1991 with the sole aim of supplying components to the furniture industry. Since that time, the company and its product range have expanded greatly. The business offers a huge range of full and processed sheet material, vinyl wrapped furniture doors and furniture fittings.
"The panel business is extremely competitive and to be successful you have to have a highly efficient manufacturing facility," explains Martin Hill, operations director at HPP. He continues, "Compared to our formative years in business, the range of boards, finishes and colours has sky-rocketed. This put enormous pressure on the traditional method of storage and retrieval of raw boards.
"We had to pick the sheets using a forklift truck from cantilever racking in the warehouse and then manually load them onto the machines. Not only was picking raw boards in 'rainbow packs' (different colours and sheet sizes) for nesting a time-consuming and laborious task, but also it made the boards very susceptible to damage through miss-handling. Additionally, it caused a logistics issue because, due to space limitations in the warehouse, we couldn't pick full sheets for customers when the forklift was picking sheets for our panel production."
The search for the ideal solution
"The investment for the right solution was going to be significant and so we looked at a number of options that would achieve our goals for the business. A major factor, however, was time. It was vitally important for us to have the system in place by July 2016, but we weren't ready to place the order until December 2015.
"Only HOMAG UK was able to guarantee this time-frame and its area sales manager, Jon Lawman, worked tirelessly to ensure they won the business by giving us exactly what we needed.
"It was complex, because we weren't just looking for a storage and retrieval system in isolation. We wanted a complete package of machinery including two high-performance nesting CNC routers and two fast, but high-quality edgebanders with return systems.
"This new equipment was required for integration with existing machinery to form a new, highly automated production cell which we refer to as 'Board Production 2'. The HOMAG Automation TLF 411 storage and retrieval system is the heart of this new cell. It picks batches of raw boards throughout the night, building up a buffer of work for the four CNC nesting routers in the cell."
WEEKE BHP 200 Nesting CNCs
"All our work is bespoke, therefore, from an efficiency stand-point, the best production option is the nesting route. We manufacture in live batches where a nest could contain 30 or 40 different orders, so selecting the right machines for our business was critically important.
"As part of our due diligence we visited another company that was running a WEEKE Vantage 200/710 CNC nesting machine. In addition, we went out to the WEEKE factory in Germany where we were able to take our own material samples to run through the machine to see how well it would process them. We were incredibly impressed with the build quality of the WEEKE product and it's clear to see why it is the market leader. The processing speed and cutting accuracy of the machine was amazing, it was an easy decision to order two machines.
"All the HOMAG machines use the MagiCut software, so the logic is the same whether you're operating a CNC or an edgebander. That makes it easy for the machine operators to move from machine to machine."
HOMAG edgebanders with PU gluing system
"We already had a BRANDT edgebander for doing the PVC edges on doors, but for our new cell we wanted to move up a level or two. It was important that the new machines used a PU gluing system because we were wanted to produce a higher specification product that offered a higher heat resistance against delamination and a more water resistant bond."
The HOMAG Ambition 2274 edgebanders give a superb clean finish with an almost invisible glue line. There are a number of factors which contribute to this high-quality edge: firstly, the panels are firmly held in place as they pass through the machine, with a belt track at the top and a chain with pads at the bottom – this minimises panel movement therefore giving a better bond. The PU gluing system also requires less glue than the traditional hot melt systems and so the bond is much tighter.
Martin Hill again, "We specified an automatic return system for each of the HOMAG edgebanders to make each machine a one-man operation. This allows us to run the machines at 20 metres per minute with corner rounding, a 33 percent increase in speed over our old machine and all this whilst providing a much better finish to the product."
Revolutionised production
"The investment we have made in this HOMAG equipment is paying off handsomely. We expect the TLF 411 storage system, the WEEKE BHP 200 CNCs and the HOMAG Ambition 2274 edgebanders to have paid for themselves within four years. But more importantly, the new system has given us around 50 percent more capacity to provide cut, edged and drilled components.
This has enabled us to not only keep up with customer demands whilst producing high-quality products, but also to service additional customers. We have only had the system running for a few months, but it is already doing exactly what we expected and there is still considerable potential to be realised as we get to fully understand the parameters of the system," concludes Martin Hill.
If you would like more information or a demonstration of the any of the HOMAG Group equipment or details of HOMAG's flexible finance packages, please contact HOMAG UK on 01332 856424.
Back to List